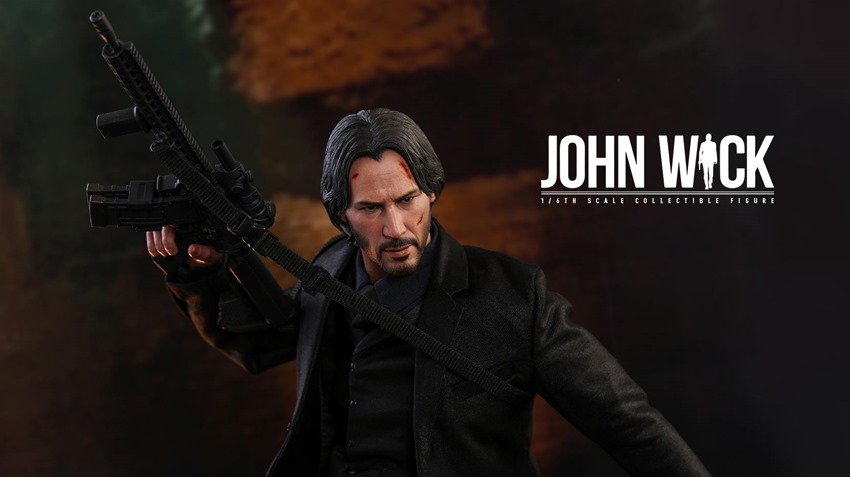 Scores of gangsters dead. A legend reborn. A criminal underworld thrown into disarray just because some snotty kid decided to get clever and assault one of the most feared assassins to ever live, in his own home. That alone was bad enough for John Wick, but having his prized car stolen and seeing the puppy that his dead wife had left him stomped into a bloody puddle?
That wasn't an overreaction with ballistic kisses that followed. That was justice. Never mess with a lethal mob bogeyman's pet yo. One sequel later, and John Wick's mythic status was fully restored. Able to silence an entire room with his name alone, Wick's  return saw more bullets spent in one night than the entire Nazi invasion of Stalingrad during World War 2, a war in the shadows that saw bodies fall by the dozens and ended with Wick on the run.
Basically, the most badass man to ever live had nothing to lose but his life. And his licensed likeness, as Hot Toys is bringing the master assassin back to the action figure fold with a sixth-scale figure:
"The man. The myth. The legend."

The John Wick® series follows the exploits of the legendary hit man as he unleashes mayhem and fury on the mobsters who have wronged him and the army of international assassins who want him dead. Exploding with highly choreographed gun-fu and combat, the thrilling action-packed films tell the classic stories of vengeance and redemption.

To celebrate the upcoming highly anticipated third installment of this adrenaline-fueled action franchise, Hot Toys proudly presents the John Wick® 1/6th scale collectible figure from John Wick: Chapter 2.
Well hot damn, that is one bang-on replica. Just make certain that you don't put John next to any puppy-kicking villains on your shelf, or you might walk back into a room that has more bullet holes and spent shells than usual. There's no retail price yet for this figure, although I'd expect it to cost several of those gold coins that the assassins like handing out at their exclusive hotels.
Last Updated: August 27, 2018