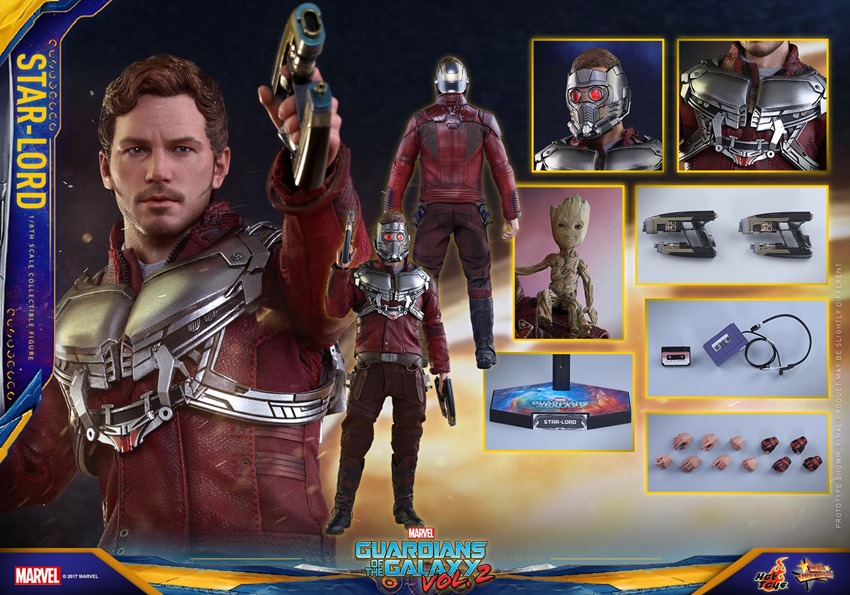 You know what I like about Star Lord? It's that even in a galaxy far, far away, style remains constant. Also affordable! All you need in the cold dark vacuum of space is a leather jacket, a walkman and a pair of blasters which can fire off elemental energy and you're set for a life of plundering amongst the stars. Maybe that's why Star Lord from the Guardians of the Galaxy is so popular.
He's got a look and a charm that make him the kind of guy that 99% of fans can relate to, and a physique that only the 1% can afford. Back when the first Guardians of the Galaxy debuted, Star Lord was one of the hottest collectible action figures ever made. The original run from Hot Toys became sought-after and stupidly expensive over on eBay, because that's how limited supply and demand works.
There's a second chance on the horizon however, as a sequel to GOTG the first means that it's high time for a sequel figure. One that looks dashing:
Hot Toys will have two versions of this figure up for grabs. The vanilla $229 version includes the following goodies:
WHAT'S IN THE BOX?
The Star-Lord Sixth Scale Collectible Figure specially features:
A newly developed head sculpt with authentic and detailed likeness of Chris Pratt as Star-Lord in Guardians of the Galaxy Vol. 2
Movie-accurate facial expression with detailed wrinkles, skin texture and beard
Newly painted interchangeable masked head sculpt with LED light-up function (battery operated)
Specialized body with over 30 points of articulation
Approximately 31 cm tall
Four (4) pieces of interchangeable gloved hands including:
– One (1) pair of fists
– One (1) pair of hands for holding guns
Seven (7) pieces of interchangeable bare hands including:
– One (1) pair of fists
– One (1) pair of relaxed hands
– One (1) pair of hands for holding guns
– One (1) left gripping hand
Each head sculpt is specially hand-painted
Costume:
One (1) light gray coloured graphic tee
One (1) purplish red coloured scarf
One (1) red coloured leather-like jacket
One (1) leather-like belt with gun holsters
One (1) pair of multi-textured burgundy coloured pants
One (1) pair of dark red and black boots
Weapons:
Two (2) blasters with metallic colour finish
Accessories:
One (1) jetpack with armored chest plates
One (1) miniature Baby Groot
One (1) portable audio cassette player with headset
One (1) cassette tape
Two (2) necklaces
Specially designed figure stand with character nameplate and movie logo
Whereas the more expensive $250+ deluxe version will throw in:
One (1) Star-Lord helmet in activating mode (wearable on head sculpt)
One (1) dark red coloured leather-like long coat
One (1) purplish red coloured long sleeve tee
Plenty of time to save up though, as Hot Toys say that they'll be shipping out this awesome mix of plastic and leather sometime next year between January and March.
Last Updated: April 18, 2017