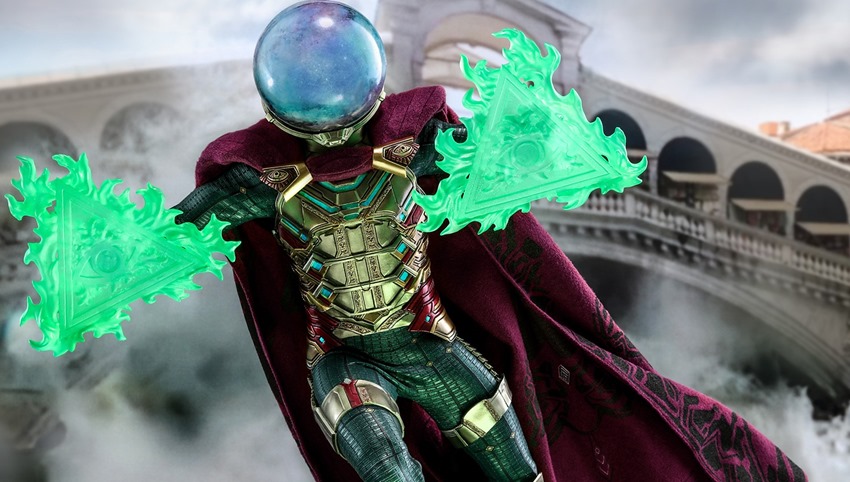 According to science, a man in a fishbowl helmet, green spandex and weird-ass armour should not be capable of being cool. Well you know what? Science should grab some lemons, genetically splice them so that they can evolve into super-lemons and then the lab of nerds who played god with fruit should suck on said ultimate lemons because they're wrong.
How Marvel managed to take one of the kookiest Spider-Man villains and spin that into one of the most kickass of cinematic designs is beyond me. The mad men in the art department nailed a homerun with Mysterio, somehow effortlessly blending the master of illusion's cheesy costume into an outfit that looks both spectacular and original.
While I'm still trying to figure out how to accurately cosplay as Mysterio without suffocating to death on all the dry ice trapped within my mom's fishbowl that I pilfered (REST IN PEACE SERGEANT FLIPPY!), owning a sixth-scale version of the truth-bending illusionist might just be the next best thing. Hot Toys has of course flexed their Marvel license, and they'll be dropping their own take on the Spider-Man nemesis into stores soon enough.
Here's a look at what they've cooked up in their people-shrinking and duplication lab. SPOILER WARNING IN SYNOPSIS BELOW!
"I created Mysterio to give the world someone to believe in. I control the truth…Mysterio is the truth!" – Mysterio

Quentin Beck, a gifted but under-appreciated special effects artist. Chose to focus his skills on becoming Mysterio as the number one super hero in the world, and supplant himself over Iron Man. Coupled with his talent for chemistry, robotics and hypnotism, Mysterio's convincing illusions on The Elementals blurred the line between reality and fantasy, to the point where the work seems almost supernatural in nature.

Today, Hot Toys is pleased to officially introduce the highly-anticipated 1/6th scale Mysterio collectible figure from Spider-Man: Far From Home with highly-detailed gadgets that specifically counter Spider-Man's abilities!

Masterfully crafted based on Mysterio's appearance in the movie, the collectible figure features a newly developed helmeted head with incredible likeness, finely tailored cape and armors with luminous reflective elements, a pair of illusion effect accessories, smoke effect diorama accessories, and a movie-themed dynamic figure stand.
What's in the box?
The 1/6th scale Mysterio Collectible Figure specially features:
Authentic and detailed likeness of Mysterio from Spider-Man: Far From Home
A newly developed helmeted head with LED light-up function (battery operated)
Specialized body with over 28 points of articulation
Approximately 30cm tall
Six (6) interchangeable hands in fingerless gloves, including:
One (1) pair of fists
One (1) pair of relaxed hands
One (1) pair of gesture hands
Costume:
One (1) burgundy coloured cape with clasps
One (1) piece of newly developed bronze and burgundy colored body armor with luminous reflective effect
One (1) dark green coloured under suit with scale-patterned design
One (1) pair of bronze coloured gauntlets
One (1) pair of bronze coloured boots
Accessories:
One (1) pair of illusion effect accessories
Two (2) green coloured smoke effect diorama accessories
One (1) specially designed dynamic figure stand with character nameplate and movie logo
Sweet Jack Kirby, I do hope that is illusionist's smoke and not sixth-scale fanboy…ectoplasm. If you're looking to get the figure soon, be prepared for a hell of a long wait as Hot Toys will only have this reality-shattering dude ready some time in 2021 for a price tag of $259.
Last Updated: September 9, 2019