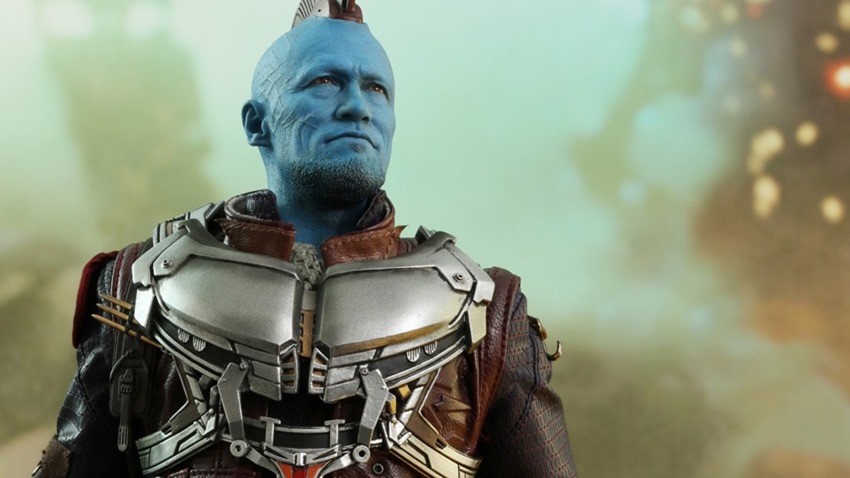 Unpopular opinion: I don't think Guardians of the Galaxy Vol. 2 is as good as the first film. This is the point where Nick appears out of the woodwork to whinge and complain, but I've taken steps to circumvent that by stealing the lifts out of his shoes and write this article from on high as I perch myself on my bed.
That being said, Guardians of the Galaxy Vol. 2 is still a great film. It has heart, it has charm and most importantly, it had Michael Rooker's Yondu. With a smile that could crack a mirror warehouse and a DLC pre-order for a weapon that bordered on cheat-code level, Yondu is the real heart and soul of the Guardians sequel.
Hell, there's a line in that film that resonates magnificently with me, but I'm not sharing it here because there still should be a statute on spoilers. One quote from the gigantic Smurf that has managed to enter the pop culture lexicon? I'M MARY POPPINS Y'ALL! Which this sixth-scale version of Yondu from Hot Toys, totally is:
WHAT'S IN THE BOX?
The Yondu (Deluxe Version) Sixth Scale Collectible Figure specially features:
A newly developed head sculpt with authentic and detailed likeness of Michael Rooker as Yondu in Guardians of the Galaxy Vol. 2
Movie-accurate facial expression with detailed wrinkles, skin texture and beard
One (1) interchangeable fin with magnetic feature
One (1) interchangeable prototype fin with magnetic feature
Specialized body with over 30 points of articulation
Approximately 30 cm tall
Nine (9) pieces of interchangeable hands including:
– One (1) pair of fists
– One (1) pair of relaxed hands
– One (1) pair of hands for holding the leather-like jacket
– One (1) pair of hands for holding Yaka Arrow
– One (1) left hand for holding Yaka Arrow
Each head sculpt is specially hand-painted
Costume:
One (1) burgundy and purple colored multi-pattern leather-like long coat
One (1) Aero-rig (wearable on Yondu's body) ***
One (1) white colored patterned scarf
One (1) burgundy colored leather-like short jacket
One (1) pair of suspenders with arrow holster
One (1) pair of multi-texture burgundy colored pants
One (1) pair of black boots with articulation on the ankle
Weapons:
One (1) Yaka Arrow
One (1) dagger (detachable from the wristband holster)
Accessories:
One (1) Rocket's blaster
One (1) small cage
One (1) translucent red-colored Yaka Arrow floating effect attachable to the arrow holster
One (1) leather-like wristband with dagger holster (attachable to left forearm)
Am I the only person who thinks that Yondu's Yaka Arrow kind of makes him look like he's entering a ribbon-twirling contest? I'd pay to watch that movie. That pretty smile will run you in the region of $251 when Yondu whistles on in next year July.
Last Updated: August 25, 2017