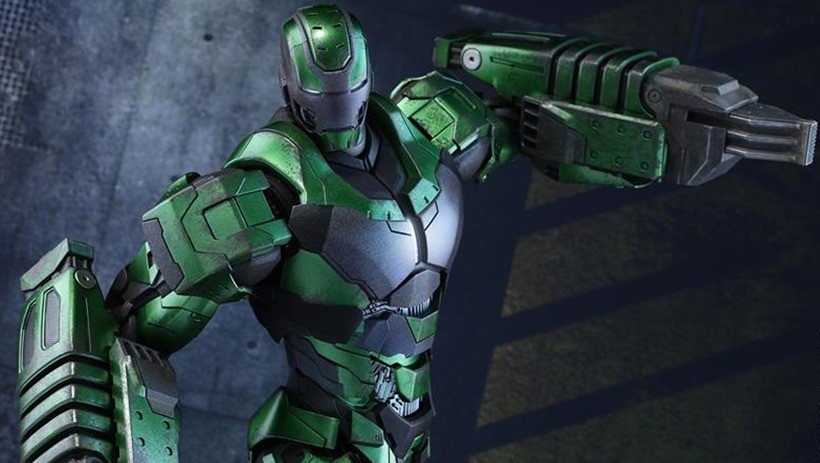 Gamma-green to be precise. Tony Stark has a suit for every occasion, and a House Party Protocol for any situation that involves a genetically modified superhuman who is busy attempting to kill the president of the United States of America on live-air while a small army of similarly-enhanced former soldiers is keeping watch. Wow, the House Party Protocol is oddly-specific.
Anyway, one of the many, many suits that Tony Stark has at his disposal, is the Mark XXVI suit of armour. It's not the first time that this armour has been resized into a sixth-scale replica. But I am liking seeing the same suit, but with a more emerald colour finish. It's essentially a redo of the Mark XXV Striker armour, but tuned to handle lethal amounts of gamma radiation.
The 1/6th scale Gamma (Mark XXVI) Collectible Figure's special features:
Authentic and detailed likeness of Gamma (Mark XXVI), the Heavy Construction Suit Upgrade, in Iron Man 3
Over 30 points of articulations
Approximately 34 cm tall
LED-lighted eyes and rectangular-shaped RT on chest (white light, battery operated)
Distinctive dark green, dark gray, and silver painting on armor with specially applied weathering effects
Special features on armor:
A pair of spring-loaded and detachable Pneumatic Hammers with LED light up function (white light, battery operated)
Articulated air flaps
Articulations on waist armor allowing flexible movement
Accessory:
One (1) circular figure stage with flexible pillar
The Gamma suit will be out between now and February 2016. Expect to pay 264.99 for the latest guest to your own sixth-scale house party.
Last Updated: December 7, 2015