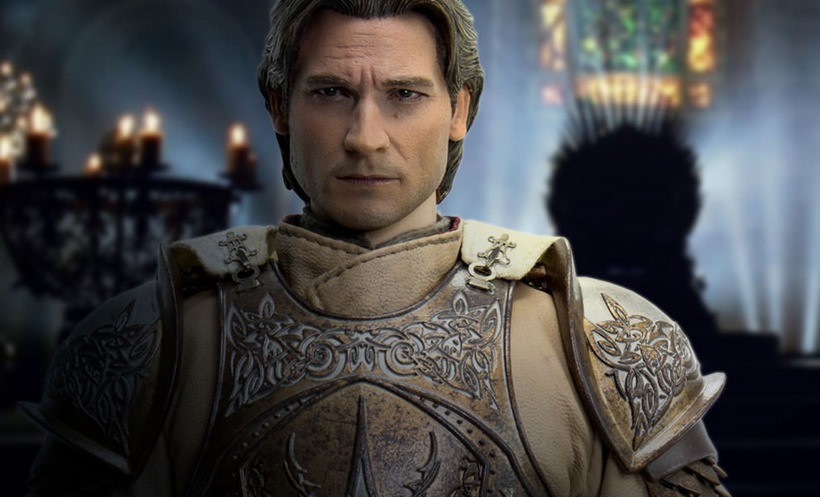 I'm not a fan of Game of Thrones. Or to be more specific, I'm not arsed enough to make an effort to watch it, because it happens to not be Doctor Who. Still! While the thought of high fantasy, Sean Bean dying and women who give birth to nightmare fuel doesn't grab me by the shoulders and shake some vigorous attention out of my jaded skull, I do most certainly admire the style of the series.
Set design, costumes and of course, fantastic armour. Armour wrapped around an incestuous maniac who is smart enough to know that playing the Game of Thrones means that sooner or later,you're going to have to toss a child or two out of a window. . Okay, maybe I should give this show a second chance.
The twin brother of Cersei Lannister, the Queen of Westeros, Jaime Lannister is a knight of the Kingsguard. Known for being arrogant and dishonorable, Jaime has the cunning to play the Game of Thrones.

Sideshow Collectibles and Threezero are thrilled to present the Jaime Lannister sixth scale collectible figure which features a realistic likeness of the character as seen in the HBO hit tv series Game of Thrones. The figure includes highly detailed Kingsguard armor and interchangeable hands.
What's in the box?
The Jaime Lannister Sixth Scale Figure features:
Approximately 12" (30.5cm) tall articulated figure
Tailored clothing
Head sculpt with realistic likeness to the character as portrayed in the series
Interchangeable hands including:
One pair of relaxed hands
One pair for holding weapons
Highly Detailed Kingsguard Armour
Shirt
Pants
Robe
Cloak
Boots
Belt
Sword
Dagger
Metal Buttons
The Lannisters send their regards. And price tag, of $190 for this figure, which is expected to ship sometime next year between June and September. I believe that is when winter arrives, yes I do.
Last Updated: November 27, 2015