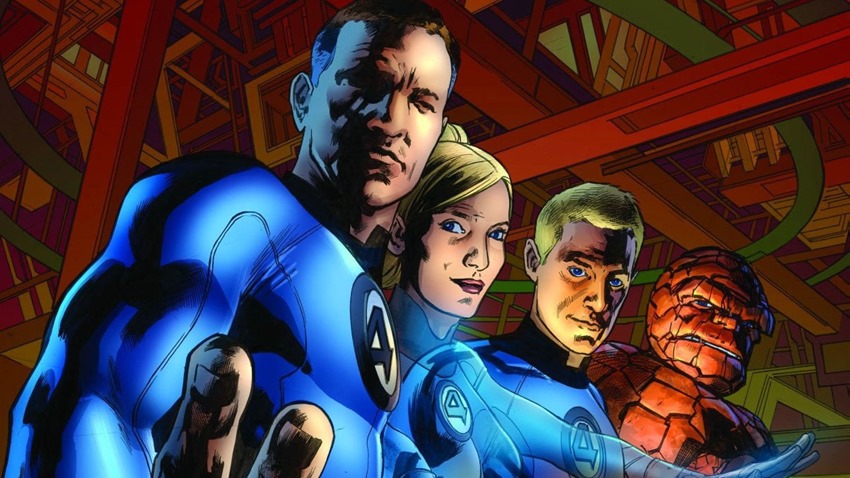 Whatever happened to the Fantastic Four? Some say that they vanished without a trace at the conclusion of the Secret Wars, embarking on an odyssey to rebuild not only the Omniverse but also their family. Others say that they ran afoul of the greatest force in the Universe, Disney's wrath over 20th Century Fox refusal to hand over the film rights so that we can get at least one decent movie starring the first family of Marvel comics.
While at least half of the explorers of the fantastic have been kicking around our reality (Johnny "The Human Torch" Storm staying around on Earth while Ben "The Thing" Grimm briefly joined the Guardians of the Galaxy), Sue and Reed Richards have been missing in action for a while now. The original famous four are due for a reunion soon, that begins with the first issue of Marvel Two-In-One.
It's up to Johnny Storm and the Thing to find their lost family, but Doctor Doom may have other plans for the duo. As well as a few secrets of his own. "It's Ben and Johnny diving headfirst into the mystery of what happened to them," writer Chip Zdarsky said to Newsarama.
The world presumes that Reed, Sue, and the kids are dead, but Johnny especially can't accept that fact. So we're heading on a road trip to find out what happened. Oh man, I can't think of another Marvel title that's had as many stellar runs as Fantastic Four. I was first reading comics in the John Byrne era, so those hold a special spot for me. Then I went back and read all or the Stan Lee/Jack Kirby issues, which were just mind-blowing with how much creativity filled them.

Jonathan Hickman's epic, the heart of Mark Waid and Mike Wieringo's run, Matt Fraction and Mike Allred's Future Foundation breath of fresh air – so many great comics. But, I have to say my all-time favorite run was Walt Simonson's time-hopping, universe-hopping adventure, featuring my favourite Reed/Doom throwdown.
Speaking of Doctor Doom, the former god of Battleworld will be the key to uncovering the location of the missing Fantastic Four members. "Unbeknownst to Ben and Johnny, Doom holds the key to finding the missing heroes. Writing Doom is insanely fun, and my favourite Marvel book right now is Infamous Iron Man, so it's great to be able to play with what Brian Michael Bendis and Alex Maleev have been doing with the character," Zdarsky explained.
The first issue of Marvel Two-In-One kicks off in December, and also stars the gorgeous art of Jim Cheung. It has been way too long since the Fantastic Four were relevant within Marvel, and with the publisher realising that they've lost their way as of late with endless event series that are all flash and no substance, maybe now is the right time to ditch the pettiness and restore the first family back to their proper glory.
Last Updated: September 15, 2017