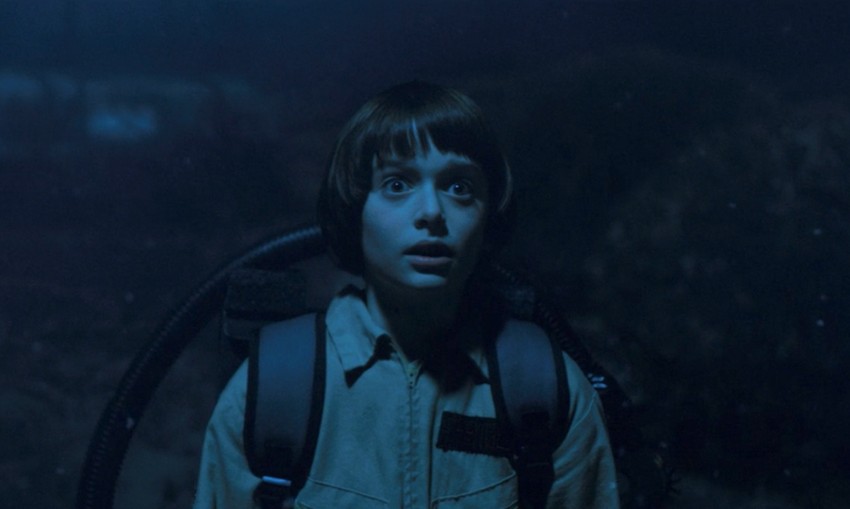 After two beloved breakout seasons (we'll just sidestep that one terrible second season episode, you know the one) Stranger Things has become a cultural phenomenon. Netflix's 80s nostalgia-fueled series about adorable outcasts, superpowered kids, horrifying monsters, and alternate dimensions has developed a massive fanbase who can't get enough of the creepy adventures in Hawkins, Indiana. And luckily, they won't have to wait until whenever season 3 gets here to enjoy some more.
Dark Horse Comics has revealed that it will be publishing an officially licensed multi-year line of Stranger Things comic books and young adult graphic novels that will expand on the world created by brotherly creators Matt and Ross Duffer. Well, "worlds" – plural – to be exact, as the first comic release will be a four-issue miniseries that will tell the story of what actually happened to Will Byers during all the time he was stuck in the hellish Upside Down dimension during the events of the show's first season. Simply titled Stranger Things, this new comic will debut in September 2018 and comes from award-winning writer Jody Houser (Faith, Orphan Black, Mother Panic), penciller Stefano Martino (Legs Weaver, Nathan Never), inker Keith Champagne (JSA, Superboy), colorist Lauren Affe (Rebels, Five Ghosts), and letterer Nate Piekos (Briggs Land, Green Arrow).
Dark Horse has revealed the official blurb for the comic as well, two first-look sample pages of the interior art, artist Aleksi Briclot's (New Avengers, Maskemane) cover, as well three variant covers from Rafael Albuquerque (American Vampire, Blue Beetle), visual artist Kyle Lambert, and Patrick Satterfield respectively.
Stranger Things #1 (of four issues) follows Will Byers as he enters a dimension of decay and destruction where he must use his wits and resolve to dodge the pursuit of the Demogorgon and escape the Upside Down.
This won't be the only Stranger Things reading fans will be able to do as Del Rey Books is also teaming with Netflix to publish a series of new books about the series. Thus far three have been announced, with two being non-fiction(ish) titles. The first to released later this year will be a companion guide entitled Stranger Things: World Turned Upside Down: The Official Behind-the-Scenes Companion (so many colons!), and it will be followed by a hardcover gift book aimed at younger readers that will offer "advice, wisdom, and warnings from the Stranger Things world," according to a report from Deadline.
As for the fictional book, it will be releasing in early 2019 and is a prequel novel penned by author Gwenda Bond. We don't have a title yet, but we know it will focus on Eleven's mother Terry and the MKUltra experiments she was subjected while pregnant that would eventually break her mind and give Eleven her powers. Additional books are also expected to be revealed in 2019, aimed at both adult and younger readers so there will be something for every fan.
Last Updated: June 21, 2018