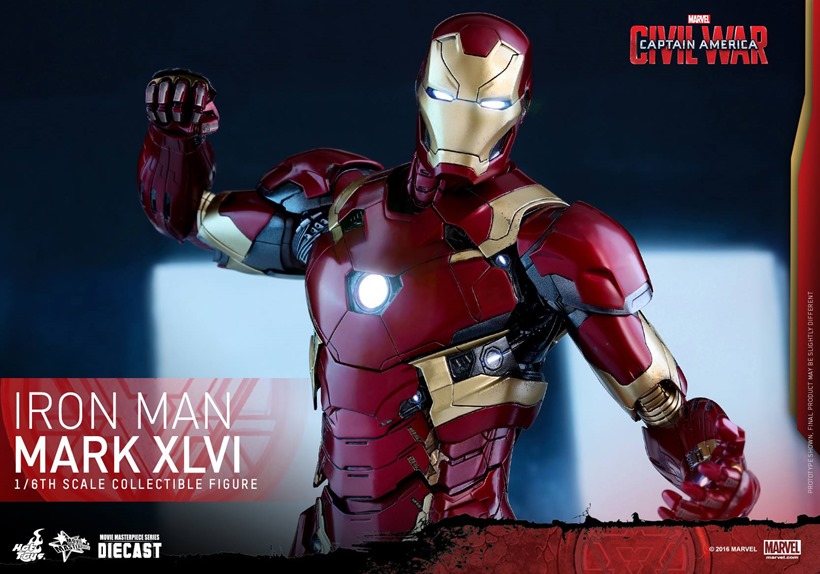 If you look back at the first Iron man suit and compare it to almost a decade of development and improvements, man what a difference. The Mark I is the equivalent of a walking toaster on steroids, a lean and mean machine built from scraps (IN A CAVE!) and possibly leftover falafels. The current Iron Man suits? Sleek, sexy and with only a hint of the ostentatious. It's very much like comparing a Ferrari to a hot hatchback.
One performs well and will get you from point A to Point B, while the more expensive option will do the same but with style. The latest Iron Man suit is style to the max. The Mark 46 is very much a direct adaptation of the Bleeding Edge armour, with a properly collapsible face-plate that would make Star-Lord jealous. And while I'm still busy trying to convince government to sell Nkandla to fund my dream of owning a full-size version of it, I'd happily settle for the sixth-scale replica.
"But Darryn," I hear you ask despite my best attempts to keep you away from me by tossing crocodiles into the minefield moat, "what makes this figure any different from all the other Iron Man figures that you regularly tempt us with as if you were some sort of toy-based Satan?" Alright, fair enough. What makes this figure different, is that happens to be made from diecast metals, to give it that extra level of coolness/authenticity.
And if you don't believe me, here's a gallery of pictures for the video-disabled:
WHAT'S IN THE BOX?
The Iron Man Mark XLVI Sixth Scale Collectible Figure specially features:
An authentic and detailed likeness of Mark XLVI in Captain America: Civil War
Newly sculpted head sculpt with authentic likeness of Robert Downey Jr. as Tony Stark in the movie
Alternate helmeted head with LED light-up function (white light, battery operated)
Approximately 32 cm tall
Metallic red, gold and silver colored painting on the sleek and streamlined Mark XLVI armor design
Contains diecast material
28 LED light-up points throughout parts of the armor (white light, battery operated)
Chest armor can be detached to reveal interior mechanical design
Interchangeable shoulder armor (regular, missile firing)
Fully deployed air flaps at back of the armor
Four (4) pairs of interchangeable hands including:
– One (1) pair of fists
– One (1) pair of hands with articulated fingers and light-up repulsors (white light, battery operated)
– One (1) pair of battle palms with light-up repulsor (white light, battery operated)
– One (1) pair of hands with life-like thrust fire effect
Articulations on waist armor which allow flexible movement
Accessories:
One (1) sixth scale Captain America helmet
Two (2) life-like thrust fire accessories attachable to the feet of the figure
Debris diorama figure stand with a Mark XLVI nameplate and the movie logo
Almost as gorgeous as Supergirl's unbreakable optimism, right? Expect to pay a few pretty pennies more for this one however, as the Mark 46 Iron Man armour is currently priced at around $345, with a shipping date of June 2017. Plenty of time to save up at least.
Last Updated: April 19, 2016