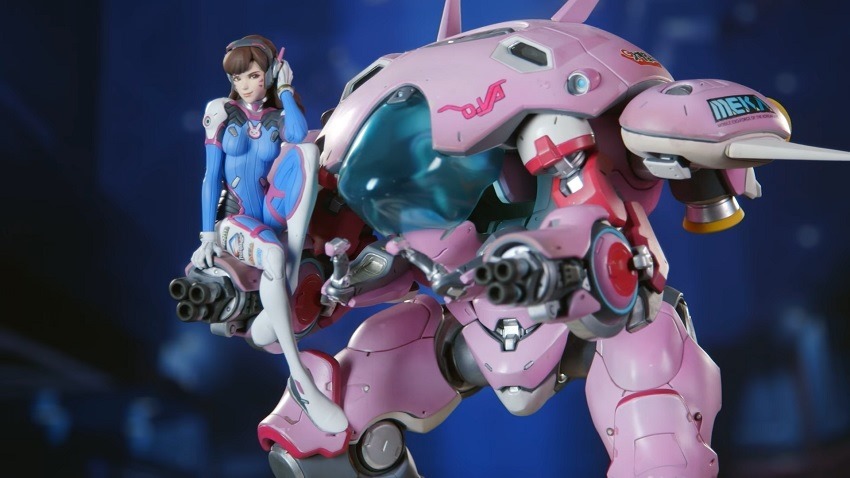 Blizzard have been producing some top-notch figurines based on their hit shooter, Overwatch, over the past few months, and new designs are coming in thick and fast. It doesn't feel like long ago my jaw was dropping to the floor over the new Widowmaker, but today we have another one of the game's heroines to gawk at. or at least, you'll be gawking at the price, because D.Va isn't going to come cheap.
The fourth in the growing line of premium figurines will showcase the professional gamer D.Va and her impressively pink mech in gorgeous handcrafted detail. And detail is the operative word here – with all the correct decals, details and fine touches that you'd expect from a top of the range piece such as this. I mean, look at the thing, it's stunning.
It's also the most expensive figurine in the range by a fair margin. Tracer, Reaper and Widowmaker all cost $150 each, but D.Va is going to set you back the same as all three combined. Blizzard is asking for a staggering $450 – which nabs you the 19-inch tall, 18-inch wide figurine. That's massive by any standard, so you can kind of see where all that money is going.
But that also puts the figure in the region of premium sculpts such as Hot Toys, which is an entirely different bracket to the rest of the range. But if you just have to have this latest addition to the quickly growing collection, you can expect it to ship in Q4 later this year. You can pre-order it right here.
Last Updated: June 30, 2017