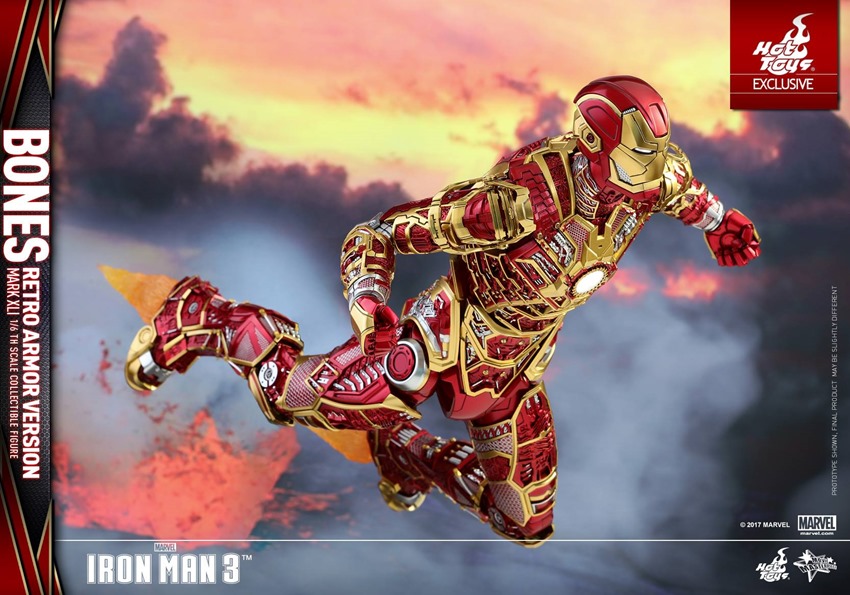 I once owned one of the Hot Toys Sixth-scale replica Iron Man figures for a glorious few days, before allowing it to fly off and land in the collection of a more deserving and hirsute fellow (Hi Garth!). As much as I'd have loved to keep that gorgeous cherry-red Silver Centurion Iron Man, I was also wary of a certain fear that I had for those figures. I call it the Pringles Phobia, because one you start popping them into your collection you're never ever going to stop.
With dozens of various Iron Man armours on the market right now from Hot Toys, that's a fear that became all too real. It's not that they're cool, but rather that I know I'll wind up selling my dignity at local harbours just so that my OCD tendencies can collect the entire House Party protocol. A flaw in myself that I had to rectify as quickly as possible, and which I'm keeping an eye out for again as Hot Toys have announced a newish Iron man figure for the collection.
It's essentially the Mark 41 Bones armour with fresher colours, or in the paraphrased words of Waylon Smithers: He's got a new hat! Check it out below:
WHAT'S IN THE BOX?
Specifications
Product Code: MMS412
Product Name: Bones Mark XLI (Retro Armour Version)
Height: Approximately 30cm tall
Points of Articulations: 36
Special Features: A red and gold armor painting, unique magnetic components, LED light-up functions, and a specialized dynamic figure stand for the figure and its flying armor parts
Special Features of the 1/6th scale Bones Mark XLI (Retro Armor Version) Collectible Figure
Authentic and detailed likeness of Bones (Mark XLI), the Skeleton Suit, in Iron Man 3
Specially applied red, gold, and silver painting on armour to portray the classic Iron Man colour motif
Approximately 30 cm tall with over 36 points of articulations
LED-lighted eyes and circular-shaped RT on chest (white light, battery operated)
Meticulously sculpted armour design with internal mechanical structure exposed
Magnetic components located at neck, upper chest, shoulders, elbows, and upper thighs
Three (3) pairs of interchangeable hands including:
One (1) pair of fists
One (1) pair of repulsor-firing palms (white light, battery operated)
One (1) pair with articulated fingers and light-up repulsors (white light, battery operated)
Articulations on waist armour allowing flexible movement
Accessories
Eight (8) real-like thrust fire accessories
One (1) circular dynamic figure stage with flexible pole and armor parts stands
I love how the party trick of this armour is that it happens to have been programmed by the Black Knight from Monty Python and the Holy Grail. Sideshow Collectibles don't have a price or release date just yet, but I'd expect to pay around $280 for this figure when it eventually launches.
Last Updated: April 6, 2017