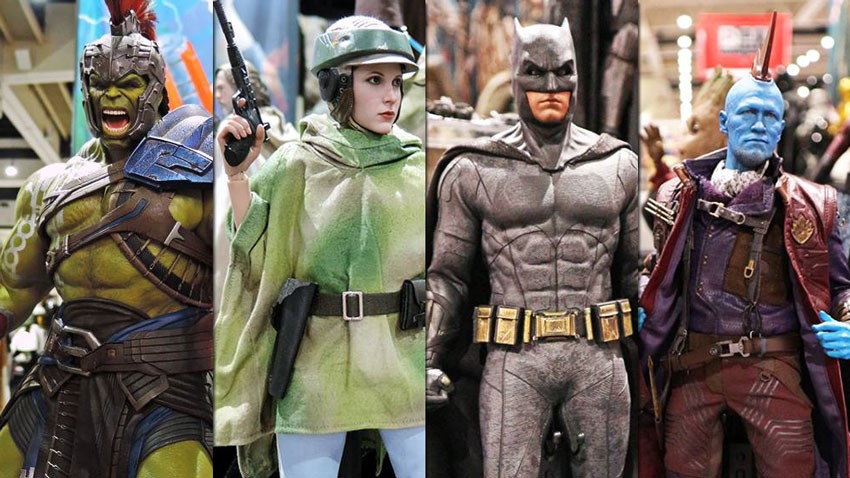 One day, I'll have a date (A REAL ONE DAMMIT) and I'll be all like "Yeah I make six figures a year" and she'll be so impressed until she realises that I mean action figures. No regrets. I am expecting a tinge of buyer's remorse later in the year though, because Hot Toys is at the San Diego Comic Con and they've got plenty of prototypes on show again.
Prototypes of figures from Justice League, Spider-Man: Homecoming and Thor: Ragnarok, which has me convinced that the Hong Kong toy manufacturer runs around the world with a special ray-gun that can shrink people down and duplicate them. Diabolical. Here's a rundown of what was seen at SDCC, with pictures from the Hot Toys Facebook.
Justice League
Thanks, Hot Toys. Not only do I now have a burning desire to assemble the entire Justice League in sixth-scale form, but now I'm also going to need to buy a shelf to put all of these guys on. And power tools to install it. And a house to have a shelf in. What's that, I need to have people inside of it to truly have it qualify as a home? Y'all are monsters.
Hot Toys has pretty much united the seven with this upcoming collection, which features new figures of Batman, Superman and Wonder Woman. Batman sports two distinct looks: His upgraded Batsuit as well as his tactical outfit. The new Superman figure doesn't have a mullet or a black version of the iconic supersuit, but it certainly is a shade lighter in the blues, possibly a reflection of DC's new approach to create heroes who aren't walking adverts for popping Prozac pills.
While the Wonder Woman figure doesn't look much different to her upcoming solo release based on her film, Cyborg, the Flash and Aquaman are the real stars here. While Jason Momoa and Ray Fisher's likenesses seem to be locked in, it looks like Hot Toys have yet to finish their sculpt for Flash star Ezra Miller.
There was also a scale replica model of the new Batmobile. Which apparently will only cost…$2000. I'm going to go cry now.
Spider-Man: Homecoming
Nothing major here really, but rather just a closer look at the line of figures which so far includes Iron Man in his latest armour and Spidey in his homemade and Stark-tech suits. I'm slightly sad that we have yet to see a Michael Keaton Vulture figure with massive wings, although it's only a matter of time until he gets announced.
Thor: Ragnarok
…Look at the size of that Hulk.Thor: Ragnarok has plenty on the horizon, including two versions of the Odinson, Loki in new threads and Hela rocking that massive head ornament. The figure that everyone is going to be wanting though, is easily that massive Hulk in gladiator garb. Just look at the size of him.
Everything else
That's about it really! There were a few other licenses on show, but I'm already trying to figure out which organs to sell so that I can collect the Justice League. Not my organs mind you. Where's Alessandro when you need him?
Last Updated: July 21, 2017