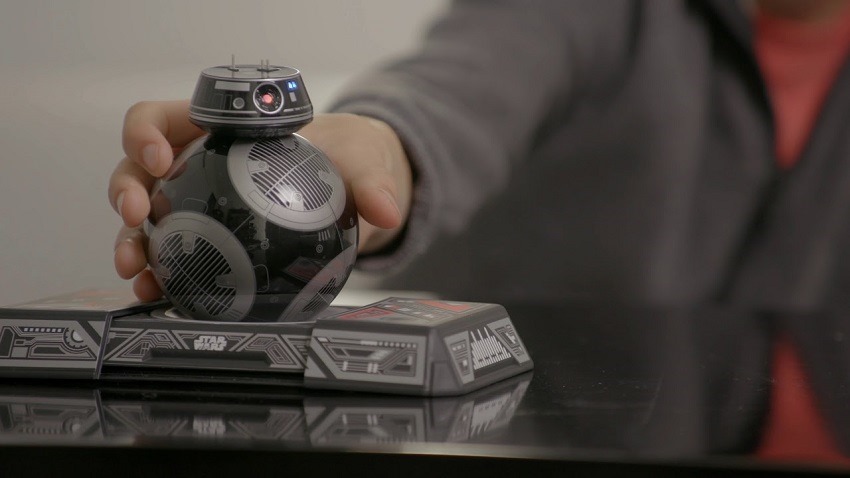 Star Wars: The Last Jedi is easily one of the most anticipated films left for release this year, and don;t Disney know it. Just like the weeks preceding the launch of The Force Awakens, the months ahead of The Last Jedi are going to be all about merchandise. That's what Force Friday is all about, and tomorrow is going to be full of exclusive releases of new toys, clothing and hobby items related to the second film in this new trilogy. And if Sphero had the best toy last time, they certainly are making a case again this time around.
Sphero launched easily the most alluring toy with the Force Awakens, using their years of advancement in rolling, remote balls to bring the best new character to life: BB-8. The white and orange rolling droid was able to come into your living room with a miniaturised version using your smartphone as a remote control, and Sphero are adding two more to the line this year. R2-D2, the most iconic droid in the entire Star Wars franchise, will now be available to own in your living room, along with a more sinister version of BB-8.
Introducing, BB-9E.
BB-9E is making its debut in The Last Jedi later this year, making what we know about the droid rather limited. His glossy black exterior and familiar red and blue lighting (the magnetic head is now inductive, making those lights come to life) are reminiscent of The New Order, giving BB-8 its own arch-nemesis to look forward to rolling into later this year.
R2-D2 is a bit more of a known quantity. You'll be able to control him in two modes – both bi-pedal and with his front leg extended out like you're used to seeing. Both of the droids will make use of Sphero's tried and tested app, which allows for a number of sound effects and gestures for each of the individual toys. You'll also still be able to watch Star Wars films along with them, having each droid react to appropriate scenes. Neat.
Sphero is just one company showing off their goods for Force Friday, which has already kicked off with some incredible looking merchandise. And it's only going to get better tomorrow.
Last Updated: August 31, 2017