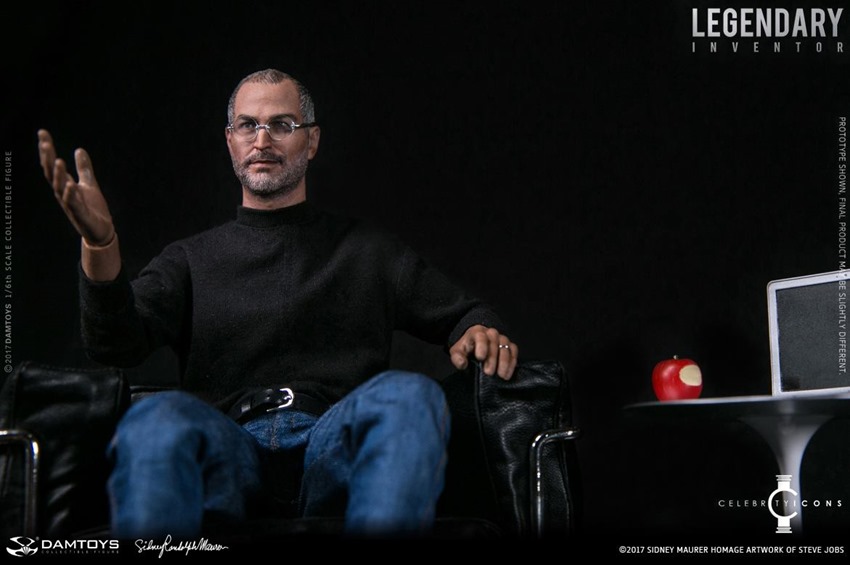 You look at any toy shelf of a serious collector, and you'll most likely spot the classics: Superheroes, movie maniacs and video game characters filling up the space on that horizontally-affixed piece of wood. After all, those fictional characters sell well, especially if they happen to be in a sixth-scale format and feature plenty of poses to play around with.
What about real people though? Would you ever entertain the thought of having a replica figure of a historical person? A sixth-scale Nelson Mandela? A highly-detailed version of Italian tyrant Benito Mussolini perhaps, to ensure that all the scale-model trains run on time? More like Il Dicko amirite? What about someone who happens to be oddly idolised currently?
When it comes to Apple, Steve Jobs may be the patron saint of that company. The face of a brand that was in danger of collapse and eventually became a technological juggernaut, Steve Jobs was the brains behind the graphical user interface and Xerox can go eat a bag of iPod shuffles if they say anything otherwise. Art! Beauty! Tyranny!
Man, Steve Jobs really was a creatively bankrupt dick when you think about it. Which is why he might just be the most perfect sixth-scale villain ever. DAM Toys is answering that call, with a replica of the hater of shoes in his most iconic clothing. Take a gander below at it:
And here's what your money gets you in addition to that accurate turtleneck sweater:
Highly detailed head sculpture
DAM male action body
Six (6) pieces of interchangeable hands including:
One (1) pair of open hands
One (1) pair of relaxed hands A
One (1) pair of relaxed hands B
Costumes:
One (1) piece of long-sleeved shirt
One (1) jeans
One (1) pair of sneakers
One (1) leather-like belt
One (1) pair of socks
Accessories:
One (1) eyeglasses
One (1) leather-like comfort lounge chair
One (1) round table
One (1) apple
two (2) pieces of 3.5-inch disks
One (1) desktop computer
One (1) keyboard
One (1) mouse
One (1) laptop computer
Uncanny. There's no solid release date or pricing yet for this figure, but it'll most likely be sold wherever Apple products are available and have their prices needlessly inflated in a market that is filled with comparably better products from the hardware competition.
Last Updated: November 20, 2017