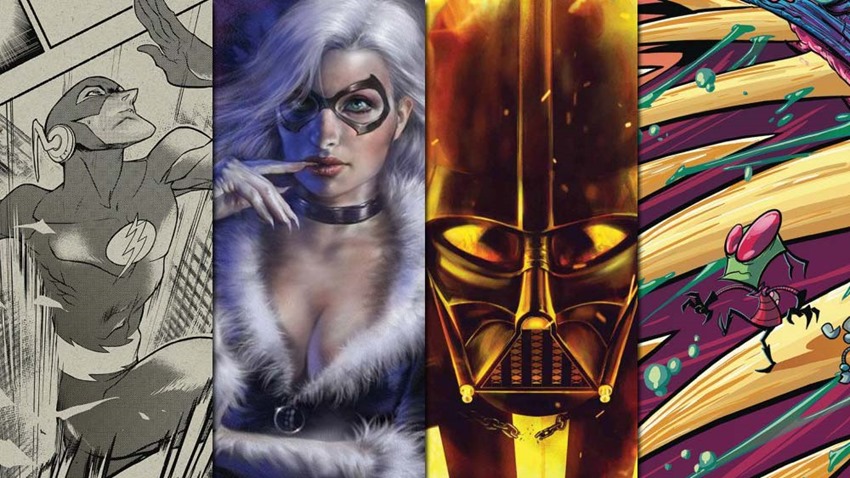 There's a lot of traditional comic books that I post covers of every week, but there's also a market out there for monthly releases which are…well they're simply bizarre, to say the least. The old adage of "if you build it they will come" immediately comes to mind, and in a world where people yearn for a hero who epitomises everything that they believe in, you'll get comic books like this:
Yes, Trump Punch Man. Believe it or not, there's a whole selection of comic books like this currently on the shelves. I've honestly got no idea if Trump Punch Man is a parody or an earnest love letter to the man who has taken America down a dark road of intolerance and hate, but the synopsis for this particular comic book is simply amazing:
Nothing about Donarudo passes the eyeball test when it comes to politicians, from his uneven tan to his bald-er, unusual hairstyle to his unimpressive physique. However, whatever else he lacks, he's got it big when it comes to problems: He just can't seem to find an opponent strong enough to take on! He's so powerful that he can defeat any opposition with one Tweet! Will he find someone who can go toe-to-toe with him and give his career some meaning?
I think I need to read this, because I may have just found the most bonkers comic book of all time. Apologies to Grant Morrison and The Invisibles. With that being said, let's take a look at the best comic book covers of the week!
Detective Comics #993 by Mark Brooks

The Flash #59 by Karl Kerschl

Wonder Woman #59 by Jenny Frison

The Amazing Spider-Man #10 by Lucio Parrillo

Star Wars: Darth Vader #24 by Elia Bonnetti

Batgirl #29 by Joshua Middleton

Daredevil #612 by Phil Noto

Batman Beyond #26 by Viktor Kalvachev

Mighty Morphin Power Rangers #33 by Jamal Campbell

X-O Manowar #21 by Kenneth Rocafort

John Wick #4 by Giovanni Valletta

Invader Zim #37 by Fred Stresing

Old Lady Harley #2 by Amanda Connor

Coda #7 by Matt Taylor

Red Sonja #23 by Ben Caldwell

Fence #12 by Hamlet Machine

Hillbilly: Red-Eyed Witchery From Beyond! #3 by Eric Powell

Kim Reaper: Vampire Island #4 by Sarah Graley

Kino #11 by Frazer Irving

Kiss: Blood And Stardust #2 by Stuart Sayger

Last Updated: November 26, 2018