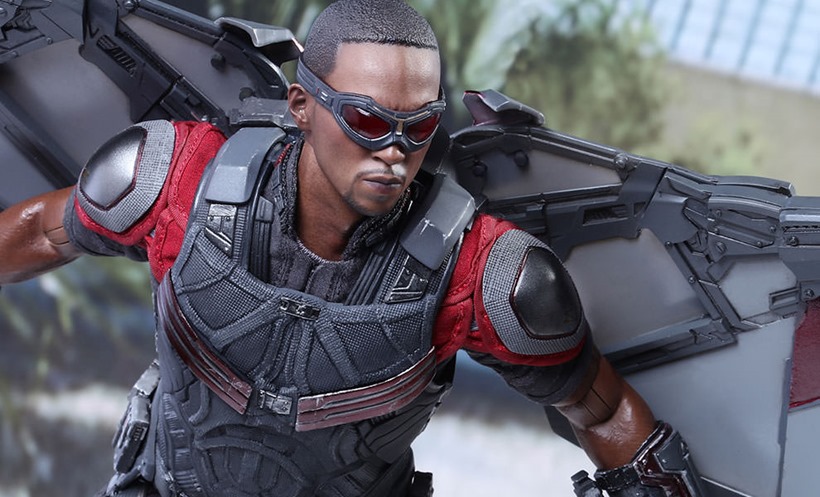 In life, there are three great falcons. There's the natural falcon which has made nature a stomping ground for perfecting the predatory arts, the Millennium Falcon from Star Wars and the most recent addition to the team: The Marvel Falcon. Even in a movie which starred two spry super-soldier pensioners blattering one another around a few trillion dollars worth of US Military hardware, Anthony Mackie's Falcon almost stole the show.
A cool dude who needs to check for runners on his left, his Falcon was a fun point of view character who easily stood tall with a World War 2 legend backing him up. AND THOSE WINGS! Listen, while having a proper Iron Man suit may be a dream that only Rupert Murdoch can afford, the Falcon flight-suit is actually attainable. After all, there's a mad Frenchman tearing around the skies right now on a jetsuit, so anything is possible.
In the meantime, I'll settle for chucking a sixth-scale replica off of my shelf and seeing if it can fly, while quoting Clarence Boddicker from Robocop:
WHAT'S IN THE BOX?
The Falcon Sixth Scale Collectible Figure specially features:
A newly painted head sculpt with authentic and detailed likeness of Anthony Mackie as Falcon in Captain America: Civil War
Movie-accurate facial expression with detailed wrinkles and skin texture
Body with over 30 points of articulations
Approximately 30 cm tall
Eight (8) pieces of interchangeable gloved hands including:
– One (1) pair of fists
– One (1) pair of relaxed hands
– One (1) pair of hands for holding weapons
– One (1) pair of hands for holding wings
Each head sculpt is specially hand-painted
Costume:
One (1) specially tailored dark grey and red colored Falcon flight suit
One (1) grey colored T-shirt
One (1) pair of dark grey and red colored gauntlets
One (1) pair of black and dark grey colored boots with mechanical details
Weapons:
One (1) sub-machine gun
One (1) sub-machine gun on left forearm
Accessories:
One (1) flight backpack
One (1) pair of interchangeable newly designed attachable fully spread wings with enhanced articulations
One (1) articulated Redwing drone attachable to flight backpack
One (1) pair of goggles
Diamond-shaped dynamic figure stand with Falcon nameplate and the movie logo
As usual, prepare to shell out for the Falcon, to the tune of $234.99 when he swoops in sometime in September.
Last Updated: March 30, 2016