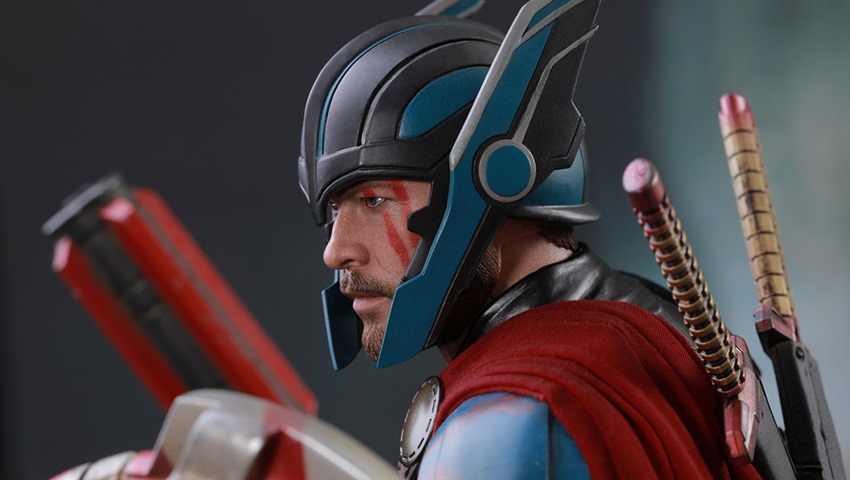 Hela has broken loose, Asgard is in ruins and hammer-time has come to a sudden stop. The Odinson is clearly not having a good day, according to the trailers for Thor: Ragnarok. Still! It could be worse. I mean imagine having your godhood stripped away from you, flung into the far reaches of the universe and forced into a gladiatorial arena where you have to fight for your life against a gigantic green steroid rage-monster?
That would suck.
Wait, that's exactly what happens in Thor: Ragnarok? Ummm….hey look at this nice action figure of Chris Hemsworth. That's worth a smile, right?
WHAT'S IN THE BOX?
The Gladiator Thor (Deluxe Version) Sixth Scale Collectible Figure specially features:
Newly developed head sculpt with authentic and detailed likeness of Chris Hemsworth as Thor in Thor: Ragnarok
Movie-accurate facial expression with detailed wrinkles, skin texture and beard
Brown colour short hair sculpture
A red Gladiator marking on his head sculpt and neck
Muscular body with over 30 points of articulation and seamless elbow joints
Approximately 32 cm tall
Four (4) pairs of interchangeable hands including:
– One (1) pair of fists
– One (1) pair of relaxed hands
– One (1) pair of open hands
– One (1) pair for holding weapons
Each head sculpt is specially hand-painted
Costume:
One (1) single shoulder red-coloured cape (detachable)
One (1) black-coloured upper body armor with red Gladiator markings
One (1) blue and metal-coloured left arm armor with red Gladiator markings
One (1) metal-coloured right forearm armor with leather-like strap
One (1) cross-body leather-like belt
One (1) pair of black pants and black-coloured knee-pad with red Gladiator markings
One (1) blue-coloured right leg armor
One (1) pair of black-coloured boots with leather-like strap
Weapons:
One (1) long Einherjar Sword***
One (1) short Einherjar Sword***
One (1) Sakaar Rifle***
Two (2) swords
Two (2) daggers (can be placed into the sheath)
One (1) dagger sheath
One (1) red and metal-coloured mace
*** Exclusive to this Deluxe Version
Accessories:
One (1) grey and blue coloured articulated helmet
One (1) red, blue and gold coloured shield
Thor (WITH NEW HAIR) will be ready to throw down with the Hulk some time next year between April and June. The price for the Gladiator version of the Odinson? Several Asgardian gold coins that are worth a bajillion Earth coins, or around $259 for the deluxe version.
Last Updated: October 4, 2017