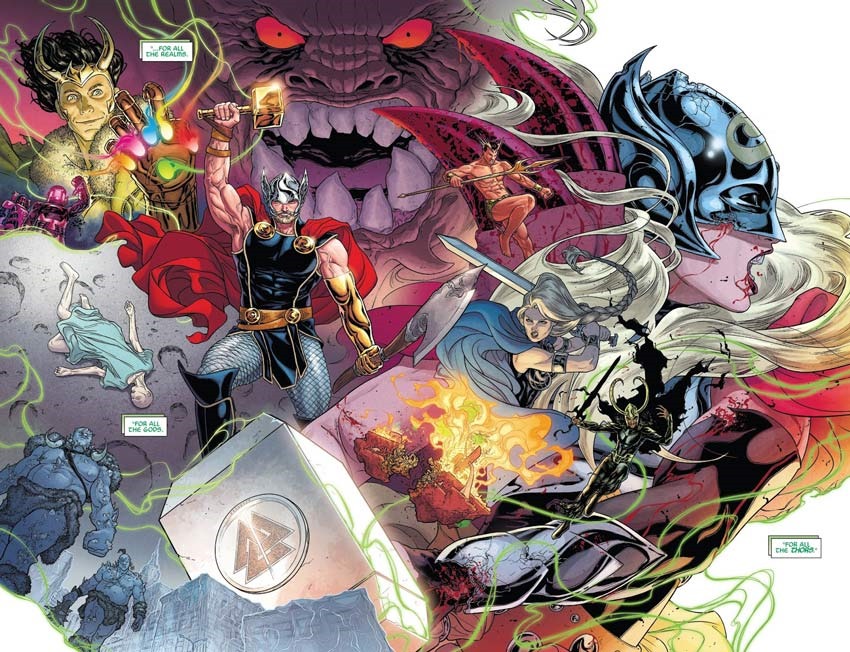 There's a new Thor film out this weekend, which also means that it's time for the original Odinson to be back in action. A full three years after Thor became unworthy of Mjolnir and his godly heritage and left his hammer in the care of Jane Foster, it looks like Thor Odinson will be swinging his mighty weapon once again.
That's according to new concept art from artist Russell Dauterman and Marvel ahead of the release of Thor: Ragnarok, which showed off the new look for the Thunder God which was first glimpsed in last week's Thor #700 when visions of the future were seen by a dying character: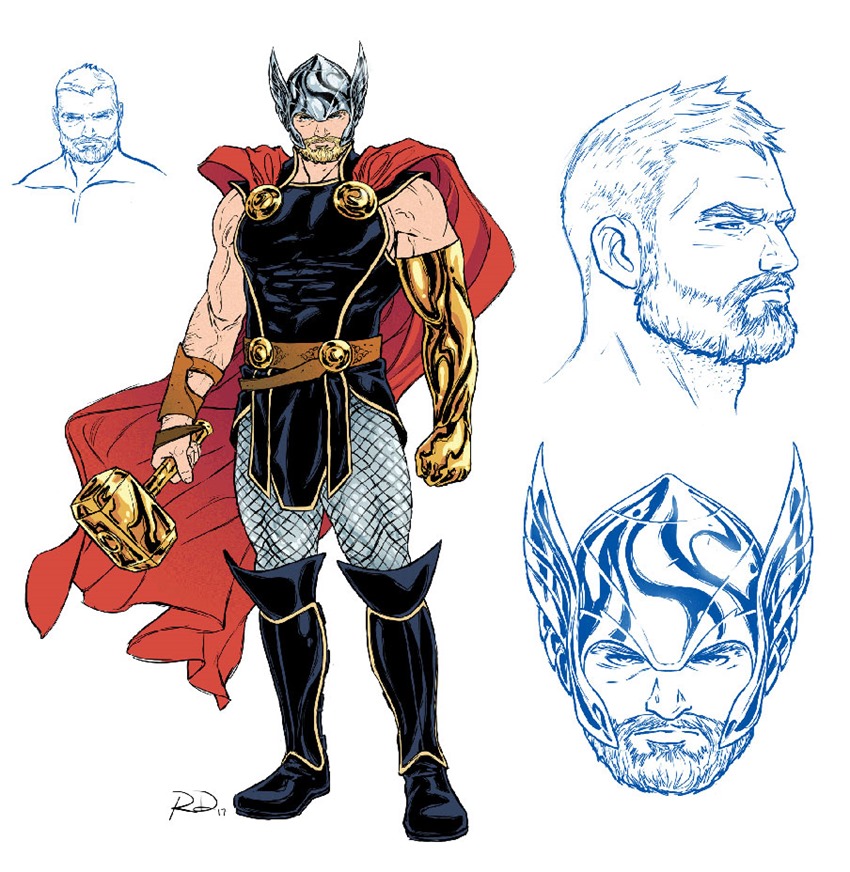 It's very and obviously influenced by Chris Hemsworth's run as the Odinson on the big screen, especially his latest look that trimmed his long locks of hair in favour of a more stylish crop cut. After losing his arm to Malekith and then replacing it with a Uru appendage, Thor's prosthetic also looks to be getting a golden upgrade.
Thor's not the only Asgardian getting an upgrade in the near future. After transitioning to his new role as the god of truth, Loki was also glimpsed in Marvel Legacy as he approached a wounded Celestial, while the vision of the future revealed that the trickster would soon wield the might of the Infinity Gauntlet. "You see a lot teases for upcoming stories here," Thor writer Jason Aaron said in a statement from Marvel via THR.
Some of those stories will play out in the pages of Thor. Others will play out elsewhere, some across multiple titles. Between Thor No. 700 and [September's] Marvel Legacy No. 1, I'm really setting the stage for the biggest stories I'll be doing for Marvel in 2018. Probably the biggest stories I've ever done for Marvel, period. You see a lot of that set-up here, and I'm beyond excited for everybody to see where it's leading and what it means for Thor, not to mention the rest of the Marvel Universe.
Overall, I dig it. I like that the helmet is a clear nod to Jane Foster's run as Thor, with the first Odinson clearly wearing a design that pays homage and repsect to the void that she filled in during his exile from the spotlight. It's a great mix of Thor's two primary costumes, that hailed from his long-running design that began with his Silver Age debut and the armour he war after the dust had settled from his rebirth in the aftermath of the first Civil War. As for the new Mjolnir? It looks ready to leave Frost Giants worthy of a shattering with its new golden finish.
I say thee yay!
Last Updated: October 24, 2017