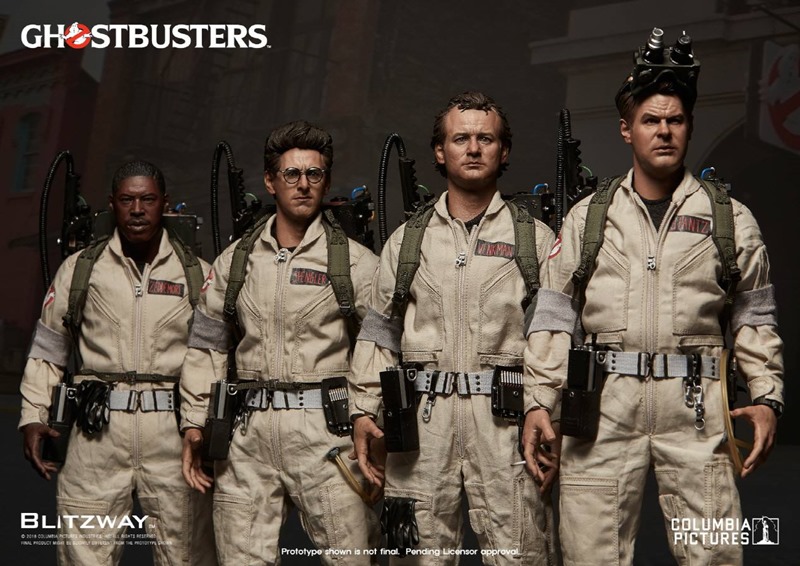 I genuinely don't mind that there's a Ghostbusters reboot. It hasn't hurt my love of the franchise, and more than that, it has made me love the likes of Egon, Ray, Venkman and Winston more than ever. There's just something magical about that first movie, that Hollywood will never ever be able to replicate again and that's OK. There's still room out there for more than one squad of paranormal investigators.
Especially when I've reserved some shelf space for them. Usually when it comes to realistic replicas of actors in costume, Hot Toys has the market cornered. But there's a new player in town, by the name of Blitzwing. And their Ghostbuster 12th and sixth-scale figures look just too damn good to be true. I mean, look at these guys:
As the kind of guy who spent a year creating his own proton pack, I can appreciate the small details here. Beyond the dead-accurate heads on these guys, everything looks like it was stolen from the first film and zapped with a shrinking ray. The placement of the Ghostbuster patches on the uniform. The fact that Venkman is the only member who doesn't wear his pants tucked into his boots.
Hell, even the proton packs have the correct warning labels, elbow joint screws and Clippard valves. That's just…that's just magical man. There's no price or release date on this quartet of Ghostbusters yet, but expect them to heat your wallet up, make your credit card hard and smoke your bank account when they do eventually go on sale.
The last time Blitzwing released some uncannily accurate figures, it was for Fight Club. The Tyler Durden figure alone costs $249.99, and I'm imagining that these paranormal exterminators will cost a few more of the prettiest pennies each on top of that price. Who ya gonna call? The loan department at my local bank, that's who.
Last Updated: July 28, 2016