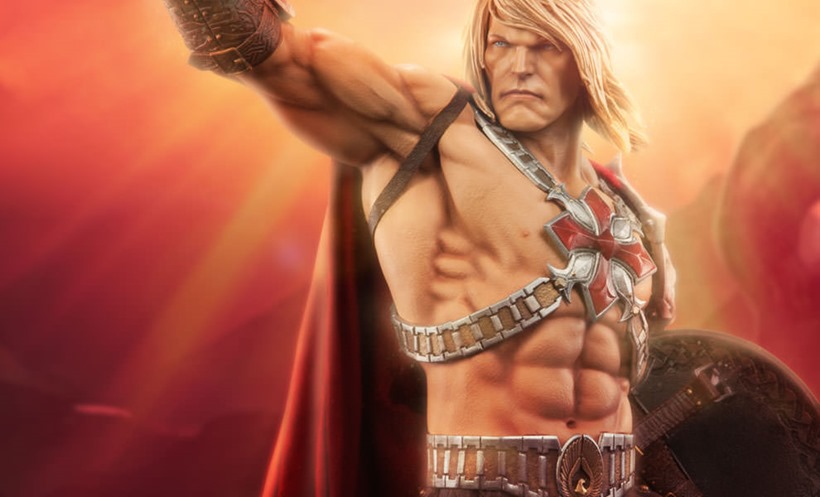 So there I stood, before the Great Eye of the Galaxy, basking in it's power as He-Matty was helpless before me, chained and without hope. And then, the inevitable moment transpired. I, the D, became master of the universe!
YES! Yes… I feel it, the power… fills me. Yes, I feel the universe within me! I am… I am a part of the cosmos! Its energy flows… flows through me! Of what consequence was He-Matty now? This planet, these people, they are nothing to me! The universe is power – pure, unstoppable power! And I am that force, I am that power! KNEEL BEFORE YOUR MASTER!
And He-Matty refused me. Fool! You are no longer my equal! I am more than man! More than life! I… am… a… GOD! Now. You… will… KNEEL! KNEEEEEEEL!
And while He-Matty and I did final battle, I plotted and schemed, for soon I would use the power of Castle Greyskull to own the greatest of He-Man collectibles!
Standing an impressive 23″ tall, Prince Adam of Eternia holds aloft his indestructible magic Power Sword as he transforms into He-Man, the mighty champion of Castle Grayskull! Sideshow's artists have re-imagined the muscular hero with his trusty shield, intricately detailed armored pteruges, boots and gauntlets, his strength-magnifying breastplate and power harness, and a magnificent removable cape.

As a special nod to the earliest versions of the story, we have also included an exclusive swap-out axe, He-Man's primary weapon before he joined the two halves of the Power Sword that would gain him entry to Castle Grayskull.

Charged with defending his kingdom from the evil forces of Skeletor, He-Man is the most powerful man in the universe!
So how much can you expect to pay for the greatest hero of the 1980s who made nipple harnesses an in-thing? $399.99, when Prince Adam is unleashed in the final quarter of 2016. HE-MAN!
Last Updated: September 25, 2015