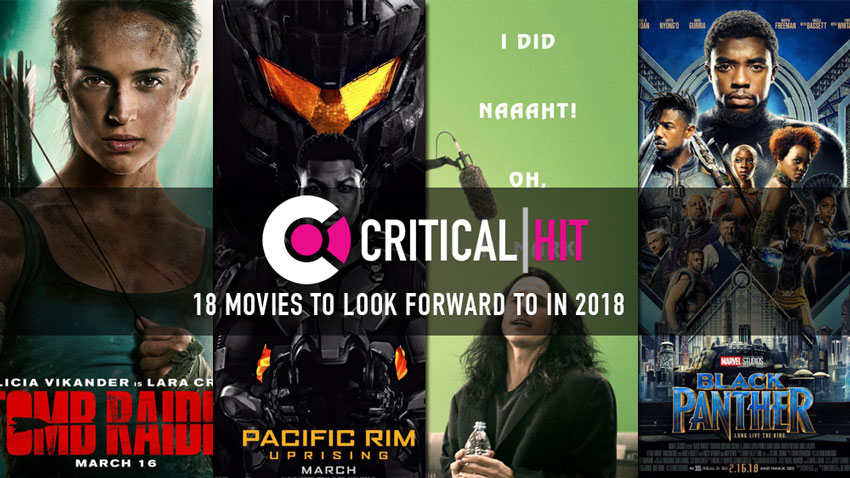 Covering the first half of 2018, here are some of the highly anticipated movies to be opening this year. It was damn difficult to keep this list down to just 18, I know there are a lot of movies opening between now and June that didn't get a shout out. And there will be even more coming in the second half of 2018, but that list will go up later in the year when we have more details on the upcoming releases.
All the listed release dates are accurate as of publication, but unfortunately, cinema schedules are constantly changing, so be sure to keep your eye out for the weekly Movies out Today posts so you don't miss a thing!
The Disaster Artist
The real life story of writer/director Tommy Wiseau, the man behind what is often referred to as "The Citizen Kane of Bad Movies," The Room, is brought to life, chronicling the odd film's troubled development and eventual cult success.
Behind every movie is a story, and no story has ever been as highly anticipated as the story behind The Room – the most infamously bad, and endlessly quotable, Tommy Wiseau production.
Local release date: 9 February
Fifty Shades Freed
Believing they have left behind shadowy figures from their past, newlyweds Christian and Ana fully embrace an inextricable connection and shared life of luxury. But just as she steps into her role as Mrs. Grey and he relaxes into an unfamiliar stability, new threats could jeopardize their happy ending before it even begins.
Literally, the only reason this movie has been included is so that you have peace of mind that the end to the Fifty Shades movies is finally in sight and you'll (hopefully) never be subjected to them again. After this one, that is.
Local release date: 9 February
Black Panther
"Black Panther" follows T'Challa who, after the events of "Captain America: Civil War," returns home to the isolated, technologically advanced African nation of Wakanda to take his place as King. However, when an old enemy reappears on the radar, T'Challa's mettle as King and Black Panther is tested when he is drawn into a conflict that puts the entire fate of Wakanda and the world at risk.
I've watched the Black Panther trailer so many times I can basically quote it all. "Tell me something. What do you know about… Wakanda?" Well, nothing yet, Andy Serkis, but I can't wait to find out!
Local release date: 16 February
I, Tonya
In 1991, talented figure skater Tonya Harding becomes the first American woman to complete a triple axel during a competition. In 1994, her world comes crashing down when her ex-husband conspires to injure Nancy Kerrigan, a fellow Olympic hopeful, in a poorly conceived attack that forces the young woman to withdraw from the national championship. Harding's life and legacy instantly become tarnished as she's forever associated with one of the most infamous scandals in sports history.
Both humorous and emotionally resonant, I, Tonya showcases a powerhouse performance by Margot Robbie – one that has netted her two awards and an Academy Award nomination to boot.
Local release date: 16 February
Downsizing
When scientists discover how to shrink humans to five inches tall as a solution to over-population, Paul (Matt Damon) and his wife Audrey (Kristen Wiig) decide to abandon their stressed lives in order to get small and move to a new downsized community–a choice that triggers life-changing adventures.
I'm so curious about the concept behind Downsizing, but unfortunately, critics have not been kind so far. So it remains to be seen whether this sci-fi comedy-drama will be more welcomed by audiences.
Local release date: 23 February
Colossal
Gloria (Anne Hathaway) is an ordinary woman who, after losing her job and being kicked out of her apartment by her boyfriend, is forced to leave her life in New York and move back to her hometown. When news reports surface that a giant creature is destroying Seoul, Korea, Gloria gradually comes to the realization that she is somehow connected to this far-off phenomenon. As events begin to spin out of control, Gloria must determine why her seemingly insignificant existence has such a colossal effect on the fate of the world.
Anne Hathaway accidentally controls a giant monster that spawned in Seoul. Colossal sounds delightfully insane and I can't wait to watch it.
Local release date: 13 April
Tomb Raider
Lara Croft (Alicia Vikander) is the fiercely independent daughter of an eccentric adventurer who vanished when she was scarcely a teen. She leaves everything she knows behind in search of her dad's last-known destination: a fabled tomb on a mythical island that might be somewhere off the coast of Japan. But her mission will not be an easy one; just reaching the island will be extremely treacherous. Suddenly, the stakes couldn't be higher for Lara, who—against the odds and armed with only her sharp mind, blind faith and inherently stubborn spirit—must learn to push herself beyond her limits as she journeys into the unknown. If she survives this perilous adventure, it could be the making of her, earning her the name tomb raider.
Although I'm one of many people that have been less than impressed with the story direction Tomb Raider seems to be taking, I'll still watch it in the hopes that I am proven wrong and it's not a mess of flimsy motivation and daddy issues.
Local release date: 16 March
Pacific Rim: Uprising
The globe-spanning conflict between otherworldly monsters of mass destruction and the human-piloted super-machines built to vanquish them was only a prelude to the all-out assault on humanity in Pacific Rim Uprising. John Boyega stars as the rebellious Jake Pentecost, a once-promising Jaeger pilot whose legendary father gave his life to secure humanity's victory against the monstrous Kaiju. Jake has since abandoned his training only to become caught up in a criminal underworld. But when an even more unstoppable threat is unleashed to tear through our cities and bring the world to its knees, he is given one last chance to live up to his father's legacy by his estranged sister, Mako Mori (Rinko Kikuchi)—who is leading a brave new generation of pilots that have grown up in the shadow of war.
Despite its flaws, I loved the heck out of the first Pacific Rim, but I am iffy about a sequel. Don't get me wrong, more giant robots punching more giant monsters is going to be rad. I just don't know if the same magic lightning can strike twice.
Local release date: 23 March
Ready Player One
In 2045, the world is on the brink of chaos and collapse. But the people have found salvation in the OASIS, an expansive virtual reality universe created by the brilliant and eccentric James Halliday (Mark Rylance). When Halliday dies, he leaves his immense fortune to the first person to find a digital Easter egg he has hidden somewhere in the OASIS, sparking a contest that grips the entire world. When an unlikely young hero named Wade Watts (Tye Sheridan) decides to join the contest, he is hurled into a breakneck, reality-bending treasure hunt through a fantastical universe of mystery, discovery and danger.
Based on Ernest Cline's love letter to the 1980's, Ready Player One isn't the kind of book I'd turn into a movie. Today's technology is at least up to the challenge of bringing the online world of the OASIS to life. Here's hoping the film fixes some of the more cringe-worthy dialogue at the same time.
Local release date: 30 March
5 Fingers for Marseilles
Apartheid South Africa: The community of Railway, attached to the remote town of Marseilles, are the victims of brutal police oppression and only the young "Five Fingers" are willing to stand up to them. Their battle is heartfelt but innocent, until hot-headed Tau kills two policemen in an act of passion. He flees, leaving his brothers and friends behind, but his action has triggered a conflict that will leave both Marseilles and the Five Fingers changed. Twenty years later, Tau is released from prison, now a feared and brutal outlaw, "The Lion of Marseilles." But scarred and empty, he renounces violence and returns home desiring only to reconnect with those he left behind.
Shot on location in the Eastern Cape, Five Fingers for Marseilles has generated some good local and international hype. Our own Kervyn got to chat with writer Sean Drummond and director Michael Matthews back in September and needless to say, the excitement for this film is real!
Local release date: 6 April
Rampage
Primatologist Davis Okoye (Dwayne Johnson), a man who keeps people at a distance, shares an unshakable bond with George, the extraordinarily intelligent, silverback gorilla who has been in his care since birth. But a rogue genetic experiment gone awry mutates this gentle ape into a raging creature of enormous size. To make matters worse, it's soon discovered there are other similarly altered animals. As these newly created alpha predators tear across North America, destroying everything in their path, Okoye teams with a discredited genetic engineer to secure an antidote, fighting his way through an ever-changing battlefield, not only to halt a global catastrophe but to save the fearsome creature that was once his friend.
After his rewarding performance in Baywatch (which was the only good part of the movie to be honest) and his even more hilarious and sincere performance in Jumanji: Welcome to the Jungle, Dwayne Johnson is fast becoming one of my favourite actors. So needless to say, I am very much looking forward to Rampage. I don't even care if it's good.
Local release date: 13 April
Avengers: Infinity War
As the Avengers and their allies have continued to protect the world from threats too large for any one hero to handle, a new danger has emerged from the cosmic shadows: Thanos. A despot of intergalactic infamy, his goal is to collect all six Infinity Stones, artifacts of unimaginable power, and use them to inflict his twisted will on all of reality. Everything the Avengers have fought for has led up to this moment – the fate of Earth and existence itself has never been more uncertain.
The build-up to the big Marvel Cinematic Universe showdown between the Avengers and Thanos has been years in the making, and finally part one will hit our screens. You've got until April to rewatch every MCU move and refresh your memories before it all comes to a head.
Local release date: 27 April
2017 Cloverfield Movie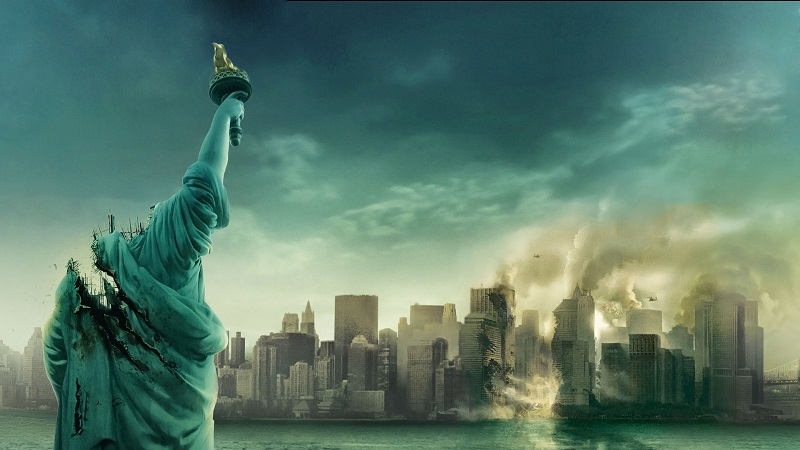 The story, set in the near future, centers on a team of astronauts on a space station making a terrifying discovery that challenges all they know about the fabric of reality, as they desperately fight for their survival.
Originally titled "God Particle", precious little is known about the upcoming Cloverfield film. Besides for the same sort of cryptic, viral marketing that we saw before 10 Cloverfield Lane (SlashFilm has a breakdown on the latest clues), all we know is that the third Cloverfield film stars Daniel Brühl, Elizabeth Debicki, Aksel Hennie, Gugu Mbatha-Raw, Chris O'Dowd, John Ortiz, David Oyelowo and Zhang Ziyi, and is due out internationally on April 20, and locally on 4 May.
Local release date: 4 May
Solo: A Star Wars Story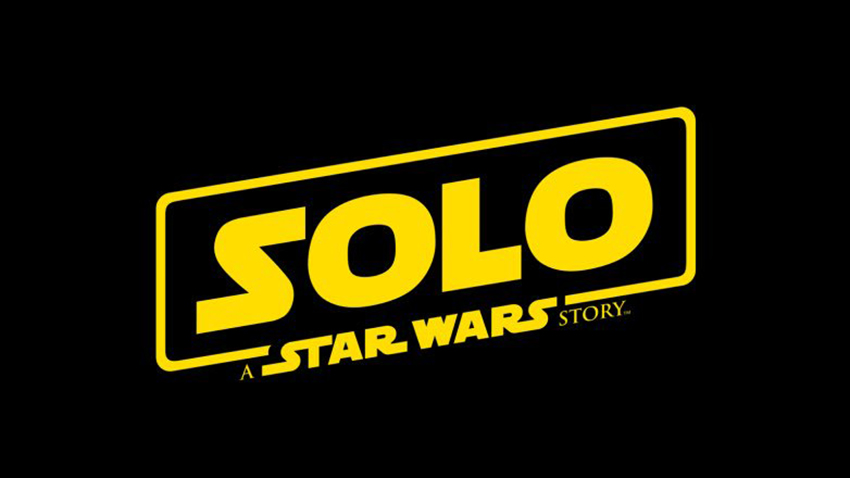 Through a series of daring escapades, young Han Solo meets his future co-pilot Chewbacca and encounters the notorious gambler Lando Calrissian.
As much as I am in love with the new Star Wars films, having one every year is starting to feel rather wearisome. Don't get me wrong, I enjoyed Rogue One, but the ever expanding Star Wars universe of spin-offs, sequels, prequels, midquels and interquels runs the risk of fatigue and more made-up mangled words.
Local release date: 25 May
Deadpool 2
After surviving a near fatal bovine attack, a disfigured cafeteria chef (Wade Wilson) struggles to fulfill his dream of becoming Mayberry's hottest bartender while also learning to cope with his lost sense of taste. Searching to regain his spice for life, as well as a flux capacitor, Wade must battle ninjas, the yakuza, and a pack of sexually aggressive canines, as he journeys around the world to discover the importance of family, friendship, and flavor – finding a new taste for adventure and earning the coveted coffee mug title of World's Best Lover.
To literally no one's surprise ever, 2016's Deadpool was a roaring success and was very obviously destined for a sequel. Unfortunately, Deadpool 2 isn't releasing on Valentine's Day this time, but any night can be date night with your favourite Merc with a Mouth
Local release date: 18 May
Jurassic World: Fallen Kingdom
It's been four years since theme park and luxury resort Jurassic World was destroyed by dinosaurs out of containment. Isla Nublar now sits abandoned by humans while the surviving dinosaurs fend for themselves in the jungles. When the island's dormant volcano begins roaring to life, Owen (Chris Pratt) and Claire (Bryce Dallas Howard) mount a campaign to rescue the remaining dinosaurs from this extinction-level event. Owen is driven to find Blue, his lead raptor who's still missing in the wild, and Claire has grown a respect for these creatures she now makes her mission. Arriving on the unstable island as lava begins raining down, their expedition uncovers a conspiracy that could return our entire planet to a perilous order not seen since prehistoric times.
While the plot of Jurassic World was a thinly-veiled simile to the original Jurassic Park movies and its many sequels, Jurassic World: Fallen Kingdom sounds like, well… just a continuation of the franchise. In the exact same way the original Jurassic Park movies continued, with dinosaurs crow-barred into ever increasingly ridiculous situations. But hey, more Chris Pratt, so whatever, right?
Local release date: 8 June
The Incredibles 2
Everyone's favorite family of superheroes is back in Incredibles 2 – but this time Helen (Holly Hunter) is in the spotlight, leaving Bob (Craig T. Nelson) at home with Violet (Sarah Vowell) and Dash (Huck Milner) to navigate the day-to-day heroics of "normal" life. It's a tough transition for everyone, made tougher by the fact that the family is still unaware of baby Jack-Jack's emerging superpowers. When a new villain hatches a brilliant and dangerous plot, the family and Frozone (Samuel L. Jackson) must find a way to work together again—which is easier said than done, even when they're all Incredible.
The Incredibles is honestly my favourite animated film of all time, so to get a sequel is just mind-blowing. And it's not vapourware, it's really real and totally going to happen in June and I can't wait!
Local release date: 15 June
Isle of Dogs
Isle of Dogs tells the story of Atari Kobayashi, 12-year-old ward to corrupt Mayor Kobayashi. When, by Executive Decree, all the canine pets of Megasaki City are exiled to a vast garbage-dump called Trash Island, Atari sets off alone in a miniature Junior-Turbo Prop and flies across the river in search of his bodyguard-dog, Spots. There, with the assistance of a pack of newly-found mongrel friends, he begins an epic journey that will decide the fate and future of the entire Prefecture.
The first thing I asked Kervyn after watching the Isle of Dogs trailer was, "Is Wes Anderson always this weird?" To which he responded, "Yeah, pretty much." At least Kervyn is super psyched for Isle of Dogs, whereas I'm still just scratching my head.
Local release date: 22 June
Last Updated: January 29, 2018