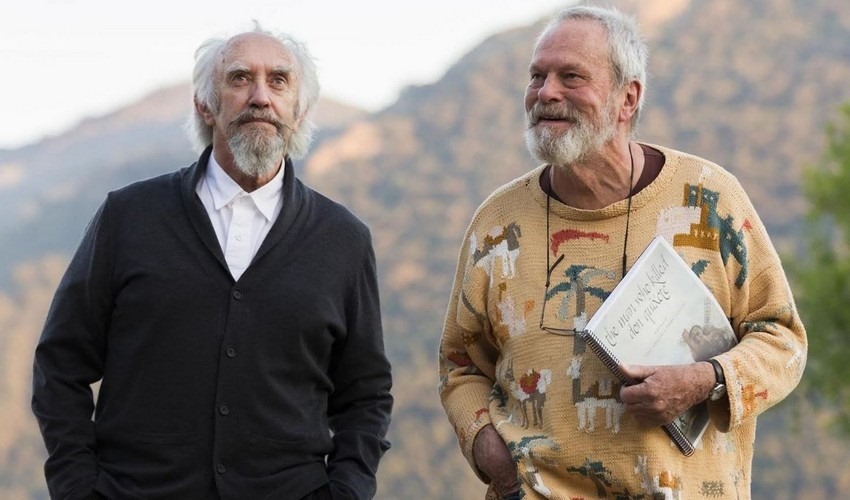 19 years. That is a long time. That's long enough to make a legal adult. It's also long enough for a simple film project to evolve into something that borders on the mythical. Of course, myths aren't real, and for the longest time now, the same could be said of Terry Gilliam's The Man Who Killed Don Quixote. The famous filmmaker and Monty Python alumni has been trying for nearly two decades to bring his version of Miguel de Cervantes famous novel Don Quixote to the screen, with eight separate attempts at getting this production off the ground over the course of 19 years. Floods, schedule conflicts, loss of finances, death of cast members, etc. The setbacks have been far too numerous and varied to recount here – so much so that a documentary, Lost in La Mancha, was made about it in 2002.
You know what they say though, eighth time's the charm and Gilliam surprised the world when he revealed in March 2017 that filming had begun with Jonathan Pryce (who starred in Gilliam's sci-fi masterpiece Brasil) and Adam Driver set to star. Even more surprising was when filming actually completed a few months later! Since then though, as Gilliam went into post-production, we haven't heard a single thing since. For anybody who's been following this passion project for so long, this was par for the course. However, once again we got a surprise last night when the first official image from the production was revealed Andrea Corsini, an Italian filmmaker who doesn't appear to have anything to do with the production. Honestly, I couldn't care less what his connection to Gilliam's film is though, the most important thing is that he's finally offered some concrete proof that we will actually get to see this movie before I'm old enough to draw a pension.
around european film market i've got the first official picture from terry gilliam's quixote with adam driver and jonathan pryce #themanwhokilleddonquixote #Berlinale #TerryGilliam pic.twitter.com/5IOmapTqSc

— Andrea Corsini (@andreamtcorsini) February 21, 2018
The Man Who Killed Don Quixote, which was penned by Gilliam and frequent collaborator Tony Grisoni, is not a straight adaptation of Cervantes' tales about an eponymous delusional 16th century Spanish noble who sets out on a quest to return chivalry and justice to the world, despite only imagining all the fantastical perils he wants to take on, much to the dismay of his squire Sancho Panza. Instead, Gilliam and Grisoni will take a very meta approach – even more so because Gilliam's production troubles – by following a modern TV commercials director who once made an adaptation of Don Quixote in his youth, only for the effects of his student film to reach him many years later and set him, unwillingly, on a quest much like in the original story. Here's the full official synopsis which explains it in detail:
Once upon a time, Toby (Driver) was an idealistic young film student. His great achievement, a lyrical re-working of the Don Quixote story set in a quaint old Spanish village. But that was then; these days he is a jaded, arrogant and over-sexed commercials director. Money and glamour have derailed him, and now he juggles his boss's wife Jacqui, a biblical storm and his own ego as he tries to complete a new commercial shoot in Spain. Until a mysterious Gypsy approaches him with an ancient copy of Toby's student film: Toby is moved and sets off to find the little village where he made his primary opus all those years ago. To Toby's horror, his little film has had a terrible effect on the sleepy village; Angelica, the young girl who was innocence personified, now works as a high class call-girl, and the old man who played Quixote (Pryce) has now gone completely mad, believing he really is the 'Knight of the Mournful Countenance'. A series of accidents leads to a fire that threatens to destroy the village. The police come for Toby, but he is 'rescued' by the deluded old man, who, mistaking him for his loyal squire Sancho, leads Toby away into the countryside on the quest for his perfect lady, Dulcinea. On their quest, Toby comes face to face with demons, both real and imagined, modern and medieval. Damsels are rescued, jousts are fought, giants are slain and women have beards! Reality and fantasy blur on this bizarre road trip which leads to a phantasmagorical finale.
The Man Who Killed Don Quixote has had a who's who of Hollywood A-listers attached to it over the years, the departures of some of which were a few of the reasons why it got scrapped (unfortunately for the attempt before this one, it was the legendary John Hurt passing away from cancer that stopped it then). This latest version will see Olga Kurylenko, Stellan Skarsgård, Óscar Jaenada, Rossy de Palma, and Jason Watkins starring alongside Pryce and Driver. As for a release date… Well, it's taken us 19 years to get a first image. Let's not rush things now.
Last Updated: February 22, 2018