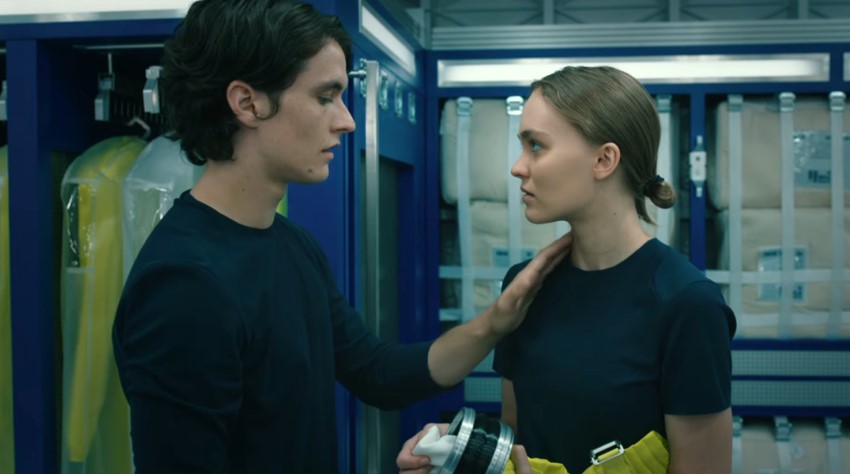 Voyagers is the upcoming sci-fi thriller written and directed by Neil Burger (The Illusionist, Divergent) that's been described as 'Lord of the Flies' in space. It features a strong cast that includes Tye Sheridan, Lily-Rose Depp, Fionn Whitehead, Chanté Adams, Isaac Hempstead Wright, Viveik Kalra, Archie Madekwe, Quintessa Swindell, Madison Hu, and Colin Farrell.
The official plot synopsis is as follows:
With the future of the human race at stake, a group of young men and women, bred for intelligence and obedience, embark on an expedition to colonize a distant planet. But when they uncover disturbing secrets about the mission, they defy their training and begin to explore their most primitive natures. As life on the ship descends into chaos, they're consumed by fear, lust, and the insatiable hunger for power.
I'm going to go out on a limb and say you can't breed (that's not a tad creepy at all) for intelligence and obedience, and that this is going to backfire spectacularly. Let's take a look:
I don't know about you, but after watching that teaser I have an intense craving for cheese. If this movie turns out to be anything other than bland, predictable, pseudo-profound (sorry, Colin Farrell) rubbish I'll be very surprised. I can't even say I'm curious to watch Voyagers just to see how bad it could be because it just showed us.
Right now all I'm feeling is disappointment, because I expected something better from a sci-fi movie with a cast like this – it's a really good cast. I also think that it also looks the part, but plot-wise we've seen this 'Lord of the Flies' scenario (with a dash of Aldous Huxley's Brave New World) played out hundreds of times before, and Voyagers doesn't seem like it's deviating from that well-worn path in the slightest.
Maybe I'm just old and jaded. What do you think? Voyagers is due for release in the US on 9 April.
P.S. And another thing: Why can humanity's "best and brightest" never display the slightest modicum of self-control or intelligence after encountering the unfamiliar? It's just instant anarchy and petting space vagina-snakes.
Last Updated: March 3, 2021