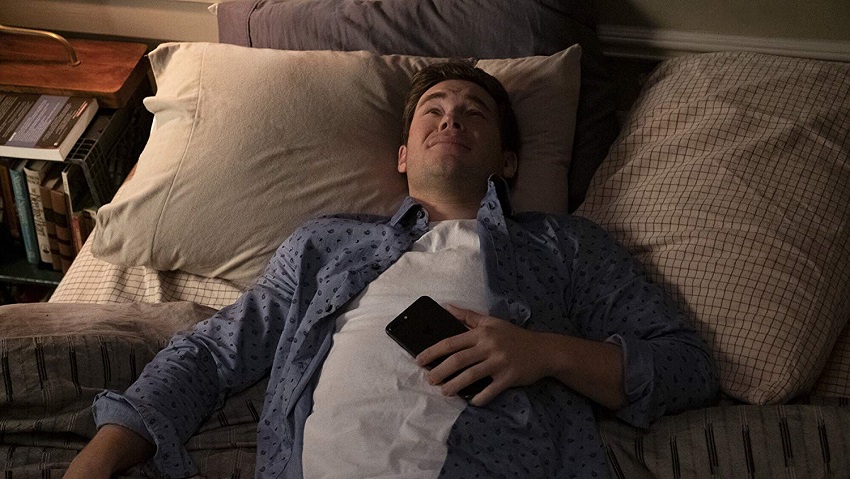 Jexi is the upcoming comedy from the writer/director pairing of Jon Lucas and Scott Moore (Bad Moms, The Hangover).
It stars Adam Devine (Workaholics) as someone who loves his smartphone a bit too much, and whose new smartphone's A.I. (voiced by Rose Byrne) becomes obsessed with him to the point where it begins sabotaging his life and his burgeoning relationship (with Alexandra Shipp – Straight Outta Compton) in an effort to keep him all to itself.
The official plot synopsis is as follows:
Phil (Adam Devine) has a major dependency issue – he's addicted to his phone. He has no friends, he has a job writing pop culture "Top 10" lists, and his love life is non-existent. But his Facebook status is about to change. When he is forced to upgrade his phone, the latest model comes with an unexpected feature… Jexi (Rose Byrne) – an A.I. life coach, virtual assistant and cheerleader.

With her help, Phil begins to get a real life. But as he becomes less dependent on his phone, Jexi's artificial intelligence morphs into a tech nightmare determined to keep Phil all to herself, even if it means ruining his chances of finding success.
Let's take a look:
I'm not the world's biggest Adam Devine fan because I think he's pretty limited as an actor, but this movie really plays to his strengths and the trailer was much funnier than I expected it would be. I guess I shouldn't have underestimated the writer/director pairing or the rest of the cast. Yes it's silly and exaggerated, and the romance angle is corny, but I still enjoyed the trailer. I put that down to his incredibly mean phone and the codependent controlling relationship it develops with him.
This looks like a fun little comedy where you should just sit back, switch off your brain, munch some popcorn, and have a laugh. What do you think?
Jexi is due for release in the US on 11 October. It also stars Michael Peña, Ron Funches, Charlene Yi, Wanda Sykes, Justin Hartley, and Napolean Highbrou.
Last Updated: September 3, 2019