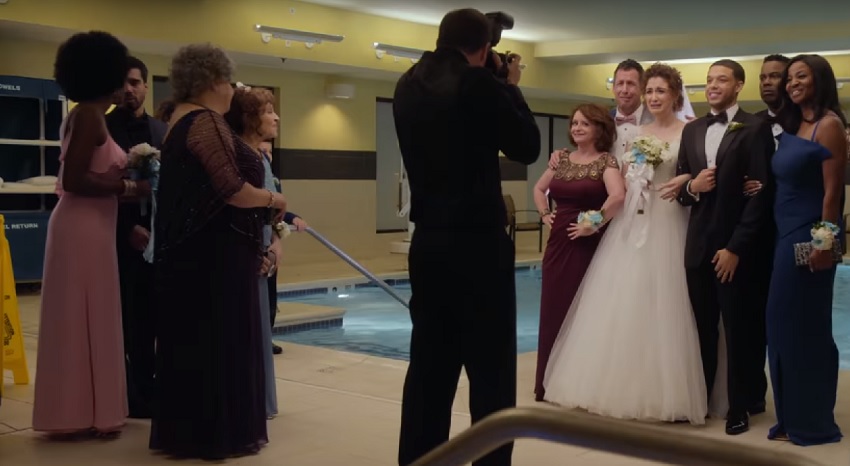 Unlike many, I don't hate Adam Sandler. I regularly maintain he can and has acted well, he just doesn't want and/or need to now, and who can blame him when he makes a few million dollars per silly comedy where he talks in a stupid baby voice. It seems to make him happy. Clearly many of Netflix's subscribers are happy with him as well as they've combined to make his last three movies – The Ridiculous 6, The Do-Over, and Sandy Wexler – among the streaming giant's most popular original content. That, in turn, made Netflix happy enough to extend his original four movie deal to eight.
And that brings us to today, and the trailer for The Week Of, the fourth Netflix Original Sandler movie that'll be premiering on 27 April. The movie is directed by Robert Smigel (better known for his writing on Saturday Night Live and other variety shows), who co-wrote the script with Sandler. It also reunites Sandler with another veteran funny man in Chris Rock, and who previously starred together in Grown Ups (2010) and Grown Ups 2 (2013).
The official plot synopsis is as follows:
The Week Of tells the story of a devoted, middle class father (Adam Sandler) determined to pay for his daughter's wedding despite the prodding of the wealthier father of the groom (Chris Rock).  A series of calamities forces the dads (and their families) to come together and endure the longest week of their lives.
Let's take a look:
If I had to describe this in one word, that word would be: harmless. The Week Of looks like a harmless, little comedy that won't push any boundaries or leave a lasting impression. It's very much the standard clash of cultures, combining race and class for the bulk of the humour. It's also seems to have a fair bit of heart, with both fathers clearly wanting to do what's best for their children, although it does come across as a bit cheesy. I did chuckle under my breath once or twice though.
If you already don't like Adam Sandler then this movie won't do anything to change your mind, but if you do, well then you've got a new Adam Sandler movie to enjoy. What do you think?
As I mentioned earlier, The Week Of will premiere on Netflix on 27 April. It also stars Rachel Dratch, Steve Buscemi, Allison Strong, Noah Robbins, Maury Ginsberg, Rob Morgan, Scott Cohen, and more.
Last Updated: February 28, 2018