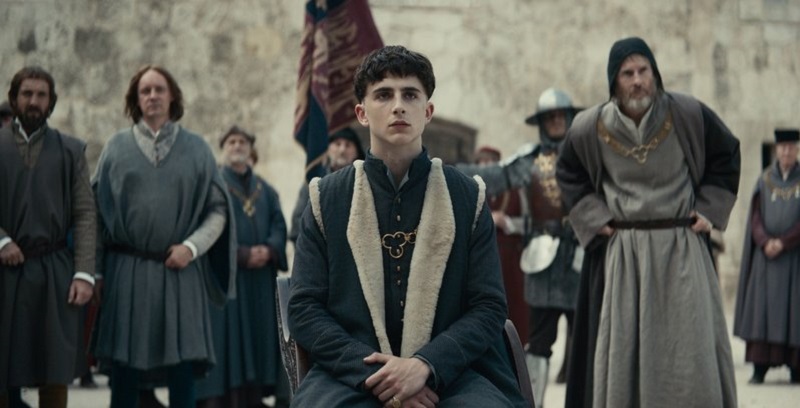 Much like sports, acting can often be about form too – unless you're Meryl Streep who never seems to go out of form – which is why when actors start putting in some great performances almost everything they're in for a short while afterwards looks exceptional. Take Timothée Chalamet who, ever since he broke out into fame following his Oscar-nominated turn in the 2017 film Call Me By Your Name, seems to strike gold with every role that he plays. Lady Bird and Beautiful Boy showcased his talents and Little Women, Dune, and Netflix's The King all look filled with potential.
It's that latter film which we get to see more of today as Netflix just dropped the trailer for their big star-studded historical epic, which is a cinematic retelling of the life of King HenryV that borrows heavily from  Shakespeare's Henriad (the plays Henry IV Part 1 & 2 and Henry V) and was adapted for the screen by director David Michôd and Joel Edgerton, who co-stars here as well. Michôd and Edgerton previously worked on Animal Kingdom and The Rover and the pair seem to have great chemistry together. And with Chalamet, who is proving to be one of the brightest talents in Hollywood, added into the mix, this could make for an epic film. Check out the trailer below.
This movie definitely looks like it has the makings for a medieval masterpiece showcasing how a lust for power has plagued King Henry's mind following his father's death. It features loads of political intrigue and some potential for sprawling epic battles, which is what you want out of a movie from this time period. Throw in actors like John Falstaff, Robert Pattinson, Sean Harris, Michael Williams, and Ben Mendelsohn and you have the foundation for a classic.
Netflix hasn't had luck with these type of films before though with last year's Outlaw King trying to tell a similar story only to fall short of expectations thanks to some rather slow pacing and average performances. Perhaps this time they will strike gold and considering that is what Chamalet seems to only be capable of producing, I think they will.
Last Updated: August 28, 2019