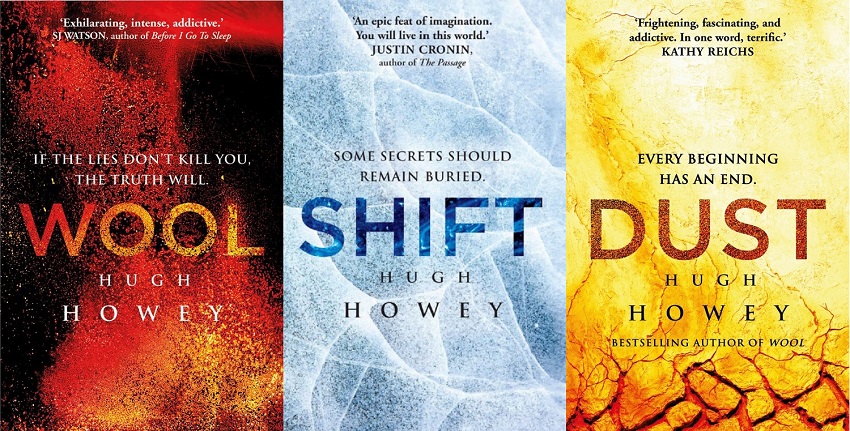 Author Hugh Howey's Wool is one of the few major successes to come out of self-published novels. The short story was first published in 2011 and quickly became an online sensation, rocketing up Amazon's best seller lists, and he's subsequently released a further eight books in what's now known as the Silo series. Since picking up a physical publishing deal books one through five can now be found combined in the Wool omnibus, six to eight form the prequel series Shift, with the final novel, Dust, tying both series together.
There's been a lot of interest in adapting the series over the years, with 20th Century Fox holding the movie rights at one point, however now Variety is reporting that cable network AMC (home of Breaking Bad, The Walking Dead, and more) has tasked LaToya Morgan (TURN: Washington's Spies, Into the Badlands) with developing a TV series based on the novels. She will also act as executive producer for the series, with Howey attached as a producer.
The series takes place in a post-apocalyptic Earth devastated by nuclear war, with the surface of the planet uninhabitable due to radioactive fallout. The remnants of humanity live in carefully controlled and maintained 144-storey silos built deep underground, with scarce resources being tightly rationed and peoples' daily existence under strict control so as to not upset the fragile ecosystem and doom humanity to extinction.
I read the first omnibus a few years ago and it was an entertaining read with a lot of strong themes to unpack. It evolves from a very small, personal story to a much grander tale rife with secrets and conspiracies. Those of you who've played any of the Fallout games will also see many similarities between the silos of Wool and the vaults of Fallout. I think the novels lend themselves well to adaption as a TV series as they're intensely character driven. AMC is also a good fit for the potential series, should they go ahead with it, as they've shown they won't shy away from mature content – which the Silo series has in spades.
The first novel's plot synopsis (via Amazon) is as follows:
In a ruined and toxic future, a community exists in a giant silo underground, hundreds of stories deep. There, men and women live in a society full of regulations they believe are meant to protect them. Sheriff Holston, who has unwaveringly upheld the silo's rules for years, unexpectedly breaks the greatest taboo of all: He asks to go outside.

His fateful decision unleashes a drastic series of events. An unlikely candidate is appointed to replace him: Juliette, a mechanic with no training in law, whose special knack is fixing machines. Now Juliette is about to be entrusted with fixing her silo, and she will soon learn just how badly her world is broken. The silo is about to confront what its history has only hinted about and its inhabitants have never dared to whisper. Uprising.
Last Updated: August 2, 2018