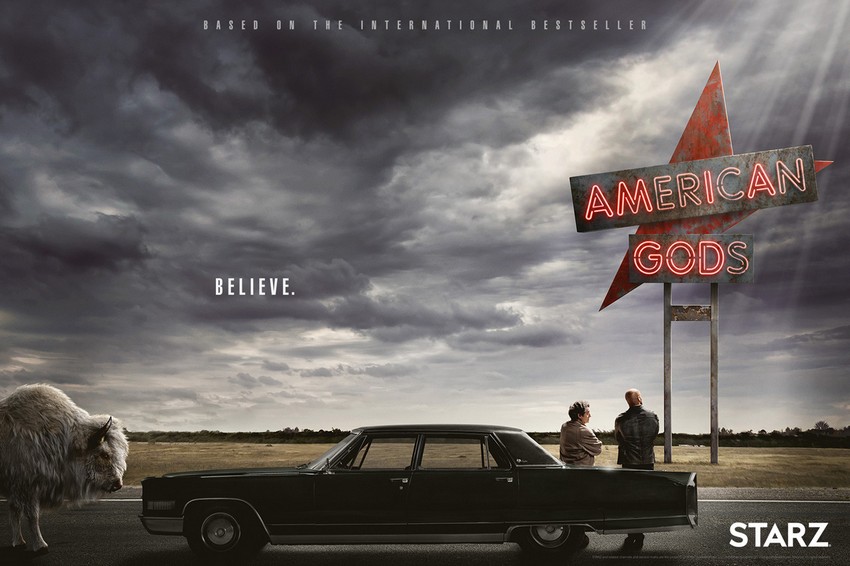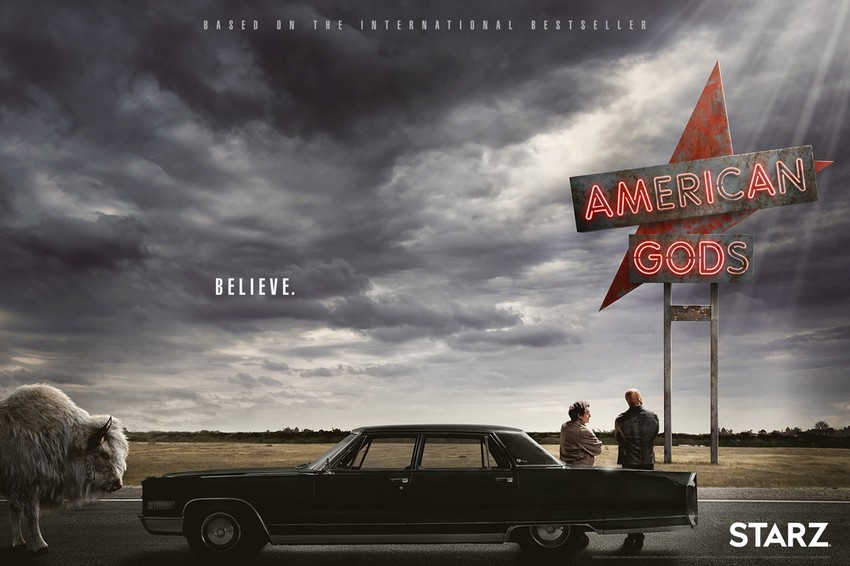 That's it. I give up, guys. For ages now, whenever I've written about Starz's upcoming TV series adaptation of Neil Gaiman's epic fantasy novel American Gods, I've been prefacing it with the admission that I've not read the novel yet, despite owning it for years already. I always say that I'm going to remedy that, but thanks to my life being stupidly busy I just never have. And with American Gods set to debut on TV very shortly, chances are that situation is not going to change any time soon. Luckily though, said TV series is apparently good. Really, really good.
That's according to a group of critics who got to watch the first few episodes of the show recently, many of whom exclaim it to be the best work of co-showrunner Bryan Fuller's career. Seeing as that career also includes the quirky gem Pushing Daisies as well as the deliciously magnificent Hannibal, that's quite the achievement. By all accounts though, American Gods is every bit as visually glorious and macabre as that latter critically acclaimed series and then some, as it follows hulking ex-con Shadow Moon (The 100's Ricky Whittle) as he gets caught up in a heavenly war. On one side the old foreign gods led by Shadow's new employer, slick con-man Mr. Wednesday aka Odin (Deadwood's Ian McShane), while on the other side a menagerie of young gods representing modern concepts like Media, played by awesome X-Files alum Gillian Anderson.
American Gods is arguably fan-favourite master storyteller Gaiman's finest work, so the pressure from fans to get this right is immense. And Fuller and co have seemingly not dropped the ball here one bit in bringing it to life on-screen. The "co" in this regard being fellow showrunner Michael Green (who just penned the incredible Logan) and director David Slade who did some immensely fine work on Hannibal with Fuller. The trio were responsible for respectively writing/producing and directing all of the early episodes critics got to see, and if the rest of the series matches up then we may just have a new must-see modern classic TV series on our hands.
Here's what some of the reviews are saying in more detail.
American Gods is violent, gory, sexual, grimy and eccentric.

It's also one of the most beautiful, sensual and invigorating new television series that takes every aspect of show-running Bryan Fuller is known for and accentuates it. American Gods is a courageous beast; not just for taking on one of the most beloved Neil Gaiman novels of all time, but because a large part of it isn't designed to please most audiences. American Gods is weird for the sake of being weird, experimental for the sake of seeing how far boundaries can be pushed before they snap completely.

Those who are worried the network may have toned down the source material for the adaptation, and those concerned the network toned down Fuller's remarkably explicit stylings, can both rest assured Starz does no such thing.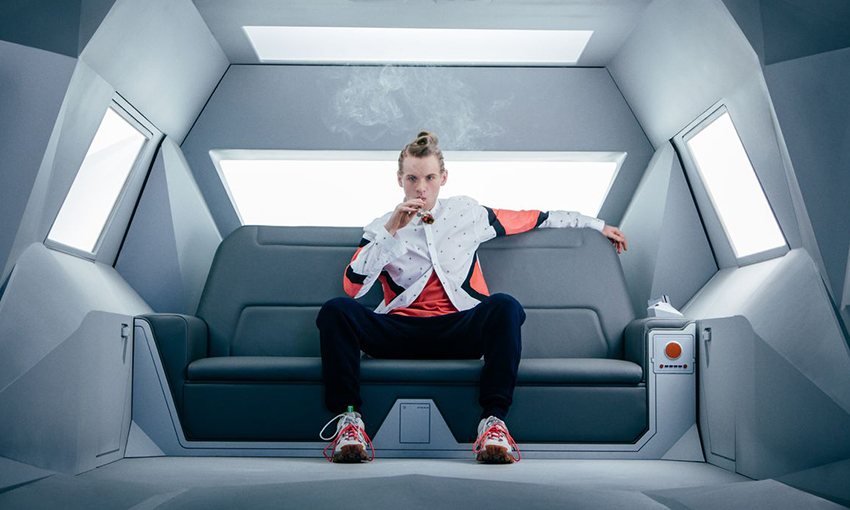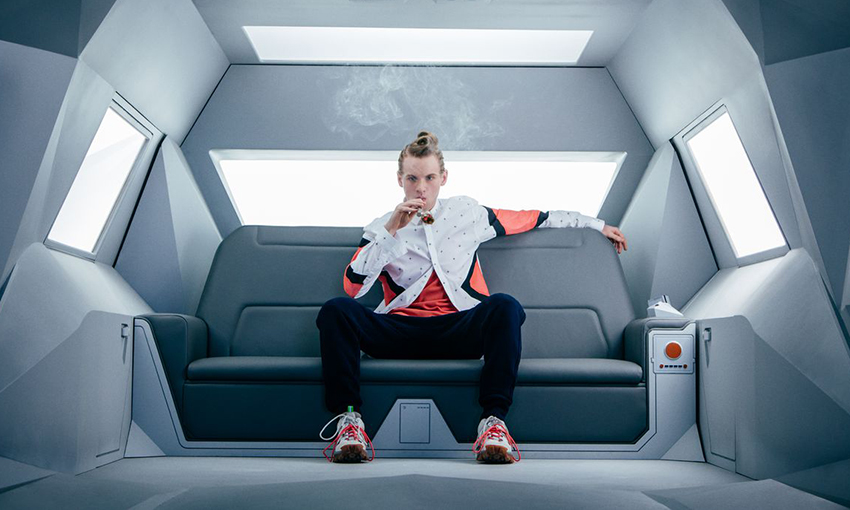 One of the best new shows of 2017 in my book, the series directed by David Slade, Floria Sigismondi and Craig Zobel is… a genre-busting and glorious buddy road show with McShane's Mr. Wednesday and Whittle's just-out-of-prison Shadow Moon heading down the interstate of the impossible and hidden. However, also at its deep ensemble-coiled heart of myths and the men and women who believe they master them, this American Gods has a love story, expanded characters, cops, robbers, dead celebs and legitimately deep thoughts baked in to bring to life the core American conversations of race, faith, immigration and civil rights.

Whatever else you may be worshiping on the small screen April 30, you need to convert to American Gods.
The showrunners patiently unfold the premise like a map and take their time exploring it. As he did on Hannibal, Fuller plays with time and expectations of serial narrative. Episodes bring you to places and sit there, marinating in characters, milking scenarios for mood and subtext. The show is in love with its own sensual image-making in ways that I find interesting, but others might deem indulgent. American Gods is always looking for some neat, nifty, new way to illustrate something, no matter how trivial.

Some might want a quicker pace from American Gods. Yo, po-mo Clash of the Titans, gets to the clashing! But I was consistently engrossed. The characters, the concept, the deeply considered filmmaking captured my imagination. I might like its textures and tangents more than its plot. But I'm fascinated to see where Shadow's anti-hero odyssey leads, which side of this American Ragnarok he chooses, or if he rejects the gods and bidding to bind his mind, heart and soul once and for all. But hopefully he keeps Media around. I'm not sure I can live without her.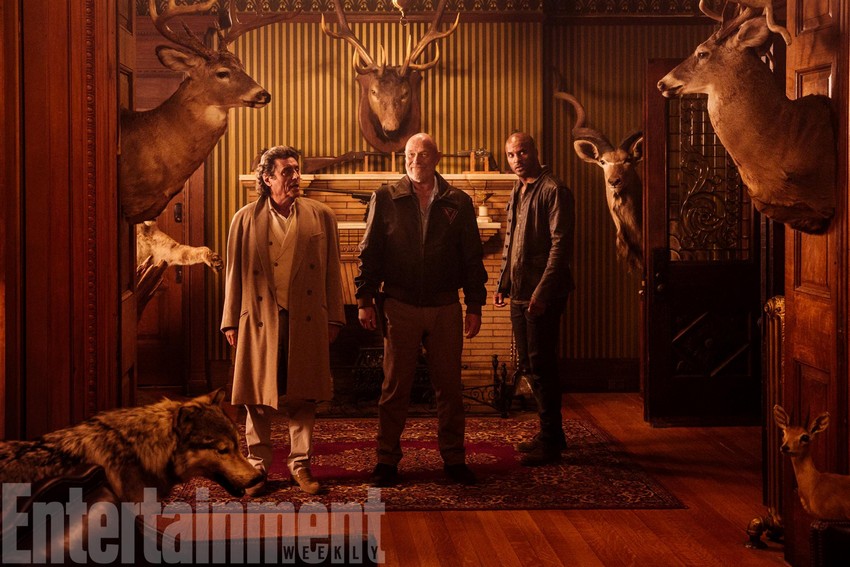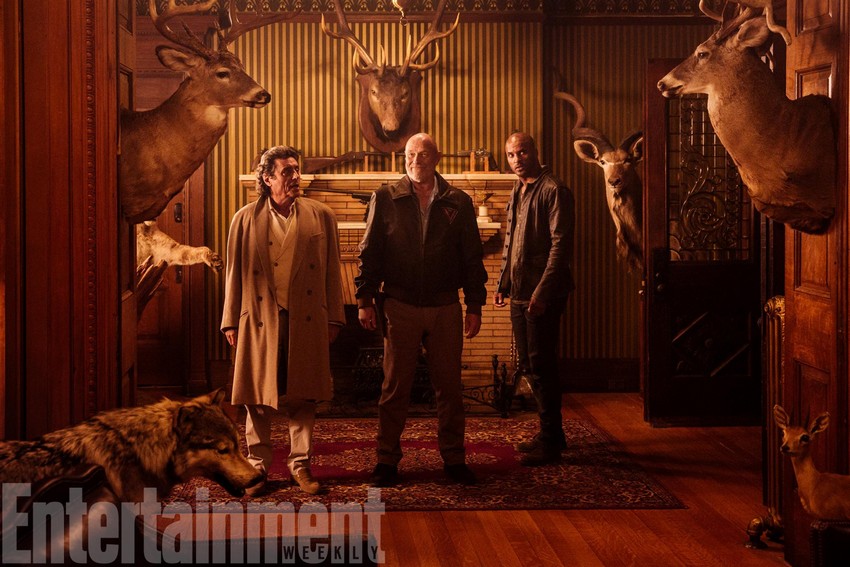 The show really kicks into high gear when Shadow has an in-flight encounter with McShane's Mr. Wednesday. Fans of both the novel and McShane's deliciously droll work on show's like Deadwood and Kings will be in heaven here as the actor chews into the juiciest dialogue he's had since his Swearengen days. Letting each vocab-packed sentence roll off his tongue with a slow irresistible charm, McShane seems to know he's lucked into another perfect marriage of actor and role. His irresistibly loquacious routine works in perfect harmony with Shadow's quiet grief and, for one brief plane ride, American Gods is firing on every possible cylinder.

In other places, the show comes in for a bumpier landing as it tries to marry the outlandish adventures of Gaiman's gods with the grounded reality of America's landscape and eye-popping style of Fuller and Green. But even in the show's weaker moments, American Gods is taking viewers on an unforgettable tour of an increasingly divided country.
Whittle turns out to be inspired casting himself, bringing the necessary physicality to the role of a bouncer turned possible soldier, as well as pathos and humor. Even before someone remarks that Shadow "lost something vital in [prison], and not just time," you sense his grief, as well as his desire to do something about it. True to his name, Shadow Moon often walks alongside others or in their orbit, but thanks to Whittle and the writers, he's not just a satellite.

Fuller and Green, who also wrote the four episodes available for review, take us on a mostly smooth ride in the first half of American Gods. Even where there's table setting, it's done with panache… They've blended their sensibilities, weaving a rich tapestry of whimsy, epic action, and deft characterization. Practically speaking, it will definitely tide you over until that other fantasy drama returns. But thematically, it could knock someone off their 'throne'.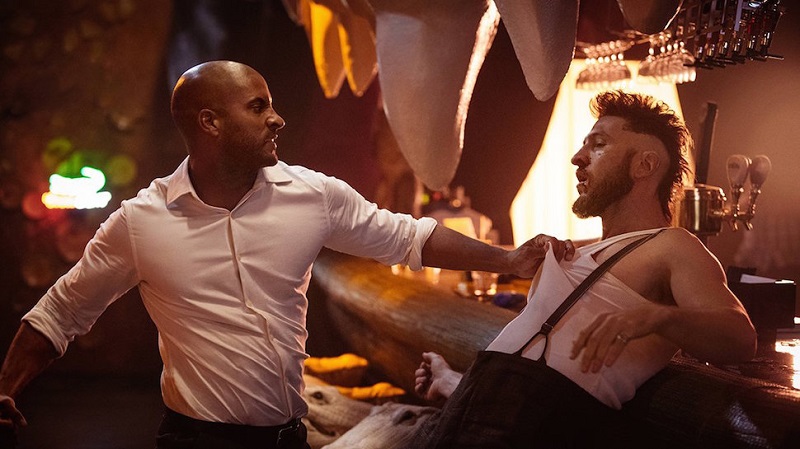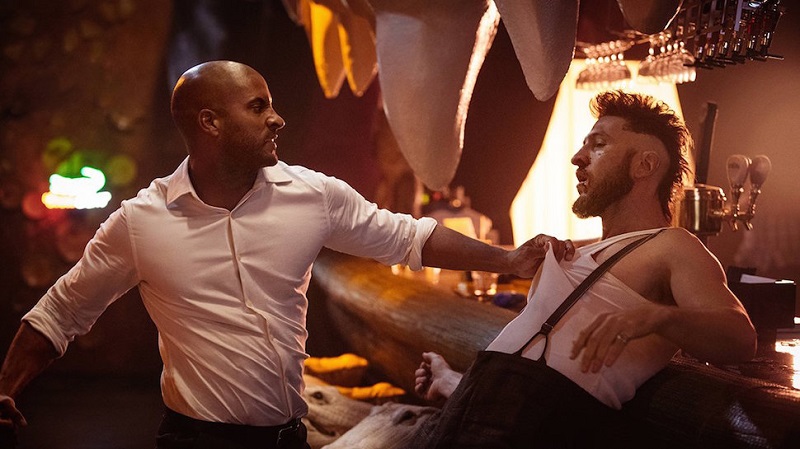 Though it's adapted from very different source material, and co-written with Michael Green (who worked on Heroes and Smallville), American Gods feels like a stylistic sequel to Hannibal, with the first two episodes directed by one-time Hannibal regular David Slade. Except this eight-episode story's supernatural overtones feel considerably more appropriate to Fuller's baroque, nightmarish-operatic flourishes than Hannibal's serial-killer antics which, quite frankly, became so overwrought they got silly.

Fuller's favoured atmosphere of insidious doom is the ideal match for Gaiman's source text…

There is a lot going on and much darting about, so those not already familiar with American Gods may find it occasionally bewildering (though it has nothing on Legion when it comes to wilful weirdness). But it's never less than compelling, offering an innovative, fantastical skew on the American immigrant narrative, and a visual feast throughout.
The 8-episode first season of American Gods will debut in the US on Starz on 30 April. Expect it to air locally shortly thereafter.
Last Updated: April 20, 2017