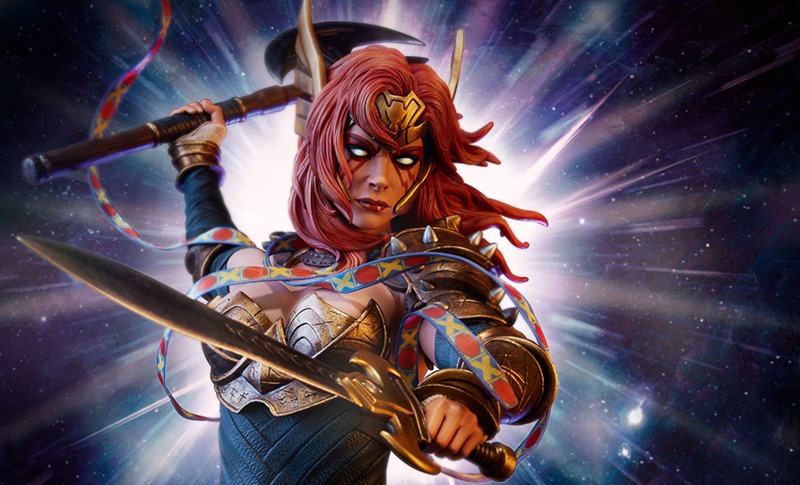 Comic book ownership of certain characters can be tricky at times. But for 99% of the publishing run of any character, you can bet that they'll be owned lock stock and barrel by the publisher whose books they appeared in. There's been a few notable exceptions to the rule over the years however, with a certain angelic warrior by the name of Angela being a prime example of this.
Name ring a bell? If you were into comic books in the 1990s, you'll certainly remember her as one of the biggest threats that Todd McFarlane's Spawn ever faced. A heavenly warrior and utterly lethal, Angela first popped up in the March 1993 issue of Spawn, a creation of both Todd McFarlane and writer Neil Gaiman. She was a smash hit character, going on to headline her own series and spin-offs.
And then things got ugly, as Gaiman took MacFarlane to court, got a decent settlement out of the brouhaha and full ownership over Angela in 2012. With Gaiman returning to do some work for Marvel a year later, he brought Angela with him and she was woven into the fabric of that universe from the Age of Ultron event and rewritten as the sister of none other than the thunder god himself, Thor.
Thing is, while Angela's legal history has always been messy, her actual visual design has always been stunning. Sure, she's the kind of character who designed to sell comic books, but the look evolved over the years to become something else entirely. A look that Sideshow Collectibles has captured in all her heavenly glory. Take a gander at this collectible:
Sideshow's Angela measures in at 19.5″ H (495.3mm) x 15″ W (381mm) x 7″ L (177.8mm), with the statue weighing a very respectable oh please don't kill me 6.35kg. Price tag? You can expect to shell out $499.99 for her when she ships between March and July of 2017. Todd McFarlane's angry gnashing of teeth or her pal Gamora, not included.
Last Updated: August 29, 2016