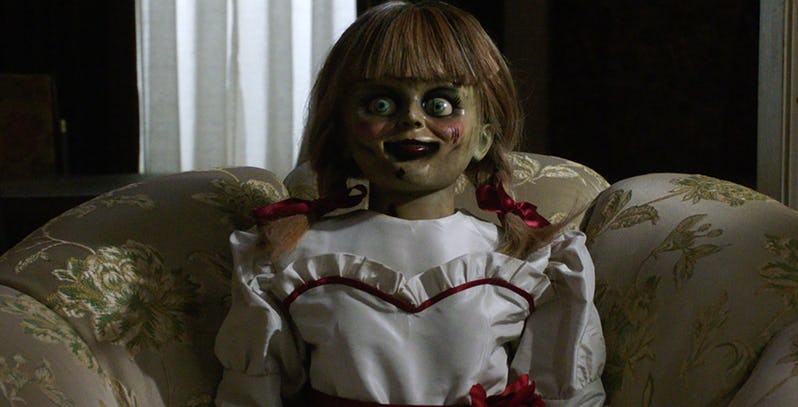 The Conjuring franchise comes full circle with the forthcoming third Annabelle sequel, which serves not only as a sequel to the story of the evil, ill-fated doll, but also a prequel as it ties in her story into the original Conjuring series, picking up shortly after the original Conjuring's prologue. Anabelle Comes Home sees the return of demonologists Ed and Lorraine Warren (Patrick Wilson and Vera Farmiga) from the Conjuring films – as terror this time befalls their own home when Annabelle gets out of her cabinet and starts to target their 10-year-old daughter Judy (Mckenna Grace) and her babysitters (Madison Iseman and Katie Sarife).
As horror franchises go, the Conjuring series has definitely been one of the most successful of recent memory as it seems to have found a formula that resonates with audiences who don't seem to be growing tired of the supernatural stories and jump scares that have left cinemas wondering where the brown marks in their theatre seats have come from.
It's a winning formula, so why change it? Annabelle Comes Home continues the usual atmosphere and scare tactics of all the other films. Based on this trailer though, the movie serves not only to continue the story of Annabelle and The Conjuring but expand it further as we see the introduction of a new demon this time round in The Ferryman. No doubt we will be getting a new solo movie along those lines soon along with what could be a host of other new demons introduced in this film.
Annabelle Comes Home is written and directed by Conjuring writer Gary Dauberman who created the story alongside series architect James Wan. It's a franchise that for me is growing a little tired, yet I still continue to be impressed by just how well each new entry continues to make a mark at the cinema and keeps Wan and his team pushing out new entries in the series each year.
Annabelle Comes Home is releasing on June 26th.
Last Updated: May 29, 2019