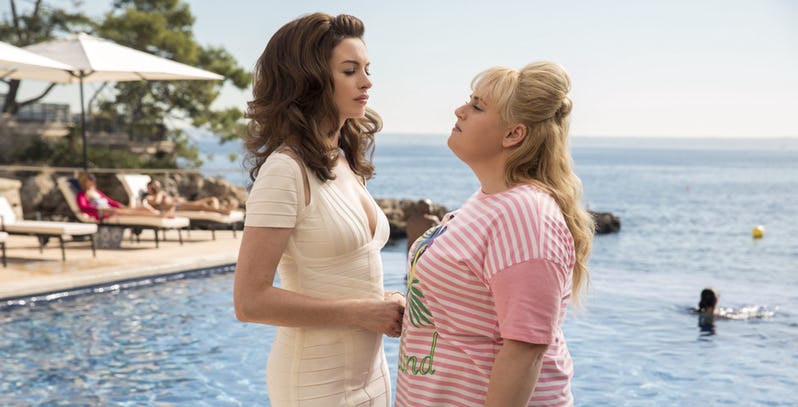 It's the last few days before the biggest movie of possibly ever gets released on Friday which means only one thing. All everyone can think about is The Avengers. And it seems it's not just my distracted mind that is struggling to focus on much else as even MGM seems to be caught up in all this Avengers hype with a new trailer for their upcoming modernised adaptation of Dirty Rotten Scoundrels that is very much inspired by and taking influence from Marvel's forthcoming big film.
I guess playing on the hype of one of the most anticipated films of the last few years does make a lot of sense but it also paints a picture that this film may not have enough of its own magic to make it worth the watch which is going to be a concern that this Anne Hathaway and Rebel Wilson starring film.
The Hustle is going to have as it tries to not only live up to the 1998 classic Dirty Little Scoundrels that starred Steve Martin and Michael Caine which itself was based on the 1964 film Bedtime Story starring Marlon Brando, David Niven, and Shirley Jones, but is also set to suffer the misfortune of being released two weeks after Marvel's big cinematic epic which is going to likely dominate pretty much everything at the box office for the next few weeks. Can it somehow rise above those obstacles and still prove to be a hit with audiences? We'll have to wait and see:
The chemistry between Hathaway and Wilson does look interesting and the trailer does have its moments where it shines, but I suspect there isn't enough on offer here that is going to make this movie stand out during this big blockbuster season. The jokes are very clichéd, the modern spin on the story a little predictable and Rebel Wilson seems to play the same type of person here that we have gotten to know in too many other movies, so there is little reason to suspect this move will offer anything new.
Hopefully, I'm wrong though and much like its story which will focus on women trying to take revenge on the misgivings of society through their giant con-acts, this movie will be able to pull some sort of heist on viewers when it releases on May 10th though.
Last Updated: April 23, 2019