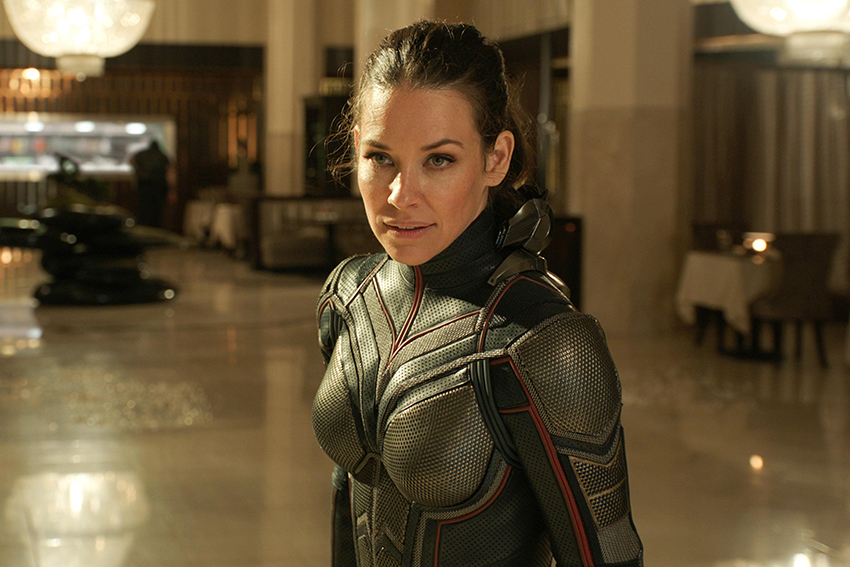 There's a moment in Black Panther that probably had just about every woman that ever had to suffer through impractical cosmetics and wardrobes for the sake of appearances whooping out loudly (even if internally). It happened during the casino fight scene where Danai Gurira's warrior Okoye, moments after being visibly unhappy with having to cover her shaved head with a wig for show, rips off said hairpiece and uses it as a projectile before kicking some serious butt sans follicles. The scene subsequently went viral, and for good measure, as director Ryan Coogler and stylist Camille Friend had intentionally designed the characters' looks and costumes to be practical and empowering reflections of who they are and not just to look "conventionally " pretty.
Fast forward a month and a half to Marvel's next film, the universe-altering Avengers: Infinity War, and while most were left in shock with that film's massive repercussions, some were shocked at the hair. As fashion writer Rebecca Jennings asked in an article on Racked, "[W]hy don't Black Widow, Gamora, Scarlet Witch, and Mantis – and even superheroines beyond Infinity War, from Wonder Woman to Jessica Jones, Elektra, Storm, and She-Hulk – ever seem to take a second to throw their hair into a chic chignon (or, more likely, a half-assed messy bun like the rest of us do before an activity as simple as getting on the elliptical)?".
Of course, Marvel's hair and costume choices for their female movie characters are unfortunately rooted in the unrealistic, oversexualized, and stupidly impractical approach to female costume design that has plagued comic books for decades, so it really doesn't come as a surprise that it's happening on-screen as well. But that is changing.
While Black Widow may currently be Marvel's most well-known female superhero, and it's Captain Marvel that will be the first female solo film with the character rumoured to become the next de facto leader of the MCU, it's Ant-Man & The Wasp that is making history by being the first Marvel movie to have a female's name in the titles. It's not just the titles though, as Evangeline Lilly's Wasp aka Hope Van Dyne – who was shown throughout the first Ant-Man movie to actually be more capable a hero than her male counterpart – has been given either top or equal billing on nearly all the film's posters over co-star Paul Rudd. And it's on these posters that people noticed something: Her hair is in a messy ponytail.
This may seem like a tiny, inconsequential thing to some fans, but for many, seeing Lilly's unkempt, sweaty hairdo, plastered to her face – exactly what you would expect from somebody who had just gone a few rounds with some bad guys while wearing a helmet – it's a pretty big deal. And as director Peyton Reed explained to CBR, that is completely intentional on Lilly's part.
She's in there and really wants to get it right. Every aspect of that character. It was important to her. 'I want to sweat. A lot of those female heroes they fight and they look great and glam, I want to sweat. I want to have my hair in a ponytail because that's what I would do.'
Peyton also explained that it's not just in her hair that Lilly is trying to show off being a "sweaty heroine", as she "is a very physical actor and she takes very seriously the stunt work and the training. Way more so than Paul Rudd." Know what else she does better than Rudd, and pretty much every male actor in the MCU? Wear her costume.
And no, this isn't me perving on how good the athletic Lilly looks in a skin-tight suit, but rather the fact that we've often heard stories from the male Marvel stars about how uncomfortable it is to wear their superhero outfits. And according to Lilly during an interview with BackstageOL, they just don't know what a female goes through on a daily basis.
I have been hearing Marvel male superheroes complaining about their suits for years. And I got into my suit, and I was wearing it, working in it, doing my thing, and I was like, 'It's just not that bad'. Do I have the most comfortable suit in the MCU? Or have men not had the life experience of being uncomfortable for the sake of looking good, and they're just like, 'What is this? This sucks! Why? Why do I have to go through this?', whereas a woman's like, 'I don't know, it's normal'. I wear heels to work, and I'm uncomfortable all day. You get used to it. You just tune it out.
I have a feeling we won't be tuning out this new heroine when Ant-Man & The Wasp hits cinemas on 6 July.
Last Updated: June 27, 2018