This month six new movies hit DVD courtesy of Ster Kinekor Entertainment. They include some acclaimed must-sees. So if you missed them at the cinema, now's your chance to catch up at home during April's batch of public holidays.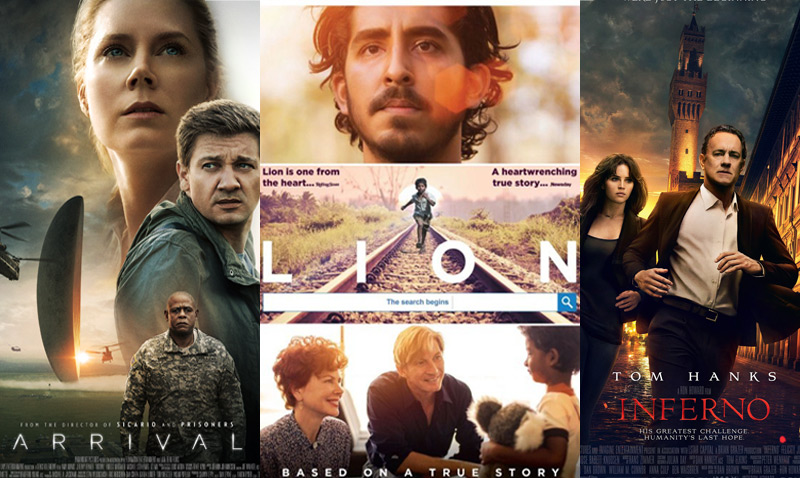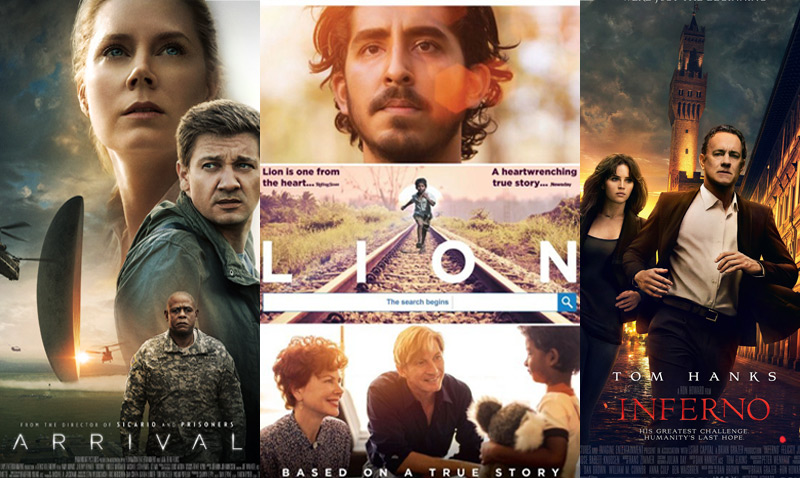 Arrival
Genre: Science fiction
When mysterious spacecraft touch down across the globe, an elite team – lead by expert linguist Louise Banks (Amy Adams) – is brought together to investigate. As mankind teeters on the verge of global war, Banks and her team race against time for answers. To find them, she will take a chance that could threaten her life, and quite possibly humanity. Also with Jeremy Renner and Forest Whitaker.
The Critical Hit team went gaga for Arrival, calling it near-perfect science fiction. They weren't alone in their opinion. The film was one of the most highly acclaimed of 2016, earning itself eight Oscar nominations (and one win). Arrival is thought-provoking, and emotionally potent thanks to Adams. It is cerebral genre fare though, which may be too highbrow and arty for some.
Critical Hit: 9/10
Rotten Tomatoes: 94%
Metacritic: 81
Inferno
Genre: Mystery / Action adventure
Academy Award winner Ron Howard returns to direct the latest bestseller in Dan (Da Vinci Code) Brown's billion-dollar Robert Langdon series. Inferno finds the famous symbologist (again played by Tom Hanks) on a trail of clues tied to the great Dante himself. When Langdon wakes up in an Italian hospital with amnesia, he teams up with Sienna Brooks (Felicity Jones), a doctor he hopes will help him recover his memories. Together, they race across Europe and against the clock to stop a madman from unleashing a global virus that would wipe out half of the world's population.
When it comes to critical responses to Inferno, keywords seem to be "safe" and "serviceable." At least that's what Kervyn said in his Critical Hit review. He is a kinder critic in this case though. Harsher reactions have seen Inferno described as convoluted, idiotic and a major step down from franchise predecessors The Da Vinci Code and Angels and Demons.
Critical Hit: 5/10
Rotten Tomatoes: 19%
Metacritic: 42
Maggie's Plan
Genre: Indie comedy / Romance
Maggie (Greta Gerwig) has a plan to have a baby on her own, but her scheme is derailed when she falls in love with John (Ethan Hawke), a married man. This destroys his volatile marriage to the brilliant and impossible Georgette (Julianne Moore). But one daughter and three years later, Maggie is out of love and in a quandary: what do you do when you suspect your man and his ex-wife are actually perfect for each other?
Maggie's Plan is a romantic comedy for the indie cinema crowd. Its major selling points are its likeable, completely-at-ease cast, and dialling down of quirkiness. It's not heavy, and the story is apparently a weaker part of the production, but Maggie's Plan has pleased critics with its perceptiveness and smart dialogue.
Rotten Tomatoes: 85%
Metacritic: 76
Ballerina
Genre: Animated adventure / Dance
1884. A orphaned girl arrives in Paris from Brittany. Félicie Milliner (Elle Fanning) is 11 and has no money but one big, passionate dream: to become a dancer. With nothing left to lose, Félicie takes a big risk: she 'borrows' a spoiled brat's identity and enters the Opera Ballet School. But how long can she be someone else? Mentored by the tough and mysterious cleaner, Odette (Carly Rae Jepsen), Félicie learns that talent is not enough – it takes hard work to be better than her ruthless, conniving fellow students. That and friendship. Felicie's inventive, exhausting and charismatic best friend Victor also has a dream: becoming a famous inventor. Together, they both encourage each other to reach for the stars.
Also known as Leap!, Ballerina is apparently better than it looks in its promo material. Its story may be derivative but the lush Parisian settings and realistic dance animation elevate the material. The end result is a heartwarming and inspiring family film about pursuing your dreams. Not a classic, but surprisingly effective.
Rotten Tomatoes: 79%
Fallen
Genre: Supernatural / Romance
Lucinda "Luce" Price (Addison Timlin) is a strong-willed seventeen-year-old living a seemingly ordinary life until she is accused of a crime she didn't commit. Sent off to the imposing Sword & Cross reform school, Luce finds herself being courted by two mysterious students to whom she feels oddly connected. Isolated and haunted by strange visions, Luce begins to unravel the secrets of her past and discovers the two men are fallen angels, who she learns have loved her for centuries. Luce must choose where her feelings lie, pitting Heaven against Hell in an epic battle over true love.
Young Adult novel adaptation Fallen is about as close to The Twilight Saga as you can get, but with angels instead of vampires. The movie has yet to release in North America, so reviews are sparse, but IMDB user reviews paint the movie as a pale Twilight clone in every respect. The biggest criticism is that the pretty leads lack charisma and chemistry.
Lion
Genre: Drama
Adapted from the true story and non-fiction book "A Long Way Home" by Saroo Brierley, Lion is about a five-year-old Indian boy (Sunny Pawar) who, after a wrong train takes him thousands of miles away from home and family, survives many challenges before being adopted by an Australian couple. Twenty-five years later, armed with only the scantest of clues, he learns of a new technology called Google Earth, and sets out to find his lost family. Starring Dev Patel, Rooney Mara and Nicole Kidman.
Lion is another of 2016's critical darlings. It was up for six Oscars at this year's ceremony, including Best Picture, Best Adapted Screenplay, Best Supporting Actor and Best Supporting Actress. General consensus is that it's moving and thoughtful, although the childhood scenes hit harder than the present day content.
Rotten Tomatoes: 86%
Metacritic: 69
Last Updated: April 13, 2017