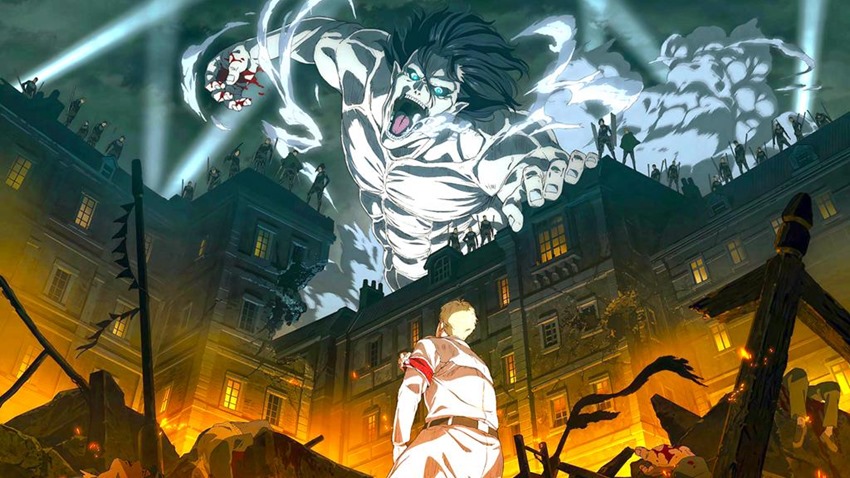 After more than eleven years of publication, it's the end of an era for another iconic manga series. Attack on Titan's final chapter will be published on April 6, and already there's concerted effort to nip any potential piracy right in the bud. "Regarding illegal upload and pre-release leakage of Attack on Titan," wrote the manga's editor on Twitter, "we've begun to take legal actions against several accounts and individuals. We'll take measures against illegal uploads of images and texts regardless of country."
What those security measures are I do not know, but I'm going to imagine that it's either a gang of Bessastsu Shonen Magazine lawyers equipped with vertical maneuvering equipment and swords, or actual flesh-hungry Titans being unleashed on torrent sites. Attack on Titan creator Hajime Isayama fittingly turned in the final manuscript on the birthday of the manga's main character/ protagonist/ kind of a bastard as well Eren Yaeger, bringing the entire saga full circle.
In case you've missed it, Attack on Titan also has an anime adaptation that is chuffing brilliant. While I wasn't sold on the first season even though it has some amazing animation, subsequent series changed my mind. What starts out as a young boy wanting revenge on cannibalistic giants breaking down the walls protecting his home, quickly evolved into a story that is tragic, intriguing, and packed with enough blood to fill the Grand Canyon.
It goes from soldiers using Spider-Man web-slinging gear to take down giants, straight down a path of feudal conspiracies, hostile takeovers, court intrigue, and a final vicious battle to reclaim lost territory. In its final season that has begun airing on Crunchyroll, Attack on Titan has merged Apartheid themes with the Jewish holocaust, resulting in grim and brutal content that will leave rent-free in your head for years to come.
Just don't pirate it or ruin the ending for other fans, okay?
Last Updated: April 1, 2021