The August DVD release set from Ster Kinekor Entertainment is considerably smaller than last month's epic haul. Sadly August isn't a case of quality over quantity, but there are certainly more choices than usual for horror and thriller fans.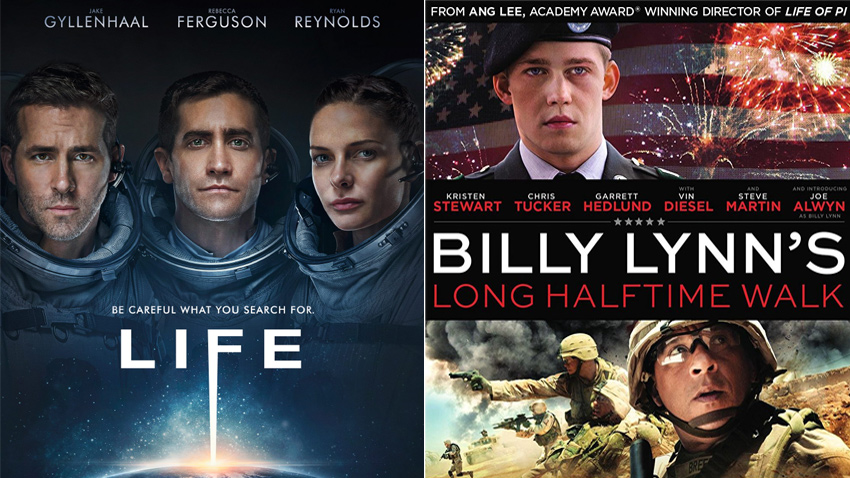 Life
Genre: Horror / Thriller / Science fiction
Life tells the story of the six-member crew of the International Space Station that is on the cutting edge of one of the most important discoveries in human history: the first evidence of extraterrestrial life on Mars. As the crew begins to conduct research, their methods end up having unintended consequences and the life form proves more intelligent than anyone ever expected. With Jake Gyllenhaal, Rebecca Ferguson, Ryan Reynolds.
Think of Life as Alien with more realistic science. It's derivative, and gives into B-grade cliches in its final third, but before that point it's a genuinely suspenseful and claustrophobic tale of survival in space. Bonus points too for its technical polish and strong acting.
Critical Hit: 7/10
Rotten Tomatoes: 67%
Metacritic: 54
Incarnate
Genre: Horror / Thriller
A scientist (Aaron Eckhart) with the ability to enter the subconscious minds of the possessed must save a young boy from the grips of a demon with powers never seen before, while facing the horrors of his past. Also with Carice van Houten. From the producer of Insidious, The Purge and Paranormal Activity.
Incarnate tries to differentiate itself from other movies in the possession/exorcism sub-genre by introducing its own mythology. The problem is that this mythology is overly complicated, and the film ends up feeling like a mix of intriguing but half-based ideas. Eckhart tries hard, but is wasted.
Rotten Tomatoes: 15%
Metacritic: 30
Visions
Genre: Mystery / Horror
After moving to an idyllic vineyard to start a new life with her husband, a pregnant woman, Eveleigh (Isla Fisher) is plagued by terrifying noises and visions of a sinister hooded figure. No one else hears or sees these hallucinations. Desperate to prove her sanity, Eveleigh hunts down locals who reveal the haunted history of the vineyard in which she now resides. Also with Anson Mount and Jim Parsons.
Little-seen Visions went straight to home release in the US in early 2016. Common critical complaints are that the movie is boring, forgettable and disappointingly free of scares. A couple of reviewers have appreciated the film's simplicity though.
Rotten Tomatoes: 21%
Billy Lynn's Long Halftime Walk
Genre: Drama / War
Two-time Academy Award® winner Ang Lee brings his extraordinary vision to Billy Lynn's Long Halftime Walk, based on the widely-acclaimed, bestselling novel. The film is told from the point of view of 19-year-old private Billy Lynn (newcomer Joe Alwyn) who, along with his fellow soldiers in Bravo Squad, becomes a hero after a harrowing Iraq battle and is brought home temporarily for a victory tour. Through flashbacks, culminating at the spectacular halftime show of the Thanksgiving Day football game, the film reveals what really happened to the squad – contrasting the realities of the war with America's perceptions. The film also stars Kristen Stewart, Chris Tucker, Garrett Hedlund, with Vin Diesel, and Steve Martin.
What was clearly intended to be Oscar bait ended up as a critical and box office disappointment. This said, most of the poor reviews seem to be stuck on the film's cinema release in 120 frames per second 3D, which is irrelevant to home viewers. Consensus, though, is that Billy Lynn's Long Halftime Walk contains moments of genuine power, but suffers for feeling stilted and over-complicated.
Rotten Tomatoes: 45%
Metacritic: 53
Chronically Metropolitan
Genre: Drama / Comedy
Chronically Metropolitan is the comedic tale of Fenton Dillane's return to New York City, his home, after a self-imposed exile to the West Coast after his disastrous writing debut. He arrives to find his "Mailer-esque" father embroiled in a scandal involving coeds and lobsters, his Mother buying drugs from his best friend and the girl he left behind set to marry someone else. Starring Shiloh Fernandez, Ashley Benson and Mary-Louise Parker.
Between the trailer and that plot synopsis, it's clear that Chronically Metropolitan is the worst kind of indie domestic drama: so pretentious, self-involved and straining to be quirky that you might mistake it for satire. Except it plays out with complete painful seriousness.
Rotten Tomatoes: 17%
Metacritic: 28
The Hollars
Genre: Comedy / Drama
John Hollar (John Krasinski), a struggling NYC artist is forced to navigate the small middle-American town he left behind when news of his mother's illness brings him home. Back in the house he grew up in, John is immediately swept up in the problems of his dysfunctional family, high school rival, and an over-eager ex-girlfriend as he faces impending fatherhood with his girlfriend in New York.
Of the two indie family dramas out on DVD this month, The Hollars (from actor-writer-director-producer Krasinski) is your stronger option – largely because of its likeable all-star cast, including Anna Kendrick, Charlie Day, Richard Jenkins, Sharlto Copley and Mary Elizabeth Winstead. This said, viewers might struggle with the film's lack of emotional authenticity, as things tend to feel forced and by numbers.
Rotten Tomatoes: 45%
Metacritic: 53
Last Updated: August 7, 2017