Ten new movies hit home release this month from Ster Kinekor Entertainment. From bargain bin action to Oscar-nominated drama, serious South African cinema to goofy CGI animation, the July DVDs seem to be designed to fight boredom (and sometimes good taste) these school holidays.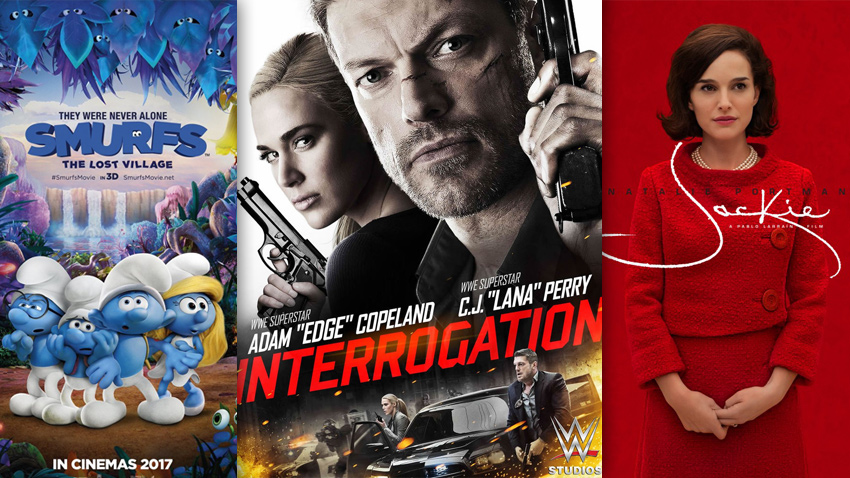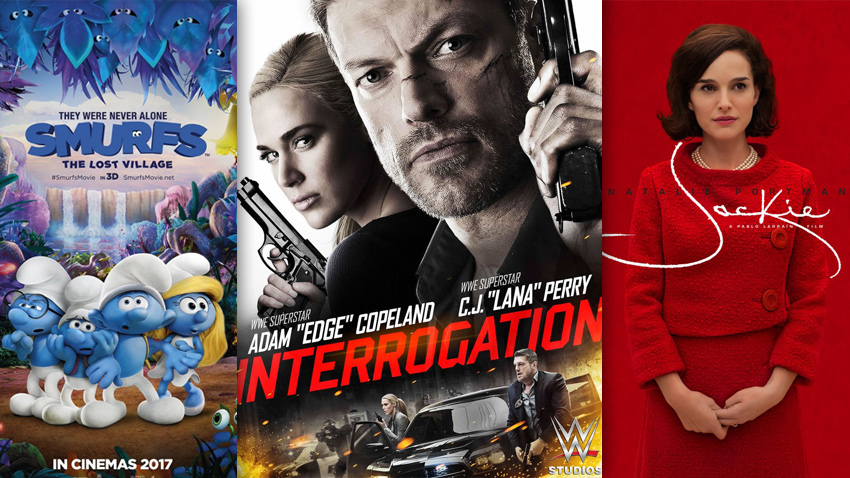 Interrogation
Genre: Action / Thriller
After the FBI receives a threat that endangers the entire city, an interrogator (Adam "Edge" Copeland) and an I.T. specialist (CJ "Lana" Perry) are plunged into a series of mind games with a criminal mastermind, desperately racing against time to uncover the villain's true agenda as they fight to protect thousands of lives.
Interrogation is a straight-to-video action film from the WWE, with no Rotten Tomatoes or Metacritic score. That's a pretty good indicator that it's an appalling-to-mediocre effort. The action should be satisfyingly crunchy though.
The Ticket
Genre: Drama
After James (Dan Stevens), a blind man, inexplicably regains his vision, he becomes possessed by a drive to make a better life for himself. However, his new improvements, like a nicer home, a higher paying job, tailored suits, luxury car, leave little room for the people who were part of his old, simpler life: his plain wife (Malin Åkerman) and close friend Bob (Oliver Platt). As his relationships buckle under the strain of his snowballing ambition, it becomes uncertain if James can ever return from darkness.
The Ticket is apparently a divisive art house release. While this character study is beautifully shot, and Stevens offers a courageous, committed performance, the script is little more than a heavy-handed parable about lusting after the good life.
Rotten Tomatoes: 48%
Metacritic: 52
Jackie
Genre: Drama
Jackie is a searing and intimate portrait of one of the most important and tragic moments in American history, seen through the eyes of the iconic First Lady, then Jacqueline Bouvier Kennedy (Natalie Portman). Jackie places us in her world during the days immediately following her husband's assassination. Known for her extraordinary dignity and poise, here we see a psychological portrait of the First Lady as she struggles to maintain her husband's legacy and the world of "Camelot" that they created and loved so well.
Highly acclaimed Jackie was nominated for three Academy Awards earlier this year, including Best Actress. Far from an aloof, tidy biopic, the movie is compelling, benefits from an unconventional structure, and, of course, features a magnificent, career-defining performance by Portman.
Critical Hit: 8.5/10
Rotten Tomatoes: 89%
Metacritic: 81
Sleepless
Genre: Action / Crime Thriller
Undercover Las Vegas police officer Vincent Downs (Jamie Foxx) is caught in a high stakes web of corrupt cops and the mob-controlled casino underground. When a heist goes wrong, a crew of homicidal gangsters kidnaps Downs' teenage son. In one sleepless night he will have to rescue his son, evade an internal affairs investigation and bring the kidnappers to justice.
Based on acclaimed European thriller Sleepless Night, American remake Sleepless is apparently a disappointment. Stars Jamie Foxx and Michelle Monaghan try their best, but their efforts can't overcome the recycled script and a general sense of flatness.
Rotten Tomatoes: 21%
Metacritic: 34
Apple of My Eye
Genre: Family Drama
Apple of My Eye tells the story of Bailey (Avery Arendes), a young girl who defines herself by her equestrian abilities, and her struggles as she loses her eyesight after a traumatic accident. Feeling hopeless and dejected, Bailey's loving parents, Caroline (Amy Smart) and Jason (Liam McIntyre), seek out various options to help her adjust, including enrolling her in a program for seeing-eye dogs, but she is unable to connect to anyone or anything. That is, until Charlie (Burt Reynolds), the head trainer of Southeastern Guide Dogs, trains Apple, a miniature horse, to be her companion and surrogate eyes.
In a strange coincidence, here we have another movie about blindness out on DVD in July. Known during development as And Then There Was Light, Apple of My Eye evidently hasn't really been watched by any critics. A few user reviews paint it as gentle-hearted, but avoidant of real issues around disability.
Meet the Blacks
Genre: Comedy
The Black family is getting out of Chicago in hopes of a better life. After Carl Black (Mike Epps) comes into some unexpected funds, he takes his family and leaves the hustling lifestyle behind for something better. Carl, his wife Lorena (Zulay Henao), son Carl Jr., daughter Allie Black (Bresha Webb) and cousin Cronut (Lil Duval) pack up and move to Beverly Hills. Turns out, Carl couldn't have picked a worse time to move. They arrive right around the time of the annual purge, when all crime is legal for twelve hours.
Meet the Blacks is the Purge parody you didn't know you needed. Actually, no, judging by the reviews, you still don't need this nearly unwatchable spoof, packed full of racist stereotypes and utterly devoid of laughs. If you made it through to the trailer's end, well done!
Rotten Tomatoes: 13%
Metacritic: 26
Cross Wars
Genre: Superhero Action
Straight from the comics to the mean streets of Los Angeles… armed with a powerful ancient Cross amulet, Callan (Brian Austin Green) and his team of weapons experts battle local thugs and heinous criminals. When a ruthless villain named Muerte (Danny Trejo) threatens to kill Callan's crew, he and his team join forces with an all-girl crime-fighting squad led by Riley – who has an ancient amulet of her own! But Muerte is not working alone. He has resurrected the evil immortal Gunnar (Vinnie Jones) who has a plan more sinister than anyone can imagine. Can Callan prevent the looming apocalypse and save humanity? It's enough to make a superhero all stressed out!
I… I have no idea what this is, other than I've watched fan films with better production values. Unsurprisingly, Cross Wars – the sequel to something called Cross – has slipped under the critics' radar. Online opinion, though, is that it's a deliberately atrocious movie that makes those bargain bin superhero movies of the 90s look like masterpieces.
Die Rebellie van Lafras Verwey
Genre: Drama
Lafras Verwey (Tobie Cronjé) has been a clerk in the civil service for 30 years. By day, he sorts files and whiles away the mundane hours writing grandiose propaganda speeches and drilling imaginary platoons in the washroom, but, unbeknownst to his colleagues, he's also a clandestine parcel courier for a secret organisation that recruited his services to complete their covert mission.
Here's something a little different from the usual fluffy Afrikaans-language comedies. Die Rebellie van Lafras Verwey is an adaptation of Chris Barnard's hit radio and stage play. It is very well-acted, but the film's arty approach may make it a challenging watch for many South African viewers.
Smurfs: The Lost Village
Genre: Animated Comedy / Fantasy / Adventure
In this fully animated, all-new take on the Smurfs, a mysterious map sets Smurfette and her best friends Brainy, Clumsy and Hefty on an exciting and thrilling race through the Forbidden Forest filled with magical creatures to find a mysterious lost village before the evil wizard Gargamel does. Embarking on a rollercoaster journey full of action and danger, the Smurfs are on a course that leads to the discovery of the biggest secret in Smurf history!
The first fully CGI-animated Smurf movie is definitely targeted at the littlies, but it is regarded as a step-up from its two live-action-and-animation-mixing predecessors. Although predictable, The Lost Village is nonetheless a colourful, harmless diversion for young children.
Rotten Tomatoes: 37%
Metacritic: 40
Beyond the River
Genre: Sports Drama
Duma (Lemogang Tsipa) is a talented young man who feels trapped by his surroundings and finds himself on the wrong side of the law. After a near miss with the cops, he finds an escape in the world of canoeing, an old passion of his. Steve (Grant Swanby) is a nine-time Dusi gold medalist whose marriage is on the verge of collapse. His passion for the sport is fueled by his wanting to escape from something in his past that continues to haunt him. Through a series of unexpected events, the two men find themselves attempting the three-day Dusi Canoe Marathon as a doubles pair. But there are a few things they must overcome, not least of which are the completely different worlds they come from. They realize that the dream they both desperately desire requires them to work together, both in the boat and beyond the river.
There's a lot of rubbish in this month's DVD haul. But South African drama Beyond the River is one of the exceptions. Oozing heart and visual style, it's a gripping crowd-pleaser that manages to overcome the genre's familiar plot beats.
Last Updated: July 5, 2017