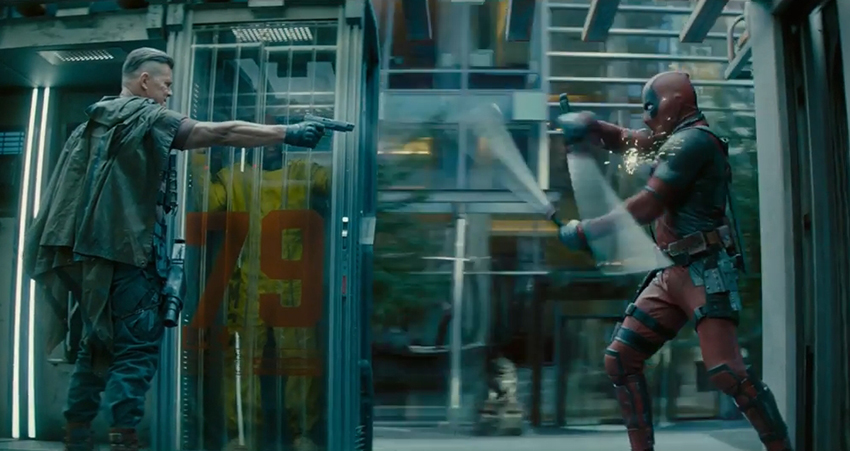 Earlier this morning I wrote about the final trailer for Jurassic World: Fallen Kingdom and how annoying it was that it gave away a whole bunch of the movie. Well, now we've got another final trailer for a hotly anticipated blockbuster sequel and once again it's revealing things we didn't previously know. This time though, I don't care. Or rather I care a lot that I can't get to watch this movie right now because holy heck does Deadpool 2 look like an absolute blast! Just wait until you meet Peter!
Wait… Shatterstar is in this movie?! How did I not know before now that the sword-wielding mutant hero – I mean, the sword-wielding mutant hero that's not clinically insane and named Deadpool – is in this movie? Of course, that's not the only highlight in this fantastic trailer as we get to Ryan Reynold's titular superhero crack wise like only he can about the DC universe and Thanos, Josh Brolin's Cable being a complete badass, Zazie Beetz's Domino show off her probability-altering i.e. luck mutant powers, Terry Crews' Bedlam laying the smack down, and so much more.
Oh and Peter. I'm calling it now: Peter is going to be stealing the show here.
As the trailer says, tickets for Deadpool 2 is on sale as of today. I've already got mine for Imax preview screening on Tuesday, 15 May, and now I just cannot wait anymore. The film is directed by John Wick co-director David Leitch and also stars Morena Baccarin as Vanessa, T.J. Miller as Weasel, Brianna Hildebrand as Negasonic Teenage Warhead, Leslie Uggams as Blind Al, Stefan Kapičić as the voice of Colossus, Karan Soni as Dopinder, Lewis Tan as the previously mentioned Shatterstar, Shioli Kutsuna as the unnamed lightning-wielding mutant in the trailer, Julian Dennison in an unknown role and Jack Kesy as a villain widely thought to be Black Tom Cassidy. It is scheduled for wide release on 18 May.
After surviving a near fatal bovine attack, a disfigured cafeteria chef (Wade Wilson) struggles to fulfill his dream of becoming Mayberry's hottest bartender while also learning to cope with his lost sense of taste. Searching to regain his spice for life, as well as a flux capacitor, Wade must battle ninjas, the yakuza, and a pack of sexually aggressive canines, as he journeys around the world to discover the importance of family, friendship, and flavor – finding a new taste for adventure and earning the coveted coffee mug title of World's Best Lover.
Last Updated: April 19, 2018