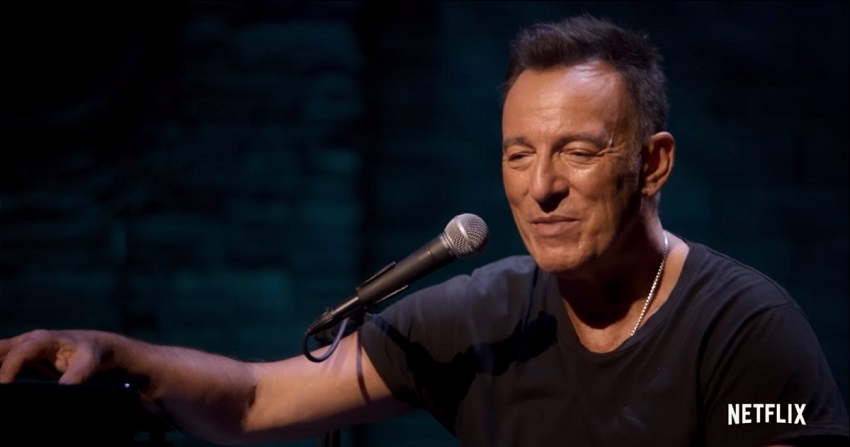 If the recent Queen/Freddie Mercury biographical drama Bohemian Rhapsody whet your appetite for something musical, and especially for one that's a bit more real, then Netflix have a special treat coming up for us. Music legend and Rock & Roll Hall of Famer Bruce Springsteen's one-man Broadway show, Springsteen on Broadway, is coming to the streaming service next month.
Based on his 2016 autobiography 'Born to Run', the show officially premiered at the Walter Kerr Theatre in New York City on 12 October 2017. It was initially set to run for eight weeks, but due to demand its run has been extended three times, and the final 236th performance of the show will be on 15 December – and Netflix will be there. The one-man show, which has received rave reviews over the course of its run, sees Springsteen performing many of his greatest hits on guitar and piano, along with spoken word pieces and relating personal stories about his life, and also features an appearance by his wife, Patti Scialfa.
The show's description is as follows:
"Springsteen on Broadway" is a solo acoustic performance written and performed by Tony Award, Academy Award, and 20-time Grammy Award winner Bruce Springsteen. Based on his worldwide best-selling autobiography 'Born to Run,' "Springsteen on Broadway" is a unique evening with Bruce, his guitar, a piano, and his very personal stories. In addition, it features a special appearance by Patti Scialfa.
Let's take a look:
I'm a huge Springsteen fan and this is like Christmas coming early for me. In addition to the music, this seems like an honest and intimate portrait of the man behind the music, as related by himself in his own inimitable style. This looks like a must-see for fans of The Boss.
What do you think? Springsteen on Broadway will air on Netflix on 15 December.
Last Updated: November 28, 2018