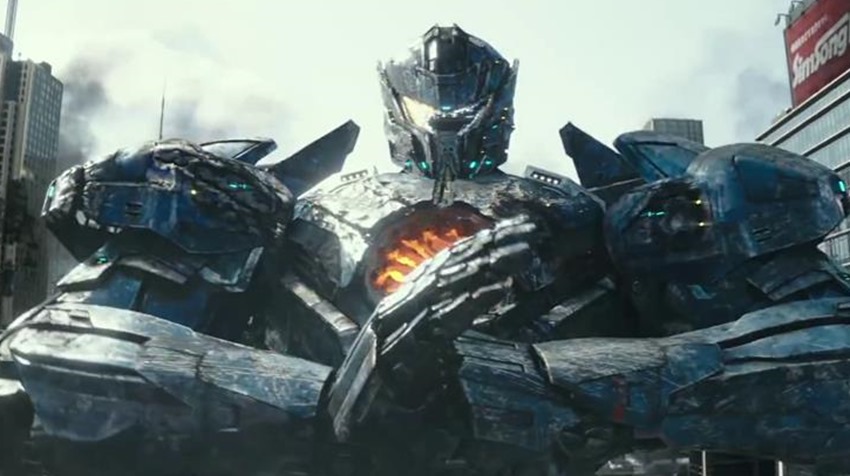 Is Pacific Rim still the greatest film of all time? The numerous  Kaiju tattoos on my arms, chest and erm…other places, say yes, yes it is. That doesn't mean that the film isn't without some faults though. Faults which I love, because they have a scientific nature in a film that regularly slapped the laws of physics like Cherno Alpha abusing a class-1 Kaiju.
The chief complaint amongst nerds, was that the Jaegers moved impossibly quick when they were dealing with interdimensional beasties the size of skyscrapers. Some folks say that there was a certain lack of weight, of momentum in the actions of these massively mobile kinetic weapons of mass destruction.
A complaint that I have a feeling is being addressed in the first sequel as a new generation of Jaegers move like walking extinction events that have all the time in the world to save the day:
The globe-spanning conflict between otherworldly monsters of mass destruction and the human-piloted super-machines built to vanquish them was only a prelude to the all-out assault on humanity in Pacific Rim Uprising. John Boyega (Star Wars: The Force Awakens) stars as the rebellious Jake Pentecost, a once-promising Jaeger pilot whose legendary father gave his life to secure humanity's victory against the monstrous "Kaiju."

Jake has since abandoned his training only to become caught up in a criminal underworld. But when an even more unstoppable threat is unleashed to tear through our cities and bring the world to its knees, he is given one last chance to live up to his father's legacy by his estranged sister, Mako Mori (Rinko Kikuchi)—who is leading a brave new generation of pilots that have grown up in the shadow of war.

As they seek justice for the fallen, their only hope is to unite together in a global uprising against the forces of extinction. Jake is joined by gifted rival pilot Lambert (The Fate of the Furious' Scott Eastwood) and 15-year-old Jaeger hacker Amara (newcomer Cailee Spaeny), as the heroes of the PPDC become the only family he has left. Rising up to become the most powerful defense force to ever walk the earth, they will set course for a spectacular all-new adventure on a towering scale.
I'm not going to spoil it here in case you can't watch the trailer above, but it looks like Uprising has more to it than just a simple case of Jaeger vs Kaiju round two. Pacific Rim Uprising is out on March 23. Once again, we are all cats in the apocalypse.
Last Updated: January 25, 2018