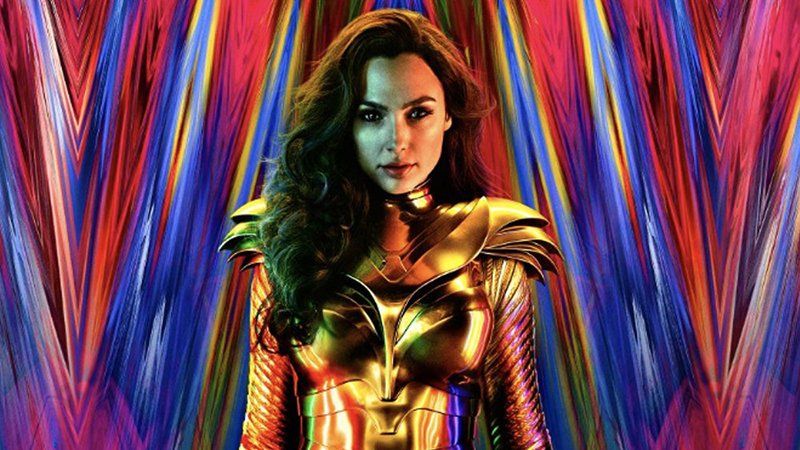 Over the last few years, Comic Con Experience in Sao Paolo, Brazil, has quietly become of the majors stops on the circuit, with all the comic book movie heavy hitters using it to launch titles. And this year, Warner Bros. hit the South American con with guns blazing. Or, to be more accurate, Golden Lasso of Truth blazing! Yes, as was promised by star Gal Gadot herself last week, the first trailer for Wonder Woman 1984 is here!
Wait… did… did she just do a Spider-Man swing using her lasso… ON LIGHTNING?! Okay, then. Clearly, returning director Patty Jenkins is going all out on this sequel to her record-breaking, glass ceiling shattering 2017 original film. And if there was ever an era to turn things up to 11, the decadent 1980s – where Wonder 1984 is set, if somehow, the title, bold neon colours, shoulder pads, and a killer cover version of New Order's Blue Monday didn't make that obvious – is definitely the decade to do it in. And nothing says 80s quite like a golden eagle armour that looks like it should be spraypainted on a TransAm. Awesome.
Despite all that craziness (which also includes Gadot's Diana backhanding a bullet, her flipping trucks like pancakes, and the Amazonian version of Ninja Warrior), we don't get to see Kristen Wiig's Dr. Barbara Ann Minerva in her fully transformed Cheetah persona though. Jenkins and co are probably holding back that villainous reveal for later. Hopefully, her appearance is is closer to her comic book feline appearance and not actually what was recently shown off in some early promo artwork.
That's… that's just an animal print jacket and some torn clothing, not a supervillain costume. Please don't let that be the final design!
UPDATE: As reported by ComicBook.com and Deadline.com, Jenkins revealed to the audience at CCXP that Cheetah will have her full feline appearance, created with a combination of CG and practical effects, but most of it will be makeup (so no Cats nightmares here). The look in the promo is just her civilian garb as also revealed in the new character posters below.
If it is, then at least we can be distracted by Pedro Pascal's Max Lord who is clearly up to some seriously evil plotting. And if I had to also hazard a guess: He's behind the reappearance of Chris Pine's Steve Trevor as part of some master plan. Yes, Diana's World War I beau is somehow back from the grave nearly 70 years later without having aged a day. The trailer doesn't give us any clues as to how he's back though.
Not to worry though as we have a lot to unpack from that one trailer (still shook by that lighting-lasso move!) before Wonder Woman 1984 releases on 5 June 2020.
Last Updated: December 9, 2019