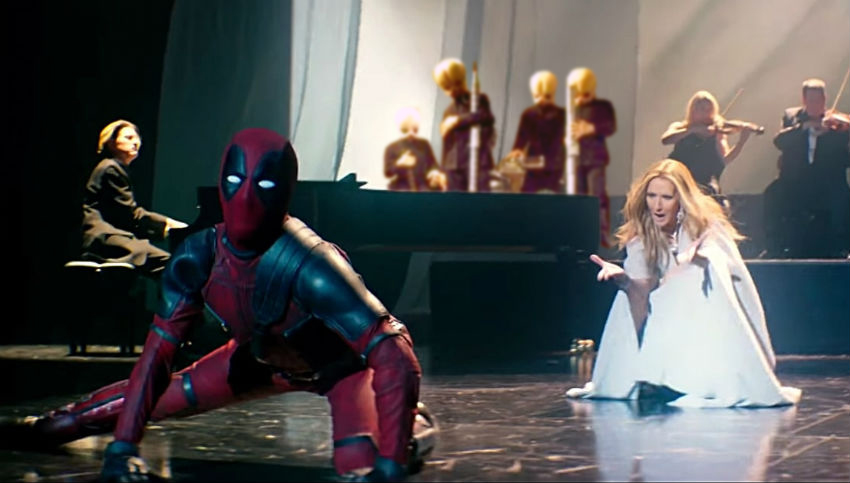 Five-time Grammy Award-winning Canadian songstress Celine Dion has recorded a love ballad for upcoming R-rated superhero action comedy Deadpool 2. I have a feeling that I may not be able to top that for the most unexpected sentence I will type this year.
Unleashed on the world late yesterday afternoon, this is no Weird Al Yankovic parody or something, but rather a proper love ballad the likes of which has had the hearts of Dion's fans going on and on over the years. In a way, it is sort of fitting though, as the core of the first Deadpool movie was actually not just all the potty-mouthed joke and Fourth Wall-breaking gags, but the endearing (but twisted) relationship between Ryan Reynolds' titular Merc With the Mouth and Morena Baccarin's Vanessa.
That relationship is front and center again in Deadpool 2, and thus we get Dion's "Ashes" (which I have to admit has been stuck in my head on repeat since first hearing it yesterday). Of course, this being Deadpool, the music video for the love song boasts a bit of a twist. Check it out below.
Ha! This thing only goes to 11! And can we all just agree right now that if we don't get a Deadpool in heels action figure, then there is something wrong with this world? One thing there's been absolutely nothing wrong with has been the brilliant advertising campaign for both the first film and this one, and soppy love ballads are not the only example of that to be released this week. Earlier yesterday four new exclusive IMAX posters for Deadpool 2 also got released and they're hilarious.
Deadpool 2 is directed by John Wick co-director David Leitch and also stars Josh Brolin as Cable, Zazie Beetz as Domino, T.J. Miller as Weasel, Brianna Hildebrand as Negasonic Teenage Warhead, Leslie Uggams as Blind Al, Stefan Kapičić as the voice of Colossus, Karan Soni as Dopinder, Terry Crews as Bedlam, Lewis Tan as Shatterstar, and Jack Kesy as a villain widely thought to be Black Tom Cassidy. It is scheduled for wide release on 18 May, but there will be an early preview screening on 15 May if you can still get tickets.
Last Updated: May 4, 2018