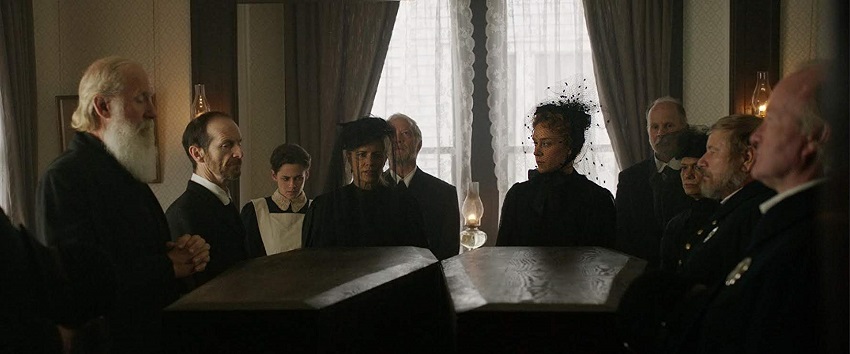 Lizzie is the upcoming psychological thriller that's a modern retelling of the story of Lizzie Borden and the infamous Borden axe murders of the late 19th century.
For those of you who may not know, in 1892 Lizzie Borden shot to notoriety when she was accused murdering her father and stepmother with an axe in their home in the city of Fall River, Massachusetts. The sensational trial that followed captured the attention of the entire US at the time. However Borden was acquitted of the murders, and with no other people ever accused of the crime the murders remain unsolved. As a result the murder-mystery has enjoyed an enduring popularity over the years, with many fictional depictions of Borden and the murders finding their way into novels and onto the stage and screen – the latest being Lifetime's 2014 TV movie Lizzie Borden Took an Ax and 2015 follow-on series The Lizzie Borden Chronicles, which starred Christina Ricci.
Chloë Sevigny (Boys Don't Cry) and Kristen Stewart (The Twilight Saga) star in this adaption of the true story from director Craig William Macneill (The Boy) and writer Bryce Kass (making his feature debut).
The plot synopsis is as follows:
1892: Headstrong Lizzie Borden [Sevigny] lives with her wealthy father, stepmother, and sister in Fall River, Massachusetts. Lizzie lovingly tends to her pet pigeons and is occasionally allowed out of her dimly lit, foreboding house, but otherwise lives under strict rules set by her domineering father. When her family hires live-in maid Bridget [Stewart], an uneducated Irish immigrant, the two find kindred spirits in one another.

Their friendship begins with covert communication and companionship that blossoms into an intimate relationship. Meanwhile, tension builds in the Borden household, and Lizzie's claustrophobic existence becomes increasingly more oppressive and abusive, leading to its inevitable breaking point.
Let's take a look:
This is a taut, tense thriller of a forbidden love in an abusive household – thanks to a trailer that spoils ninety percent of the movie. Sevigny looks like she's delivering a powerhouse performance as Borden, struggling to come to terms with her sexuality in a far less accepting time while also dealing with her overbearing, abusive father. I think this is a decent watch for drama fans.
What do you think?
Lizzie is due for release in the US on 14 September. It also stars Jamey Sheridan, Fiona Shaw, Kim Dickens, and Dennis O'Hare.
Last Updated: August 6, 2018