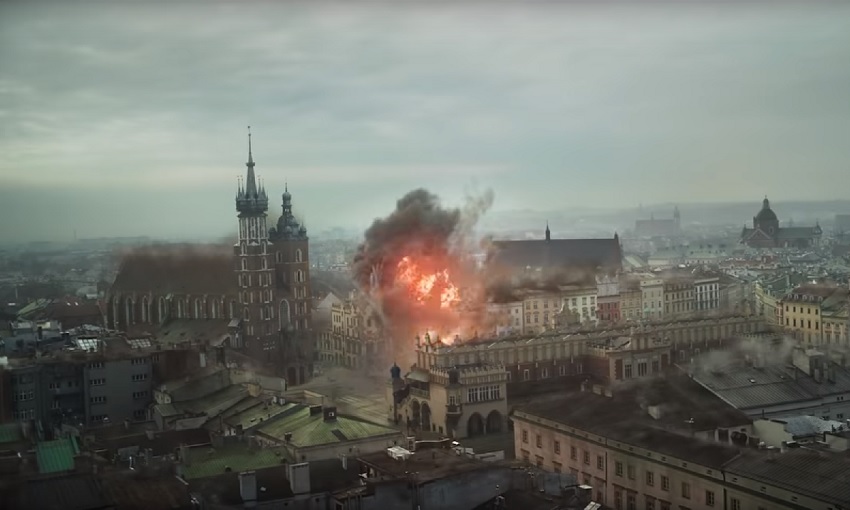 I'm a big fan of structure, but today I think I'll change things up a bit and just throw this teaser trailer for Netflix's upcoming thriller series, 1983, up without the usual waffling – let's save that for afterwards.
Take a look:
Now that's how you do a teaser trailer! It only took a minute for me to go from "what's this?" to "I want this!" I didn't know anything about this series before idling clicking play, but after that I want to know a hell of a lot more so here's the show's official plot summary:
The deeply frozen Cold War is heating up. Twenty years after a devastating terrorist attack in 1983 that halted the course of Poland's liberation and the subsequent downfall of the Soviet Union, an idealistic law student (Maciej Musiał) and a disgraced police investigator (Robert Więckiewicz) stumble upon a conspiracy that has kept the Iron Curtain standing and Poland living under a repressive police state.

Now, in 2003, after two decades of peace and prosperity, the leaders of the regime enact a secret plan made with an unlikely adversary in the 1980s that will radically transform Poland and affect the lives of every citizen in the nation — and the world.

What these two men discover has the potential to ignite a revolution and those in power will stop at nothing to keep it a secret.
We've spoken before about Netflix's world-wide expansion into foreign language productions and 1983 marks Netflix's first original Polish production – and if that awesome teaser is anything to go by it looks absolutely fantastic.
I'm a sucker for alternative history conspiracy thriller series like BBC's SS-GB or Amazon's The Man in the High Castle, and it'll be great to see one set in the midst of an enduring Cold War instead of post-WWII like the aforementioned series. I also appreciate the bleaker style of Eastern European fiction when compared to the Western-style fiction we're all so accustomed to, and there are hints of that in the teaser.
I'll definitely going to check this out when it's available and, yes, what do you think? Can't abandon structure completely!
1983's eight-episode-long first season will premiere on Netflix on 30 November. Created by Joshua Long, with episodes directed by Agnieszka Holland (who's received both an Oscar and Emmy nomination for her writing and directing on Europa Europa and Treme respectively), Kasia Adamik, Olga Chajdas and Agnieszka Smoczynsk, it also stars Michalina Olszańska, Andrzej Chyra, Zofia Wichłacz, Mirosław Zbrojewicz, Ewa Błaszczyk, Wojciech Kalarus, Edyta Olszówka and Agnieszka Żulewska.
Last Updated: October 3, 2018