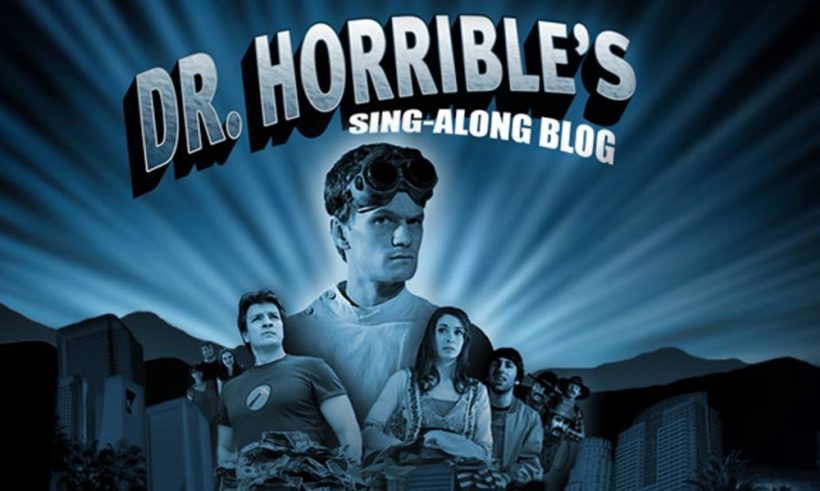 In 2007 and 2008 the Writers Guild of America, representing the 12,000 film, television, and radio writers working in the United States, engaged in a 4 month long strike resulting in costly delays and sometimes straight cancellations of numerous movie and TV productions in Hollywood. Even those productions that found workarounds by having directors and actors instead take on script writing duties – often making it all up right there on the set – still had problems (see: the mess that is Quantum of Solace). In short, it was a really bad time in Hollywood. But it was also all totally worth it, because it gave us Dr. Horrible's Sing-Along Blog.
Unable to work on the movies he wanted to at the time, and just wanting to do something quickly and cheaply that circumvented the conditions of the WGA strike, erstwhile Geek Overlord Joss Whedon got together his brother Jed and his brother's wife Maurissa Tancharoen, pulled in some favours with some actors he knew and had worked with in the past, and created an online superhero comedy-drama musical unlike anything the world has had ever seen. Mainly because there had never really been an online superhero comedy-drama musical before.
Over the course of three 14 minute long webisodes, we followed and sang along as the titular villainous Dr. Horrible (Neil Patrick Harris) tried to win the hand of good girl Penny (Felicia Day), while simultaneously trying to move up the supervillain ranks, only to find standing in the way of both these quests, his arch nemesis, the heroic but douchey Captain Hammer (Nathan Fillion). The webseries was both hilarious and tender, featured an incredible soundtrack that would make many a Broadway production jealous and went on to win a slew of awards and earn a ton of cash for Whedon. That was 8 years ago, so will we ever see a follow up?
It's a question that fans have been asking ever since the credits rolled nearly a decade ago. And at this past weekend's Comic-Con we got an answer. Whedon was the lead guest of a panel from Dark Horse Comics ( who had adapted much of his work including Dr. Horrible) and when asked by an audience member about the chances of a sequel, he had this to say:
"… Yes, Jay-Mo [Jed Whedon and Maurissa Tancharoen] and I have been talking about when we need to sit down and do Doctor Horrible 2. But they just had a baby, and they are running a show that I'm executive figurehead of. We want to do that.
OK, so it's all a matter of timing then? I can live with that as long as I know that talks are actually happening. Oh and that show Whedon mentions that they're running? That's actually Marvel's Agents of SHIELD, so no, not exactly a small commitment.
Whenever Whedon and co do get the time to tackle a Dr. Horrible sequel though, we now at least have our first clue as to what it would be about.
"It takes place after the events of the first. It's in the time when Doctor Horrible has basically taken over the world and is really happy. That lasts about three minutes."
Ha! That's absolutely perfect for the loveable loser. I just hope Bad Horse is still around and being neigh-bourly. And on that bad note, I'm off to listen that incredible soundtrack on repeat for the rest of the day.

Last Updated: January 4, 2017