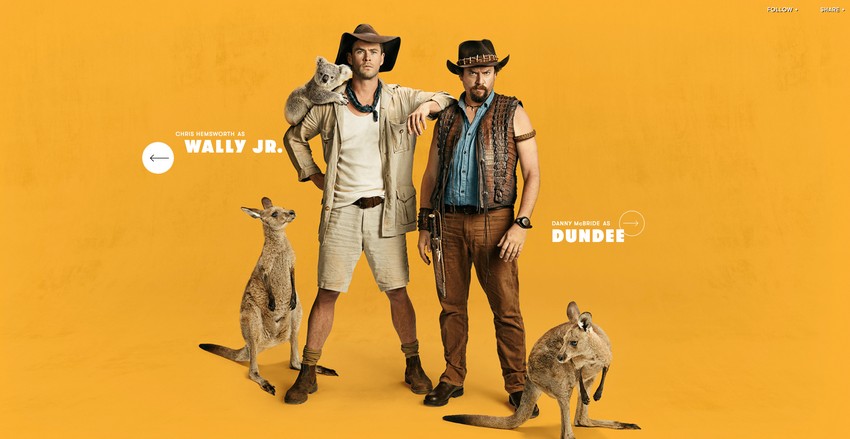 Trump was right, everybody: FAKE NEWS! FAKE NEWS! FAKE NEWS! As you may recall when a trailer dropped out of nowhere over the weekend for a purported sequel to Paul Hogan's two 1980s Crocodile Dundee movie, we were immediately sceptical. The premise of American funnyman Danny McBride playing Brian, the estranged goofball son of Hogan's Mick Dundee, seemed rather silly. There was also the fact that absolutely zero info existed for this movie, despite claims that it would be released soon.
Very soon some further evidence surfaced but it just led to more doubt. First, it was revealed that Dundee: The Son of a Legend Returns Home would be directed by Steve Rogers. That is of course the civilian name of none other than Captain America. In a surprising twist though, Steve Rogers is actually a real person… except he's only done work in TV ads for Nike, Old Spice and Audi, among others. Despite also boasting the logo for Screen Australia on the teaser and IMDB listing the movie as having a $30 million budget funded by the federal film organization, there's absolutely no mention on the Screen Australia's site as this being one of their projects.
Then yesterday morning, a second "teaser trailer" dropped, this time introducing Thor star Chris Hemsworth into the movie as Wally Jr., the son of John Meillon's Walter 'Wally' Reilly, Mick's best friend in the original films. Really. Really really.
With Hemsworth having proven himself in recent years as a gifted onscreen comedian, I was actually starting to think that this may just work. Well, that didn't last long as soon the cat was out of the bag – or rather, kangaroo out of the pouch, to be more geographically accurate – as Australia's Brisbane Times dug around and discovered there's no new Dundee feature film on the way. Turns out this was all just part of a campaign from Tourism Australia focused on America which will culminate in a massive ad airing during the NFL Super Bowl next month. Tourism Australia has declined to comment on Brisbane Times' revealed, but Hemsworth's addition should have given this away as the Australian born actor is actually a tourism ambassador for his native country.
As Brisbane Times points out, this isn't the first time the Dundee film franchise has been used as means to entice American tourists to Australia. Back in 1984, Paul Hogan starred in what has been described as "our best tourism ad ever" to promote his country, introducing plenty of Americans to act of putting shrimps on barbies.
The Super Bowl will be airing in the US on 4 February so then we can finally see exactly what McBride and co have been cooking up down under.
Last Updated: January 25, 2018