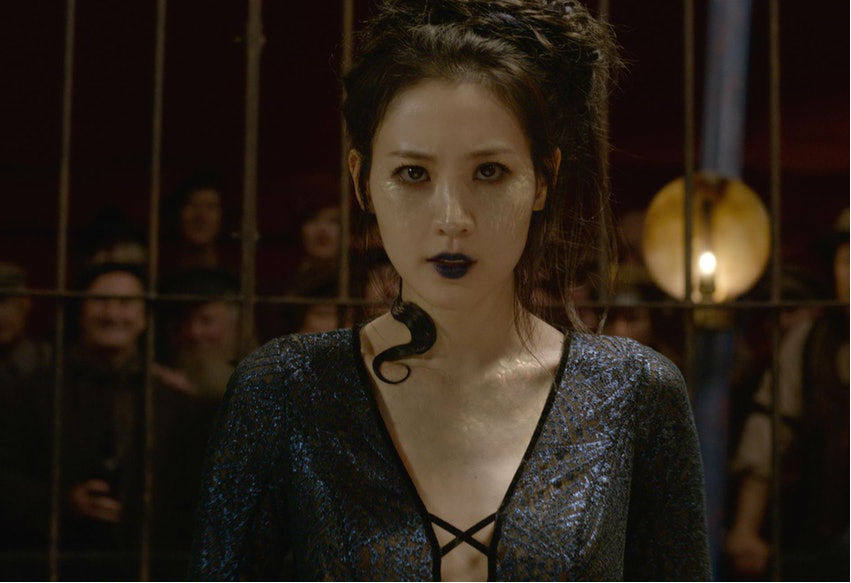 When Fantastic Beasts and Where to Find Them released in 2016, it was made very clear that this was not a Harry Potter prequel. These new adventures of Newt Scamander and co merely happened to be set in the same Wizarding World decades before the events of the beloved books/movies, but they didn't inform them. Author/screenwriter JK Rowling even transplanted the action from Britain to America to make this distinction even more pronounced.
But now with upcoming sequel Fantastic Beasts: The Crimes of Grindelwald those previous assertions are blurring as major Harry Potter characters and elements get introduced as well. The most prominent of these is clearly the young Albus Dumbledore (Youngledore?) played by Jude Law, but in yesterday's thrilling final trailer for the film, another rather big piece was also dropped into place.
Up until now, South Korean actress Claudia Kim's role has been shrouded in secrecy, but in a blink-and-you-miss-it moment in the trailer we hear Ezra Miller's Credence Barebone shouting out to her and calling her Nagini, and this is followed shortly by a quick shot of her transforming into a snake. This is the point where the Harry Potter fans inhale sharply. Nagini is, of course, the name of Voldemort's giant boa constrictor who is eventually revealed to be one of his Horcruxes in the final Harry Potter books. All we've known for sure about the massive snake is that Voldemort discovered Nagini during his exile and that it had been a creature living a wretched life in the forest, able to communicate with animals, especially snakes.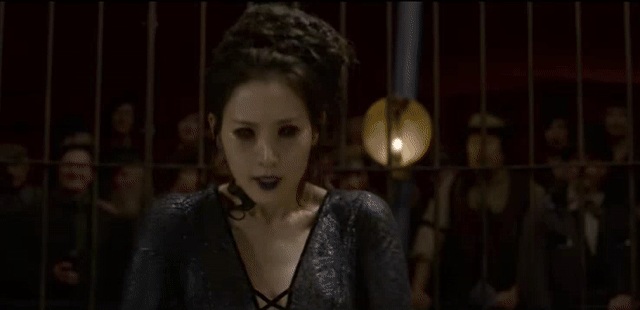 Now we know that the creature was human once. More specifically, Nagini is a Maledictus, magical humans who can transform into animals. Not to be confused with lycanthropy as seen previously in the series, according to a tweet from Rowling, who claims she's been holding onto the secret of Nagini's story for 20 years.
They're different conditions. Maledictuses are always women, whereas werewolves can be either sex. The Maledictus carries a blood curse from birth, which is passed down from mother to daughter. https://t.co/wYfvPeQFRW

— J.K. Rowling (@jk_rowling) September 25, 2018
Kim also spoke to Entertainment Weekly about the role of Nagini, revealing that her character "is a member of the traveling Circus Arcanus where she puts on a very convincing transformation act for muggles." Of course we know her destiny is far more than just a sideshow freak, as she eventually becomes incredibly loyal to Voldemort and ends up killing Severus Snape (too soon!).
It will be so interesting to see another side of Nagini. You've only seen her as a Horcrux. In this, she's a wonderful and vulnerable woman who wants to live. She wants to stay a human being and I think that's a wonderful contrast to the character.
"Stay a human" is the key phrase there as Nagini has no control over her blood curse. It is immensely powerful and grants all kinds of abilities, but her transformation will become permanent and that is something she has to live with.
She does feel sometimes it's not controllable. She is bound to [permanently] transform at some point to a beast so she feels this pressure that the clock is ticking.

She has powers that are yet to be explored. I can't confirm she has powers like wizards have. And she doesn't have a wand.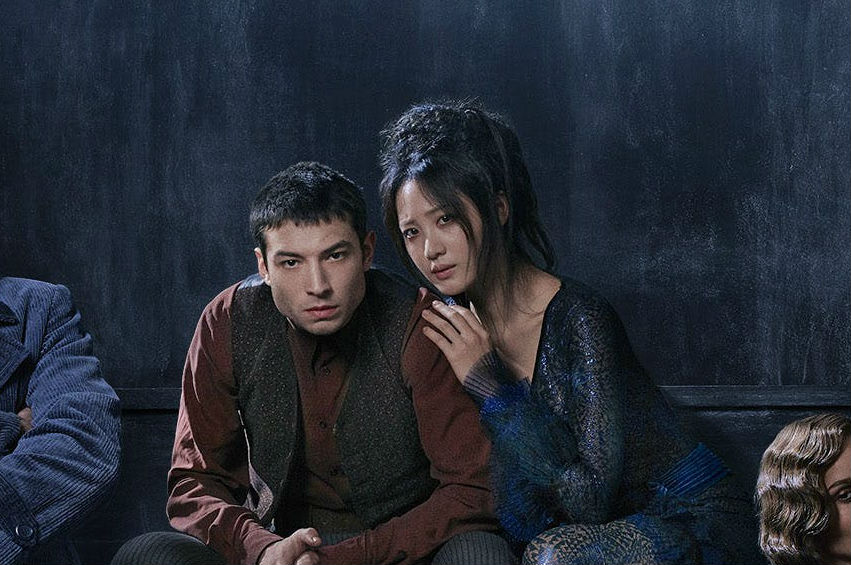 That dark cloud over her life may be why she probably joins with Credence, who was revealed in the previous film to be the host of an Obscurus, a dark parasitic entity born from wizards suppressing their abilities.
Sometimes I introduce myself as 'Credence's only friend. It's amazing these two broken souls are able to form some kind of friendship within the circus. Credence is special to her because he encourages her to use her power.
Rowling explained further in another tweet that while staying human and not giving in to her powers is not something that Nagini has any control over though, her morals are a different story.
Not at all. The slow transformation into a beast is beyond their control, but they aren't destined to be evil.

— J.K. Rowling (@jk_rowling) September 25, 2018
From the few glimpses we've seen thus far, Kim's Nagini certainly isn't showing any evil predilections, so it will be interesting to see how that moral change eventually happens and how her and Credence factor into Gellert Grindelwald's plans. Plans we're going to have to wait until the movie releases on 16 November to see unfurl, according to Kim.
I've seen so many videos and fan theories on YouTube. Everyone is so good at analyzing every element there is. I've been very careful and aware that I should not spoil it for anybody. But I've been dying to say something!
Last Updated: September 26, 2018