A show about esports is a tough one to swallow, at one end you face the gatekeepers who might not enjoy their livelihood being made into a comedy, and on the other end you have comedy fans who may not get the appeal of esports. One thing's for certain – Dan Harmon's name is in the credits and that's often enough to get a little bit excited over a new project like this. "Good Game" is a show about a two friends who are trying to put together an esports team to take part in a $1 million competition. It details their journey and putting together a band of misfits who will face their biggest rival and his team.
Joining Harmon are esports commentators and personalities Jesse Cox and Michelle Morrow, who have done extensive work for companies like Blizzard. The show's two main characters are none other than Gamer Grump's Arin Hanson and Dan Avidan. The show will air on YouTube Red, which is a $10 per month subscription to a whole new world of YouTube content.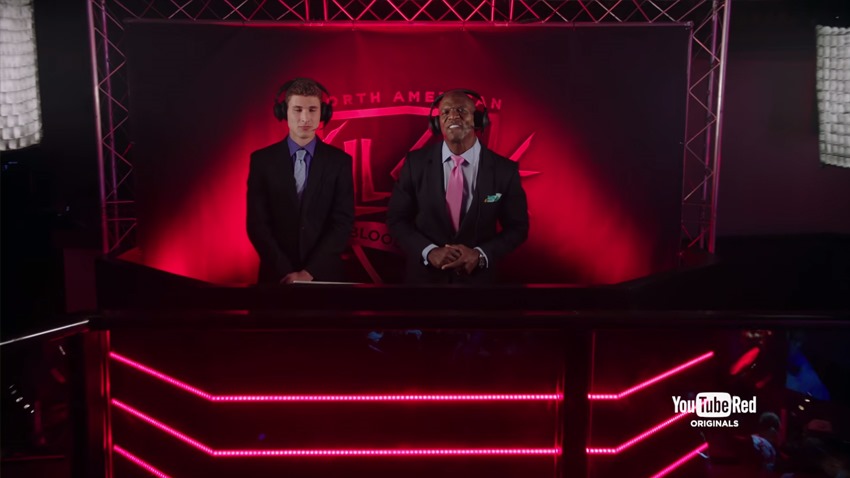 Terry Crews in a very League of Legends-esque commentator box
As an esports gate-keeper myself, I'm not 100% sold on the first trailer of the show, but there's a Terry Crews cameo coming and that I cannot wait for. Comedies about esports are almost non-existent, but the question over the use of YouTube Red is something a few fans are pondering on. It's a whole new genre of comedy and it's airing on a platform which requires a subscription atop your other subscriptions like Netflix, Amazon Prime and DSTV (if you're a madman). The other argument is that Gamer Grump's endemic audience may enjoy and catch most of the humour as there will be a number of gaming terms thrown around, tied to the funnier side of gaming/esports. The humour is of course the big question, as the trailer doesn't have that many moments where you sit back and go "okay, that's pretty funny" or throw out a real life "lol." The plus side, added to Harmon's producing, is Rick and Morty writers Sarah Carbiener and Erica Rosbe, so there are should be some laughs here and there.
YouTube Red does have a one month free-trial so if you're interested in checking out what Harmon, Cox and Morrow have to offer you can start it on August 30th and catch the first episode of Good Game.
Like esports?
Check out esports central
Last Updated: August 4, 2017