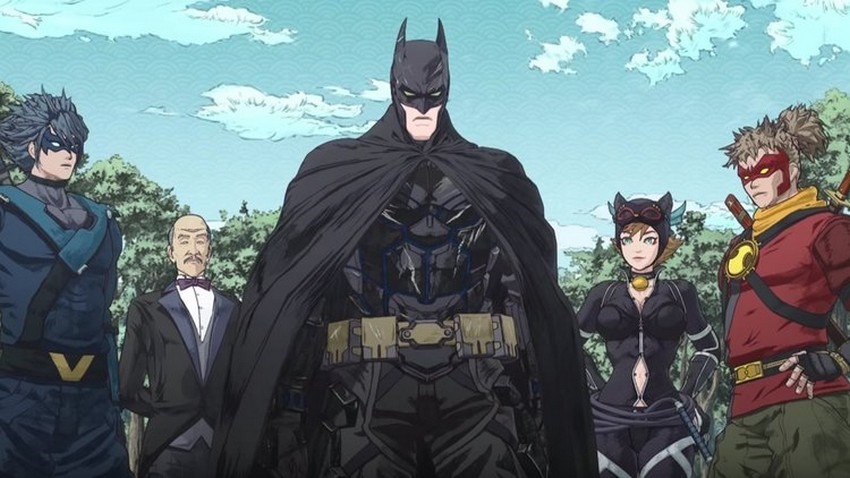 He may dress like he has a fetish for flying rodents, but for all intents and purposes Batman is a ninja. This is not opinion but essentially fact, backed up by many different comic book and film stories detailing how Bruce Wayne learned the techniques of the ancient Japanese warriors. With that, it's kind of strange that its taken until 2018 for somebody to go "Hey, why don't we, like, really make Batman a ninja, in a full-on Japanese anime and everything?".
As late as it is, that's finally happening though.
Batman Ninja will see the Dark Knight – as well a collection of his rogues gallery led by the Joker and a squad of his allies – transported back to Feudal Japan where a tech-less caped crusader will need to adopt the way of the warrior to defeat his enemies. And I specifically said "way of the warrior" there because from what I can see from a brand new English-language trailer that just dropped, Batman will be more samurai than ninja here. That potential snafu aside, Samurai Pizza Bats Batman Ninja looks awesome. I'm normally not a fan of the latest anime trend of using CG to try and replicate traditional hand-drawn art, but this works for the most part here. There are some moments that look out of place, but they're easily overlooked by the image of BATMAN AND JOKER DUELING WITH KATANAS! Check it out below.
Batman Ninja takes a journey across the ages as Gorilla Grodd's time displacement machine transports many of Batman's worst enemies to feudal Japan – along with the Dark Knight and a few of his allies. The villains take over the forms of the feudal lords that rule the divided land, with the Joker taking the lead among the warring factions. As his traditional high-tech weaponry is exhausted almost immediately, Batman must rely on his intellect and his allies – including Catwoman and the extended Bat-family – to restore order to the land, and return to present-day Gotham City.
Along with that first English trailer, Warner Bros. Home Entertainment have now also revealed the digital/Blu-ray release date, as Batman Ninja will be slicing its way to you on 24 April. The film has a serious cavalcade of top Japanese anime talent behind it, having been written, directed and designed by several of the folks who worked on Jojo's Bizarre Adventure and Afro Samurai.
As for the English voice cast, it's led by no stranger to the cape and cowl with Roger Craig Smith reprising the role as Batman he played in Batman: Arkham Origins as Batman (which according to Darryn, is apparently the best Batman Arkham game. He's wrong though, it's Arkham Asylum, but shame, we'll give it to him). Also starring is Tony Hale (Veep, Arrested Development) as the Joker, Grey Griffin (Scooby-Doo) as Catwoman, Tara Strong (Batman: The Killing Joke) as Harley Quinn, Fred Tatasciore (Family Guy) as Gorilla Grodd, Yuri Lowenthal (Ben 10: Omniverse) as Robin, Adam Croasdell (Reign) as Nightwing and Alfred, Will Friedle (Boy Meets World) as Red Robin, Tom Kenny (SpongeBob SquarePants) as Penguin, and Eric Bauza (The Adventures of Puss in Boots) as Two-Face.
Last Updated: February 14, 2018