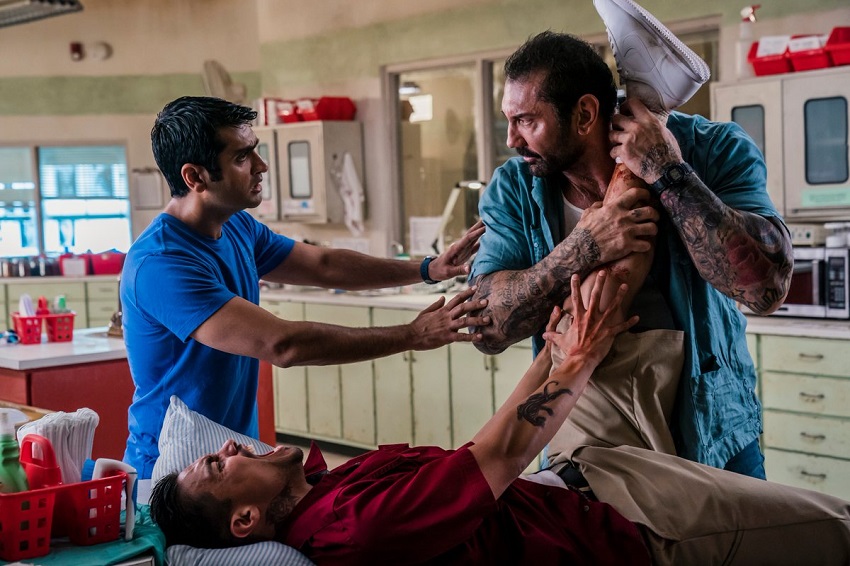 Stuber is the upcoming movie that sees a blunt-force cop chasing down a vicious ass-kicking killer with only the assistance of his unsuspecting mousy Uber driver. That sounds like the plot of an action-comedy. Throw the names of Dave Bautista (Guardians of the Galaxy), Iko Uwais (The Raid: Redemption), and Kumail Nanjiani (The Big Sick) into those roles respectively, and you have an action-comedy that I want to see.
Director Michael Dowse (Goon, What If) has also managed to nab Bautista's Guardians co-star Karen Gillan, along with Betty Gilpin (GLOW), Jimmy Tatro (American Vandal), Natalie Morales (Parks and Recreation), and the Oscar-winning Mira Sorvino (for Mighty Aphrodite) to round out an impressive cast. It also marks the English-language feature debut of German writer Tripper Clancy.
The official plot synopsis is as follows:
When a mild-mannered Uber driver named Stu (Kumail Nanjiani) picks up a passenger (Dave Bautista) who turns out to be a cop hot on the trail of a brutal killer, he's thrust into a harrowing ordeal where he desperately tries to hold onto his wits, his life and his five-star rating.
Let's take a look:
If I had to sum this up in two words it'd be "silly fun". This looks like a stock-standard action-comedy that isn't going to tread any new ground, the badass cop and his fish-out-of-water partner chase down a vicious criminal and hijinks ensue. Thankfully the cast, anchored by Baustista's effortless comedic sensibilities and physical presence, make the movie rise above its limitations – forced whacky situations and some clunky dialogue.
It also looks well-shot and it seems like we're in for some great action. I'm especially looking forward to when the former(?) WWE wrestler Bautista and the amazing martial artist that is Iko Uwais finally thrown down in their inevitable epic showdown.
What do you think?
Stuber is due for release in the US on 12 July.
Last Updated: April 8, 2019