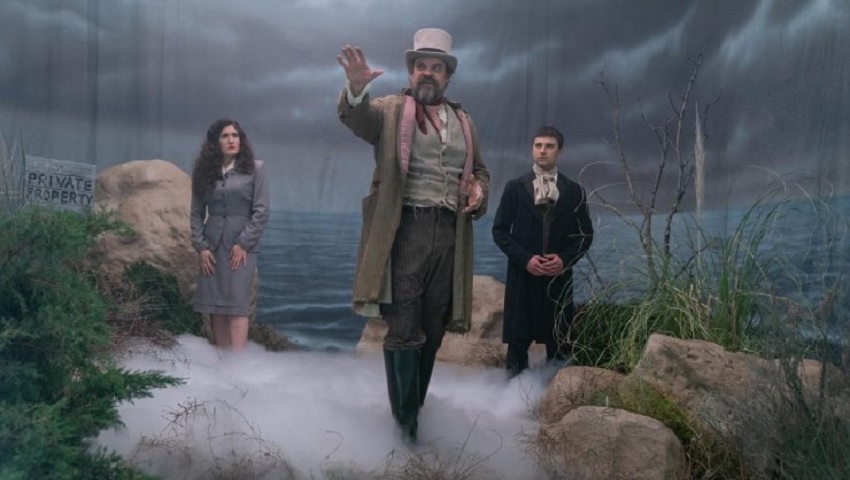 Let's be honest, by the end of the next weekend at the very the latest we're all going to be finished watching Stranger Things season three. That's when the post-binge sadness will set in, as we realise that it's going to be quite a while before we see those people on the screen together again. But fear not, because Netflix has one more dose of Papa Bear Jim Hopper to take the edge off before we go cold turkey.
Frankenstein's Monster's Monster, Frankenstein is the upcoming, and absurdly titled, mockumentary starring David Harbour. Follow him as he delves into the acting legacy of his famous father, David Harbour Jr., when he uncovers long-lost footage of a made-for-TV play that he starred in, and uncovers deadly secrets that've been long hidden. And all in 28 minutes.
The official synopsis is as follows:
In this new mockumentary, join "Stranger Things" actor David Harbour as he uncovers lost footage from his father's televised stage play, Frankenstein's Monster's Monster, Frankenstein. Expect the unexpected in this over-the-top and often dramatic(ish) reimagined tale of mystery and suspense.
Let's take a look:
Good parody is hard to do, and that's some good parody as they skewer the dramatic documentary style that's become so popular over the last few years – and much of that thanks to Netflix themselves. I love the juxtaposition between the over-the-top, old-timey play and the modern-day investigation into it. Harbour switches effortlessly between the two characters, and who knew he could do such a hilarious Orson Welles impression?
This is just a short and sweet, funny mockumentary that I'm really looking forward to, and just maybe Netflix should consider the word "anthology". What do you think?
Frankenstein's Monster's Monster, Frankenstein is due to premiere on Netflix on 16 July. Directed by Daniel Gray Longino (Who is America?), and written by John Levenstein (Arrested Development), it also stars Kate Berlant, O-Lan Jones, Heather Lawless, Michael Lerner, and Alfred Molina.
Last Updated: July 8, 2019